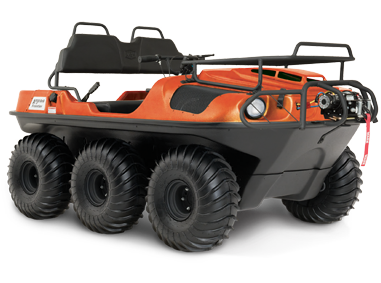 Argo's Frontier lineup has been heavily revised and refreshed this year, and with these changes brings a new model, the 6×6 ST LE. This vehicle comes with Argo's most popular accessories and equipment so you can get the most from your XTV straight from the showroom floor while keeping the overall package compact for off-roading on narrow trails.
Performance
Like Argo's other 6×6's, the ST LE is powered by a 23 hp Kohler Command Pro. This air-cooled V-Twin is fuel injected for better fuel economy and easy starts in any weather.
This engine is paired with Argo's Admiral transmission. Unlike the standard transmission used on the other 6×6 models, the Admiral uses variable braking to steer, allowing it to smoothly go around corners and deliver a feel closer to that of a standard ATV. With the standard gearing final drive, the ST LE can reach a top speed of 22 mph (35 kph) on land and 3 mph (5 kph) on water. As with all Argo XTVs, the engine and drivetrain are built to work in temperatures ranging from -40 to 100 F (-40 to 40 C.)
This model can carry up to 560 lbs. (254 kg) and four passengers on land and a maximum of 440 lbs. (200 kg) and two passengers on water. It can also tow up to 1,200 lbs. (544 kg.)
Equipment
Like the rest of the Frontier lineup, this XTV comes with a bilge pump, full-length skid plate and axle extensions that allow space for tracks to be installed. In addition, the ST LE comes with a front brush guard to deflects branches and other obstacles away from the front end and headlights, a front rack that can carry up to 50 lbs. (23 kg,) freeing up space in the rear cargo area, and a 3,500 lb. Warn winch can pull the vehicle out of jams or help with getting other vehicles and equipment out of tight spaces.
The XTV Difference
This model measures 102 x 58 x 52.5 inches (2,591 x 1,473 x 1,334 mm,) which is just slightly longer and wider than the base SE model due to the winch and brushguard. This puts it between the size of a full-size ATV and a UTV, offering plenty of passenger space and storage in a compact package.
While these vehicles stand out because of their amphibious abilities, their design also helps them perform better than traditional vehicles on land. 9.5 inches of ground clearance sounds about average in this market, but the tires' massive contact patches spread out the load, letting the ST LE float over soft terrain that would bog down other vehicles. Add some tracks, and it can even drive over soft snow, ice and sand without digging in.
The design also relies on the tires for shock absorption instead of a long travel suspension, allowing the engine and axles to be mounted low. While roll protection systems are available, they usually aren't needed since the low center of gravity makes rollovers far less likely in an XTV than they are in a UTV.
Colors
The Frontier 6×6 ST LE is available with a green or orange hull.
Is a Frontier 6×6 ST LE Right for You?
If you're looking at getting an XTV, visit Shank's Argo. We're one of the largest dealers in this part of the country, and we have decades of experience with outdoor equipment, so we have the expertise to help you get the right model to fit your needs and keep it running. To learn more, visit our showroom, located at 4900 Molly Pitcher Highway in Chambersburg, PA, or schedule a demo at www.shanksargo.com.