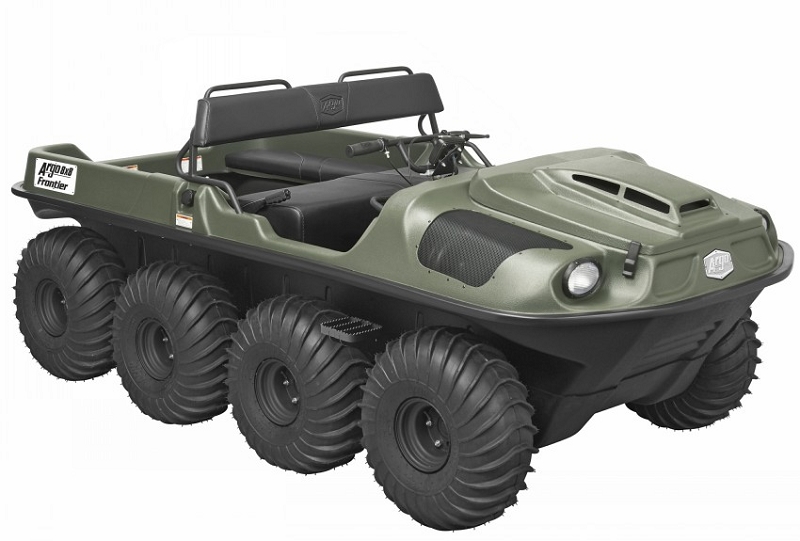 Want more space for people and cargo than you can get with a UTV and want to travel in areas where a truck or SUV would be impractical? The Argo Frontier 8×8 S and ST LE are designed to maximize space while keeping a small footprint, and, like Argo's other XTVs, can travel across water and extreme inclines. This lets them carry what you need while going places that are unreachable in any other vehicle.
Power
Both of these XTVs are powered by a Kohler Command Pro V-Twin. This air-cooled, fuel injected engine produces 23 hp while delivering reliable performance in a wide range of temperatures and conditions. It sends the power to all 8 wheels via Argo's classic transmission with either STD or HT gearing. The standard gear set can propel the vehicle to a top speed of 19 mph (30 km/h,) while the High Torque gear set is a couple miles per hour slower while providing increased torque for steep climbs and heavy loads. When on water, the massive tires paddle the vehicle along at up to 3 mph (5 km/h.) For faster water travel, a mount can be added for a sub-10 hp outboard motor.
Stepping Up to the ST LE
While the S keeps it basic, the ST LE comes with popular accessories straight from the factory including a front rack that can carry up to 50 lbs. of gear, a brushguard to protect the front end and
a front-mounted Warn winch rated at 3,500 lbs. If you decide on the 8×8 S, this equipment and much more can be added later on. A full-length skid plate and bilge pump come standard on both models.
Cargo
The 8×8 S can carry up to 910 lbs. and six people on land, while water drops cargo capacity to 810 lbs. and four people. It can also tow up to 1,140 lbs. (517 kg.) The extra equipment on the ST LE cuts into cargo capacity, reducing it to 830 lbs. on land and 730 lbs. on water, although upgrades to frame and hitch allow it to tow an extra 80 lbs. (55 kg.) If you only need to carry two people, the rear seats can be folded up, allowing the entire rear of the vehicle to be used for cargo.
The vehicle itself measures just 119 x 58 x 46.5 inches (3,023 x 1,473 x 1,181 mm,) while the accessories added to the ST LE increase length by another 6 inches. That puts it in line with smaller UTVs while providing more cargo room.
Need even more space? Argo also offers a rear rack that mounts behind the cargo area and amphibious trailers that can go anywhere these XTVs can go.
Colors
The Frontier 8×8 S is available in green or black, while the ST LE is available in green or orange.
Is an 8×8 What You Need for the Great Outdoors?
If you're looking into buying an XTV, visit Shank's Argo. We're not just a major Argo dealer, we have years of experience with a wide range of outdoor power equipment, so we can help you get a vehicle that fits your needs. Stop by our shop, located at 4900 Molly Pitcher Highway in Chambersburg, PA, or visit our website, www.shanksargo.com, to schedule a demo.