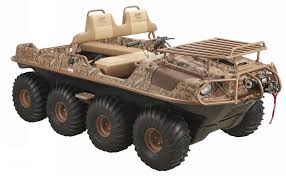 Argo's XTVs are a natural fit for hunting expeditions. With their unparalleled off-road and aquatic capabilities, they can cross soft terrain that would bog down a traditional UTV, take shortcuts across streams and ponds, and even sit inside marshes and duck blinds out of view of game. The Frontier 8×8 Scout S builds on this performance with plenty of cargo capacity and features designed to help you get the most out of your next hunting trip.
Power
While UTVs borrow engines from motorcycles, the Frontier uses an industrial quality Kohler Command Pro. This 747 cc air-cooled V-Twin produces 26 HP and comes equipped with fuel injection for low fuel consumption and consistent performance across a wide temperature range. This engine drives Argo's classic transmission equipped with either standard or high torque gearing. A brake cooling fan is included to control steering system temperatures in extreme conditions.
The Scout has a top speed of 19 mph on land, while the unique treads of the tires can paddle the vehicle through water at a speed of 3 mph. If you plan on making longer trips over water, a mount can be added to attach a small outboard motor.
Capacity
This entire vehicle measures just 124 x 58 x 52 inches, making it smaller than most UTVs without sacrificing space: this 8×8 can carry up to 830 lbs. and 6 passengers on land, dropping to 730 lbs. and 4 passengers on water. It can also tow up to 1,400 lbs, whether it's on a traditional trailer or one of Argo's amphibious trailers.
Equipment
On this model, Argo includes a front cargo rack that can carry up to 50 lbs. and a gun rack mounted behind the front seats that holds up to four rifles. Prefer bow hunting? Argo offers a kit that allows the gun rack to carry two bows.
Up front, a Warn winch rated at 3,500 lbs. can be used to pull the vehicle out if it gets stuck and help remove gear and game from tight spaces.
Want to add on to your XTV? Argo offers a full line of accessories including everything from a rear hitch mount for the winch to cab enclosures for comfort in harsh weather.
Camo
For the new Wilderness series, Argo partnered with Mossy Oak to bring two of their latest camouflage patterns to XTVs: Break-Up Country and Shadow Grass Blades.
Break-Up Country is an updated version of the Break-Up Infinity pattern Argo used on previous hunting models. Building on their use of photo-realistic branches and leaves, they've added more randomness to the sizes of these elements to eliminate visible outlines. This pattern is a great choice for hunting in wooded areas.
The amphibious abilities make an XTV an excellent tool for hunting waterfowl, so it makes sense for Argo to offer Shadow Grass Blades, the official camo of Ducks Unlimited. Instead of trees, it uses a grass-based pattern to blend in with marshes and duck blinds.
Get an Edge This Hunting Season with a Visit to Shank's Argo.
Shank's Argo is more than just a major dealer, we also have decades of experience with outdoor equipment, making us the right choice for getting an XTV to fit your needs whether hunting is your hobby or your business. If you're interested in the Frontier 8×8 Scout S or anything else Argo, visit our shop, located at 4900 Molly Pitcher Highway in Chambersburg, PA. That's one mile East of I-81 via Exit 10 to Marion.
Already own an Argo XTV? We stock the parts and accessories you need. Visit www.shanksargo.com to contact us.