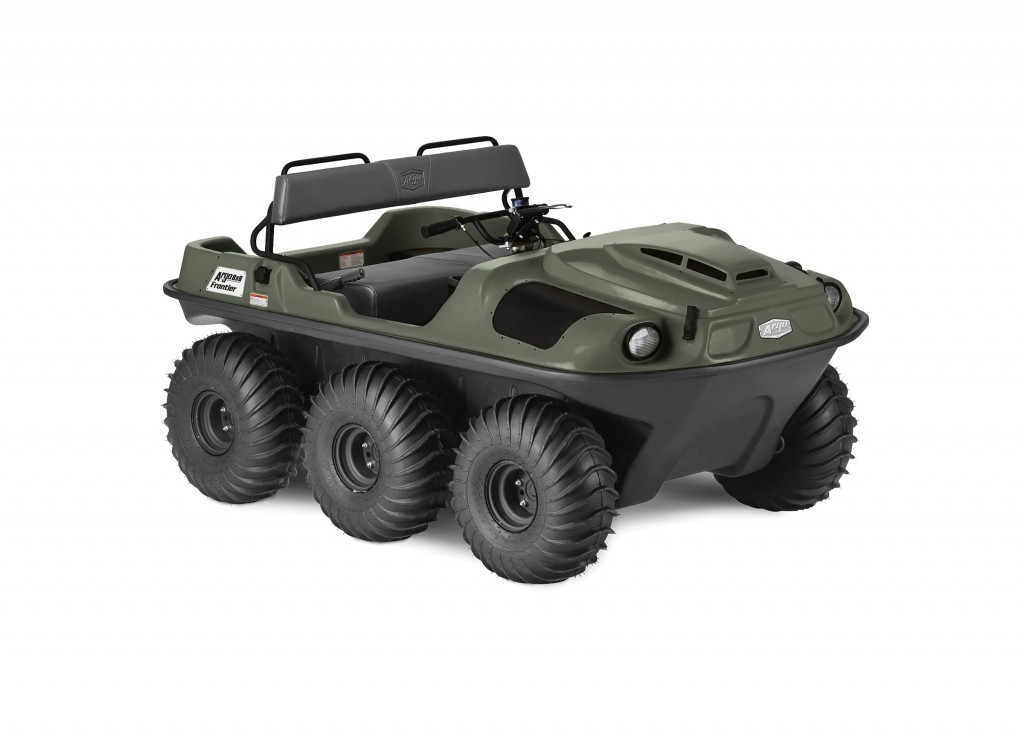 Curious about the land and water capabilities of an Argo, but don't want to break the bank to get one? The Frontier 6×6 is Argo's most basic model, offering all the major features that make their Xtreme Terrain Vehicles so versatile, with a wide range of accessories that let you tailor the vehicle to your needs.
What is It?
As the name suggests, the Frontier 6×6 has six wheels, and power is sent to all of them. It comes with Argo's standard transmission for a top speed of 22 mph (35 km/h) on land and 3 mph (km/h) on water. This unit is a CVT with a shiftable final drive, providing a high gear for cruising and a low gear for steep terrain. The Frontier is powered by a 19 hp air-cooled Kohler Command Pro engine, a proven industrial design used in a wide range of small engine equipment with parts readily available across the country.
Steering is achieved with a hydraulic braking system that slows down the wheels on either side of the vehicle. While most vehicles that use this type of steering have lever-based "tank" controls, the Frontier uses a four wheeler-style handlebar, making it easy to learn: just turn the bar where you want to go, and the braking system handles the rest. Regular braking is handled by a separate mechanical system, so it always works even if you manage to overheat the steering brakes or you've turned off the engine.
The Frontier 6×6 can handle a payload of 670 lbs. (304 kg) and up to four passengers on land, while on water it can carry 470 lbs. (213 kg) and up to two passengers. The rear storage compartment is built to carry up to 140 lbs. (60 kg) of equipment.
Why Choose a Frontier 6×6 over a UTV?
Since the tires are the suspension, the center of gravity is lower, making the Frontier more stable than a UTV mounted on a long travel suspension. This XTV can ascend grades up to 45 degrees, and it still has 9.5 inches (240 mm) of ground clearance.
Ever have to ford a stream, and weren't sure if your vehicle would get stuck or flood? If a body of water is too deep for the Frontier to drive on, it just becomes a boat. Traveling times can be cut considerably because you don't have to drive around the water or look for a bridge: you can just drive straight through.
Having six giant tires spreads the weight of the vehicle over a wide area, letting it float over ice, snow, and sand, making it far more capable on these surfaces than a standard UTV. Best of all, the tires work on all surfaces, so you don't have to switch to sand or snow treads when the conditions change.
Accessories
To keep the price low, the Frontier 6×6 does without a lot of the equipment you'd normally find on an Argo, including a full length skid plate, bilge pump and side steps. However, these parts can be added later on if you decide you need them.
Other features that come standard on different Frontiers, as well as some stand-alone extras, are also available as add-ons for the base Frontier. This includes front and rear winches, a bracket to add an outboard engine, carriers for tires and gas cans, and even a hood fan for operating in extremely high temperatures. Need more protection for a job site? There are also additional lights, a ROPS, hand rails and a brush guard available. Need even more traction? There is a range of options for treads that wrap around the existing tires, giving improved grip on a variety of surfaces.
Where Can I See One?
Shank's Argo is Pennsylvania's #1 Argo dealer. Come by our showroom at 4900 Molly Pitcher Hwy, Chambersburg, PA. You can get here from Rt. 11, or take Exit 10 to Marion from I-85. Not a local? We can still help you outfit your Argo: we keep most accessories in stock and can ship them nationwide.