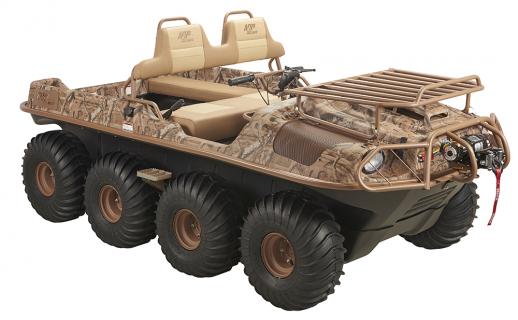 UTVs can handle all kinds of terrain from paved roads to steep, rocky trails, but what about water? Argo's Xtreme Utility Vehicles can cross streams, rivers and lakes just as easily as they can cross dry ground. If you need a go anywhere, carry anything vehicle for your next hunting trip, it's hard to beat the Frontier 8×8 Scout S. It adds extra equipment and cargo storage to the Frontier S, and its camo design helps you stay hidden from game.
How Does it Work?
Argo uses a proprietary tire design that runs at very low pressures, acting as the vehicle's suspension. Since the position of the wheels is fixed, it makes sealing the axles a lot simpler than it would be if they were mounted on springs and shocks. The tread pattern acts like a series of paddles when in the water, moving the vehicle without needing a propeller and the associated hardware, but it still grips the earth like a standard ATV tire. Steering is handled by changing the speed of the wheels from left to right, much like a zero turning radius mower, further reducing complexity, but this movement is controlled using a set of handlebars, making it easy to learn. Pair these features with a sealed hull, and you have a vehicle that can cross any type of water or terrain while still remaining mechanically simple and robust.
Performance
The Frontier 8×8 Scout S is powered by an air-cooled 26 hp Kohler Command Pro V-twin. The Scout is offered with a standard speed transmission with a top speed of 20 mph (32 km/h,) or a high speed transmission that trades torque for faster travel on flat terrain, reaching up to 25 mph (40 km/h.) With either transmission, water speed is limited to 3 mph (5 km/h.) This engine and drivetrain can operate at temperatures from -40 to 104 degrees F (-40 to 40 degrees C,) and additional fans can be added to keep the engine and brakes cool at even higher temperatures.
This model can hold up to 6 people when traveling on land and up to four passengers when crossing water. Likewise, total payload capacity varies, going from 830 lbs. (376 kg) on land down to 730 lbs. (331 kg) when the vehicle has to float. The Scout S's transmission comes with a heavy duty drive belt and bearing extensions to handle the extra weight of its equipment.
Included Features
Most standard UTVs come bare bones, forcing you to pony up for equipment that you need to make the vehicle usable. The same can't be said for the Scout S — it comes standard with a lot of the features you'll need to get the most out of your excursion.
Have a lot of equipment to carry? The Scout S is equipped with a front cargo rack, freeing up more space for passengers.
Need to do some vehicle recovery? There's a Warn winch mounted to the front that can pull up to 3,500 lbs. (1,599 kg.)
Worried about banging up your new vehicle? Don't be: this model comes with a full length skid plate to protect the underside and a brush guard to deflect branches away from the front end.
Want to be seen when traveling on access roads? In addition to the Frontier's standard headlights, this model comes with tail lights and brake lights.
Want to stay hidden? The top shell of the Scout is covered in Mossy Oak's Break Up Infinity camo pattern. This multi-layer design mixes high contrast objects and photos of leaves, bark, and branches to obliterate the outline of anything it covers, even something as large as this vehicle. To help the Scout blend in with its surroundings, the racks and wheels are painted a matching brown.
Accessories
Even with its high level of equipment, there are plenty of ways to improve the Scout S:
Want to go faster over water? Add a bracket to the rear end to mount an outboard motor. It supports engines with up to 9.9 hp.
Need to keep your rifles at the ready when you see your game? The Sure Grip gun rack absorbs the bumps so your guns are always within reach, and the sights will stay put for accurate shooting.
Have to cross really tough terrain? Like Argo's models, the Scout S can use a range of treads that wrap around the tires, giving better grip while maintaining the vehicle's full capabilities.
If you want a vehicle for hunting trips, it's hard to beat the Argo Frontier 8×8 Scout S. It offers plenty of space for passengers and cargo, and its color scheme helps you blend into your surroundings. Want to see one for yourself? Schedule a demo at Shank's Argo, located at 4900 Molly Pitcher Highway in Chambersburg, PA. Already have an Argo and want to add some accessories? We can ship what you need to any address across the country.