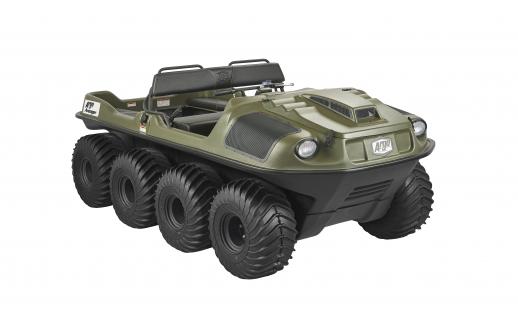 The Argo Avenger 8×8 ST is the middle tier version of the very popular Avenger line. Built upon the same lightweight, durable frame as the Avenger S, the ST includes an upgraded transmission and so much more. If you're looking for the perfect XTV to get you through the mountains and the swamps, this one has everything you need.
Unbreakable Design
In order to achieve its miraculous amphibious feats, the Argo Avenger 8×8 ST has to combine both light weight and highly durable components. That's why the frame is made from channel steel and powder coated to withstand weather and rugged terrain. On top of this is a body built from vacuum formed High Molecular Weight polyethylene. You can get yours in green, black, or camo. In addition, the lower skid plate allows you to climb and slide off of nearly any obstacle with your 9.5″ ground clearance.
The convenient entry step makes it easy to get in and out of the deep seats, with plenty of room for up to 6 passengers on land and 4 passengers in the water. The rear cargo area offers inward facing bench seats and enough leg room for comfort. The total carrying weight of the Avenger ST is is 1,070 lbs. Up front you can enjoy comfortable padded seating, a digital gauge cluster, and easy to reach handlebars for effortless steering.
Ultimate Performance
One of the biggest upgrades underlying the Argo Avenger 8×8 ST is the change from the classic Argo transmission to the Admiral transmission. This continuously variable belt driven transmission comes in both STD and HT options. You will find it working tirelessly alongside the 747cc electronic fuel injected engine. Together they provide constant torque to all eight wheels so you never get caught up on a rock or tree, and allow you to open up to 20 mph on land. The optional winch addition lets you attach a snow plow or tow up to 1,800 lbs.
Once you're in the water you have the convenience of an easily operated bilge pump, and the ability to move at 3 mph. If you plan on spending more time in the water, a rear mounted bracket allows you to add an outboard motor for even more speed and flexibility.
Wherever you're headed, the Argo Avenger 8×8 ST will take you there. The Avenger offers simple operation and plenty of space for all your friends and gear. It is also designed for up to 8 hours of operation so you can venture far and wide without having to worry about stopping. Just load up and head on out into the wilderness to see what the Avenger is capable of. You'll find that it's a joy to drive and it offers plenty of high-tech features to keep you safe and sound on the journey. Put yours to the test by adding that extra outboard motor or a winch for even more functionality on the go. Whether it's freezing cold or blazing hot, the Avenger is there for you.
Want to Learn More?
If you're interested in the Argo Avenger 8×8 ST, talk to the experts at Shank's Argo. Our shop is at 4900 Molly Pitcher Highway in Chambersburg, PA. That's off Route 11, or if you're driving in from I-81, you can take Exit 10 to Marion.