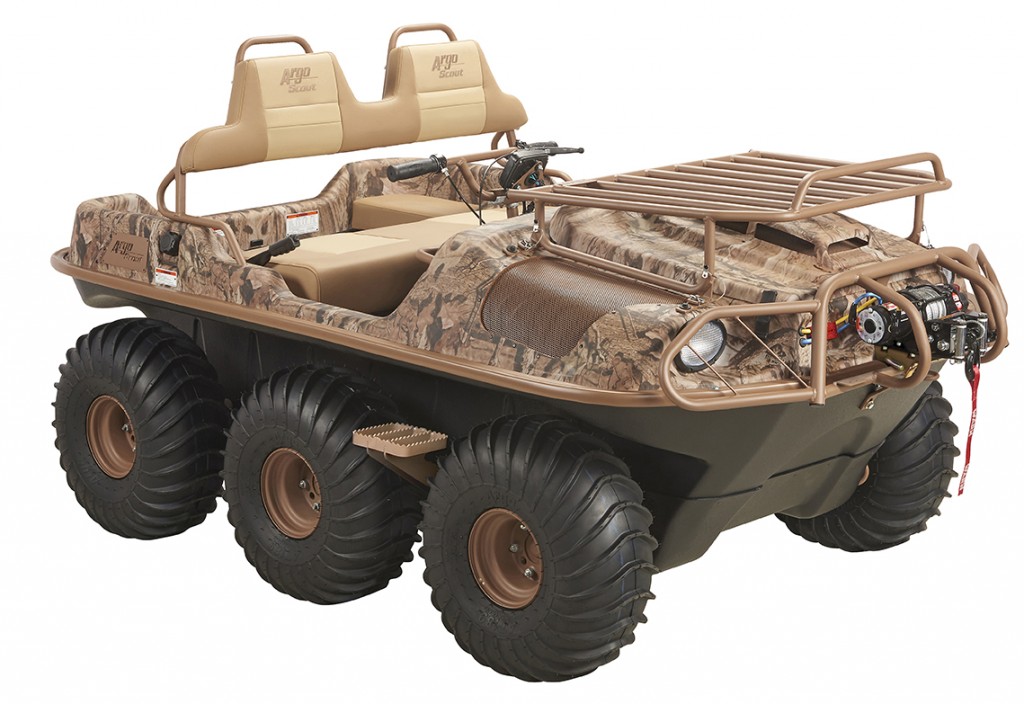 Are you considering an Argo for hunting and fishing? The Frontier 6×6 Scout S comes with the equipment you need to get the most from your XTV, letting you travel across any terrain to track your game.
Why Argo?
At first glance, an Argo XTV looks like a combination of a boat and a moon rover. That shouldn't be much of a surprise since the company is currently working with the Canadian Space Agency on future space vehicles. However, the basic XTV design has developed over the last 50 years.
Instead of a traditional suspension, an XTV uses fixed axles with giant low-pressure tires. These absorb the bumps while spreading the weight of the vehicle over a wide area, letting it float on top of soft surfaces like snow and sand while also doubling as a propulsion system in water. An XTV can go anywhere ATVs and boats can go, as well as a lot of places they can't reach, like marshlands and shorelines. This gives you an advantage when hunting and fishing, letting you traverse soil and water to keep on the tail of your game.
Power and Performance
The Scout S is designed to work in a wide range of temperatures, letting it function equally well in deserts and tundra. This flexibility is partly due to the Kohler Command Pro engine. It uses fuel injection to ensure easy starts and high efficiency, producing 23 hp while squeezing 8 hours of operation out of the Scout's 7.1 gallon tank.
If you'll be using your Argo on steep terrain or near load capacity most of the time, the High Torque transmission can give you the extra torque you need while reaching speeds up to 17 mph (27 km/h.) However, for most uses, the standard transmission works just fine, and it increases top speed to 22 mph (35 km/h.) Top speed in water for either transmission is 3 mph (5 km/h.)
Cargo and Seating
The 6×6 Scout S is designed to carry two people with up to 140 lbs. (64 kg) in the rear storage area. It has a maximum payload of 560 lbs. (254 kg) on land and 360 lbs. (163 kg) on water.
Equipment
A full skid plate and front brush guard protect the vehicle from scrapes and bumps. This model also comes with a front cargo rack, giving you a place to haul extra equipment or store your game without messing up the interior. If you somehow get stuck, a front-mounted 3,500 lb. Warn winch can help pull you free. There's also a set of brake and tail lights that make the Scout more visible.
There's a wide range of accessories available for XTVs, two of which are particularly useful for outdoor enthusiasts. For hunters, there's a gun rack that protects your rifles and isolates them from vibrations. For fishermen, there's a mount to add an outboard motor with an output below 10 hp, letting you travel across water faster than you can with the tires alone.
Colors
The Scout comes exclusively in Mossy Oak's Infinity camouflage pattern. All metal parts including the wheels, cargo rack, and seat frame are painted brown to match the exterior.
Where to Buy a Frontier 6×6 Scout S
To learn more about the 6×6 Scout S, stop by Shank's Argo, located at 4900 Molly Pitcher Highway in Chambersburg PA. We're not just a certified dealer, we're one of the largest Argo retailers in the nation.
Not in the area? We ship all the parts and accessories you need to get the most from your XTV. Visit us online at www.shanksargo.com.