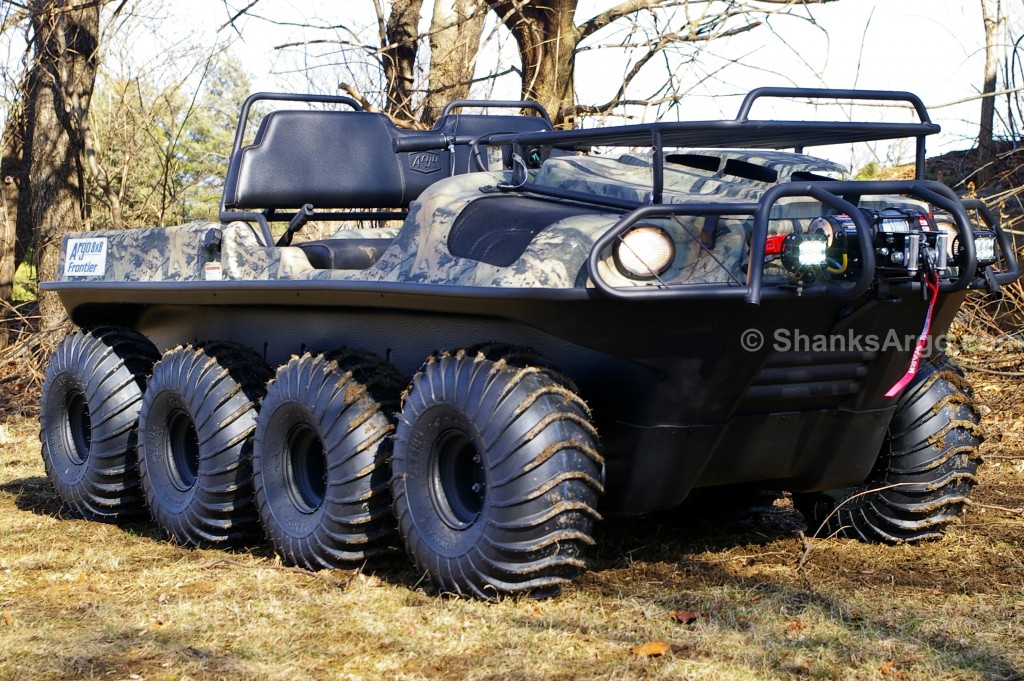 People go on trips with expedition companies because it lets them go places and do things they can't do by themselves. By adding an Argo XTV to your equipment, you have one more tool to prepare memorable adventures, whether your focus is on sightseeing, tour support or hunting. These vehicles can go places other vehicles can't, and they're built to a level of quality you don't normally see in traditional off-road vehicles.
Cross Water Without Worries
XTVs float, so they can cross bodies of water no matter their depth, and there's no snorkel to worry about. These vehicles can climb in and out of the water almost anywhere, so you don't need to get to a dock or a landing to make a water crossing. This can cut travel times significantly and let you operate when high water prevents other vehicles from being used.
More Traction
Big tires decrease ground pressure, letting the vehicle rollover mud, snow and sand instead of digging into it. This lets it reach areas that are impossible in traditional vehicles, and you'll need to use the winch less often when on harder terrain.
Easier to Operate
The drive system sends power to all wheels 100% of the time, but there's no heavy steering or weird handling on paved surfaces. Aside from the throttle and steering, the only control to worry about is the hi/low selector for making steep climbs or to reduce the turning radius. Getting used to skid steering takes some practice, but after that, technical trails are a breeze.
Better Views
A low center of gravity keeps XTVs stable, even when making steep climbs, so they don't need to be fitted with a ROPS, nor do additional barriers need to be added to keep passengers in their seats. This lets passengers get a clear view from the vehicle for sightseeing and can act as a platform for hunting.
Argo offers canopies that have sections which can be rolled up to get a better view and kept closed when you want maximum weather protection.
More Space
Despite an overall footprint that's smaller than many UTVs, an Argo 8×8 can up to 6 people on land and up to four on water. Argo also offers accessories to expand carrying capacity including mounts for a spare wheel or gas can and both front and rear racks. There's also space between the front and rear seats to add extra storage for tools, and the gun rack on the Huntmaster series carries up to four rifles or two bows.
Argo makes trailers purpose-built for their XTVs with the same hull and tire design, so they can be pulled anywhere, even over water. This is great for long excursions and delivering materials and equipment to remote camps.
Rock Solid Reliability
Amphibious ATVs were a fad in the 1960s, but while other companies bowed out by the end of the decade, Argo continued development, creating vehicles reliable enough to be depended on by emergency responders and remote operations across the globe.
Argo uses Kohler Professional engines including their Aegis, Command Pro EFI and K-Series lines. Kohler introduced EFI to the small engine market, partnering with Delphi to deliver automotive performance.
Argo's transmissions are built by their parent company, Ontario Drive, and Gear. ODG is a leading manufacturer of CVTs and drivetrain components, supplying equipment for a range of companies including Navistar, Allison Transmission, and Volvo Construction Equipment.
Easier on the Environment
With the weight of the vehicle spread over such a wide area, an Argo does far less damage to plant life than any ATV or UTV. This preserves the areas you're exploring and may let you access environmentally sensitive areas that can be damaged by regular vehicle traffic.
Get the Support You Need for Your Business
Shank's Argo is one of the largest dealers in the Eastern U.S, and we've been in the outdoor equipment business since 1984. We can help you find and equip an XTV for your touring business and provide you with the service and support to keep it running. To learn more, visit our showroom at 4900 Molly Pitcher Highway in Chambersburg, PA. Want to schedule a demo? Need parts or accessories for your Argo? Visit us online at www.shanksargo.com.