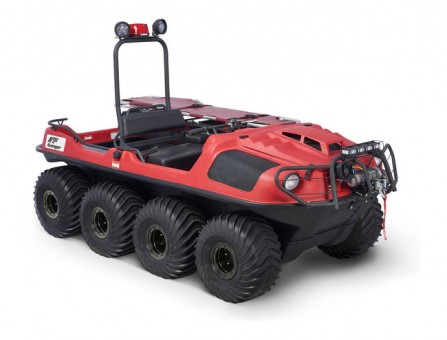 Emergencies don't happen when and where they're convenient. Whether you operate in a city or a remote wilderness, weather and terrain can make it difficult to reach people in need. That's why Argo makes the Responder. Starting with their new Aurora platform, they build in the features most demanded by first responders, including on-board medical equipment and lighting. What can you do with one of these amphibious ATVs, and how does it fit the needs of paramedics, firefighters and search and rescue operations?
What is a Responder?
The new 850 SX Responder is built on Argo's new Aurora chassis. Changes to the hull have added 20% more passenger room, and the driver controls are now on the left side of the vehicle. As equipped, this vehicle can carry up to four people on land and water. Built-in rails for a Ferno stretcher cover two of these seats, reducing maximum carrying capacity to two people plus one patient when the stretcher is loaded.
From the factory, this XTV can carry 1,080 lbs. on land, 880 lbs. on water, and has a towing capacity of 1,800 lbs.
Power comes from a 33 HP Vanguard air-cooled V-Twin with EFI. It connects to an Admiral transmission with ST gearing for a top speed of 20 MPH, or an HT transmission that increases torque in exchange for a slightly lower top speed.
The Admiral transmission uses a skid steer system connected to a set of handlebars. APS adds a spring return system, making the steering system feel like a traditional ATV while offering an extremely small turning circle. All 8 wheels are driven 100% of the time. The giant tires spread out the load, reducing ground pressure to a point that scrubbing isn't a problem on pavement.
The Responder comes with a winch, bilge pump, and brush guard as standard equipment. Argo offers this model in red and orange for maximum visibility.
Equipping the Responder
The Responder is built to be a base that can be outfitted to serve several roles. Argo partnered with Ferno for medical equipment, including a stretcher basket designed for helicopter evacuation. This basket fits in the same rails as the stock stretcher, making it easy to switch between the two as needed. To prevent spinal injuries, the stretcher can be equipped with a universal head immobilizer.
Add a ROPS and a convertible top, and this vehicle is suitable for use in severe cold. For the ultimate in snow traction, you can add specialized tracks with or without ice teeth. There are also tracks designed for mud, pavement, and sand, letting you lower the vehicle's ground pressure even further. This lets you drive over instead of through soft ground, so you can get to emergencies faster. It also minimizes erosion and plant damage, making these vehicles suitable for use in ecologically sensitive areas. Extra work lights and strobes can be added for greater visibility on site.
Argo doesn't yet offer a fire suppression system for the current Responder. However, they still offer a C.E.T. foam skid unit that drops into the back of Frontier or Avenger. It has tanks that hold 75 gallons of water and 5 gallons of foam. A built-in 6 HP Honda GX engine mixes and pumps water and foaming agents through the hose.
Where are these Vehicles Used?
With its built-in stretcher and range of optional equipment, the Responder can fit a variety of roles.
Search and Rescue – With its ability to cross water, climb extreme grades and get traction on soft surfaces, the Responder can get in places other vehicles can't reach. Track-equipped XTVs offer superior performance for winter rescues, thanks to their excellent climbing abilities. Add a stretcher basket, and you can transfer injured people to open areas for helicopter pickup.
Floods – With an amphibious ATV, you don't need to coordinate between land and water vehicles. Instead, you can drive to and from incident areas directly.
Natural Disasters – An XTV is smaller than other rescue vehicles, letting it get closer to the areas you need to reach. This can dramatically cut response time and fatigue. Responders have been used around the world to help out in situations ranging from avalanches to tsunamis.
Fire fighting – With its built-in water tank, skid-equipped models can put out fires without relying on long stretches of hose. Some operations have a lift set up to remove and install the skid as needed, letting one vehicle handle both fire suppression and rescue.
Want to Learn More?
If you think an Argo Responder may be right for you, visit the experts at Shank's Argo. We're one of the largest dealers in the East, and we have over three decades of experience helping professionals with their outdoor equipment. Looking for something less emergency-focused? We carry the full line of Argos, from small 6 wheelers to excursion-ready commercial models. Our shop is located at 4900 Molly Pitcher Highway in Chambersburg, PA. You can also order parts, schedule a demonstration, and see our current showroom stock at www.shanksargo.com.