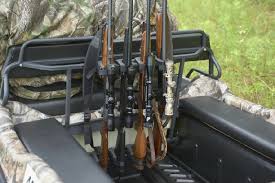 Argo XTVs and hunting are a natural match: their all terrain and water capabilities let them follow your game to places ATVs can't reach including streams, swamps, and steep inclines. Want to make your vehicle even better for hunting and fishing? There are plenty of accessories that can make it easier to carry your gear, blend into your surroundings and deal with harsh conditions.
Gun Rack
This rack uses rubber mounts to protect rifles from scratches, while its position at the center of the vehicle ensures minimal water contact when crossing streams and lakes. Since they're held in by hook and loop fasteners, these guns are much easier to access than would be if kept in the gun cases commonly found on ATVs. Prefer bow hunting? The mounts can be fitted to hold two bows.
The frame of this rack bolts into the XTV to keep it secure, but the center can be removed to increase cargo space when not in use. This accessory is not compatible with the bedliner or cargo bag accessories. It's available in black or tan to match vehicles with Mossy Oak's Break-Up Infinity camo.
Outboard Motor Mount
Covering a lot of water and want more speed and control? An outboard motor mount lets you attach a sub-10 hp motor to the back of your XTV, letting you switch to propeller power for long crossings. Argo makes two versions: one is compatible with 6×6's, while the other works with all 8x8s except for the Conquest. For the best performance, these mounts should be used with a motor that has a 20-inch shaft.
Racks
Adding a rack can give you more room for your gear and provides a place for your game so it doesn't have to be inside the vehicle with you. The front rack mounts over the engine compartment, while the rear rack extends past the rear seating area. Both front and rear racks can carry a maximum of 50 lbs. (23 kg.)
Keep in mind that these racks may interfere with other accessories: the rear rack isn't compatible with the outboard motor mount, spare tire mount or gas can mount, while the accessory windshield can't fold down with the front rack in place. Like the gun rack, these cargo racks are available in black and tan to match your vehicle.
Convertible Top
Like the racks, Argo offers their tops in tan to match your vehicle's camo pattern. These are available in two sizes, letting you cover the driver and front passenger or the entire seating area. A windshield must be installed to provide support at the front of the top.
Brushguard
Keep brush, rocks, and branches from damaging the front of your XTV when you're driving through thick brush and rough trails. Available in black and tan.
Lighting
Need extra light to drive at night or want a quick way to get the light you need to set up camp? An accessory light kit has everything you need to increase the power and range of your Argo's lighting system. Available with either halogen or LED lights, this kit fits any XTV built since 2010.
Intake and Radiator Screens
Rolling over cotton, thistle and other tall grasses can leave behind debris that can gather on the air intake of older models, reducing air flow to the radiator or engine cooling fins. A fine mesh filter can be added to keep this debris away from your motor so you don't have to clean the intake to protect the motor. This filter is compatible with the Avenger, HD, HDI, and Huntmaster.
Kohler also makes a screen that fits between the radiator and the air intake gasket to protect from fine debris. When it gets clogged, it's easy to remove and clean. This screen is compatible with the Avenger, HD, HDI, Outfitter, and XTI.
Get Your XTV Ready for the Hunting Season with Help from Shank's Argo
No matter what you're hunting, you can get the accessories you need to get the most out of your XTV from Shank's Argo. We're one of the East's top Argo dealers, and our staff has over three decades of experience helping customers with outdoor equipment. Visit our shop, located at 4900 Molly Pitcher Highway, Chambersburg, PA. That's one mile east of I-81 from Exit 10 to Marion. To learn more, visit our website, www.shanksargo.com.