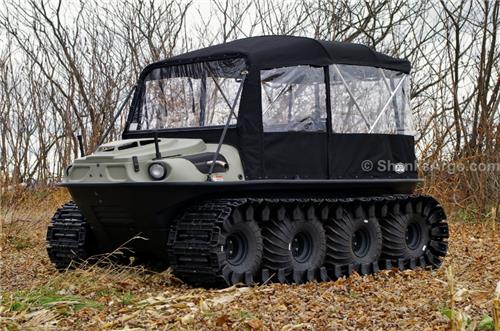 Argo's amphibious ATVs are built to handle extreme weather, but just because you can get around when it's -40° out doesn't mean it will be comfortable or even safe to do. Adding a cab can increase your comfort and improve your safety, whether you're working or enjoying the great outdoors. Here's what you need to know about adding a fabric enclosure or hard top to your XTV.
What Are My Options?
Installing a Roll Over Protection System (ROPS) will let you mount a hard roof. If you have a two-person ROPS, you can also add a rear mesh screen. This won't protect you from the cold, but it will help shield you from sunlight and deflect rocks, dirt, and debris at worksites. On 8×8 Avenger and Frontier models, the front of the ROPS mounts in place of the brushguard.
Installing a windshield will let you mount a convertible soft top. Aside from the attachment points along the windshield frame, these tops are free-standing and can be removed when you want an open cab again. If your XTV has a front cargo rack, the windshield must be fixed in place. Otherwise, you can fold down the windshield to have a completely open cabin.
Models with a liquid-cooled engine, including all Kohler gas and diesel engines, can use a heater. It taps into the engine's cooling system, using a two-speed electric fan to blow air past a small heater core. Combining a heating kit with a convertible top and windshield will make the inside of your Argo warm, even on the coldest days.
What Does it Take to Install These Accessories?
These accessories aren't bolt-on: the top section of the hull is cast as one piece to prevent leaks, and holes have to be drilled to use as mounting points. Some kit components are designed to work with a variety of vehicles and have to be modified to fit your specific model. If you don't think you'll be comfortable measuring and drilling on your XTV, have a dealer install these accessories.
Tools You'll Need
If you choose to install these accessories yourself, it's helpful to get all the tools you'll need while you wait for your parts to arrive. These tool lists should also give you an idea of the work involved.
Note that Argo uses SAE units for all their fasteners except for a few used on the heater kit.
For the windshield, you will need the following tools:
– Drill with ¼ inch drill bit
– Needle nose pliers
– Small punch
– #2 Phillips screwdriver
– 7/16 inch open-end wrench
– Hammer
– Nutsert tool
– Measuring tape
For a ROPS:
– Wrench set
– Socket set and ratchet wrench
– Torque wrench
– C-clamps
– Knife
– Drill and drill bits
– Pry bar
– Masking tape
– Marker
– Silicone sealant
The ROPS bars come in small sections that can be lifted by one person, but it's helpful to have help positioning the bars while bolting them to the vehicle.
For the Convertible Top:
– Drill with Phillips bit
– 1/8 inch hex wrench
– Carpenter square
– Tape Measure
– Marker
For a Hard Roof:
– Jigsaw
– Drill with ¼ inch drill bit
– Wrenches
– Socket set and ratchet wrench
For a Heater Kit:
– Metric and SAE wrenches
– Screwdrivers
– 1 1/8 inch and 2-inch hole saws
– Teflon tape
– Rivet gun
– Wire crimper
– Drill and drill bits
– Side cutters
Shank's Argo is Your Headquarters for Everything XTV
Whether you want to add weather protection yourself or need some help with installation, talk to the people at Shank's Argo. We offer all the accessories and parts you need to get the most out of your vehicle, and we can install windshields, tops, and other accessories for you. Our shop is at 4900 Molly Pitcher Highway in Chambersburg, PA. To get here, take Exit 10 from I-81 and drive one mile East.