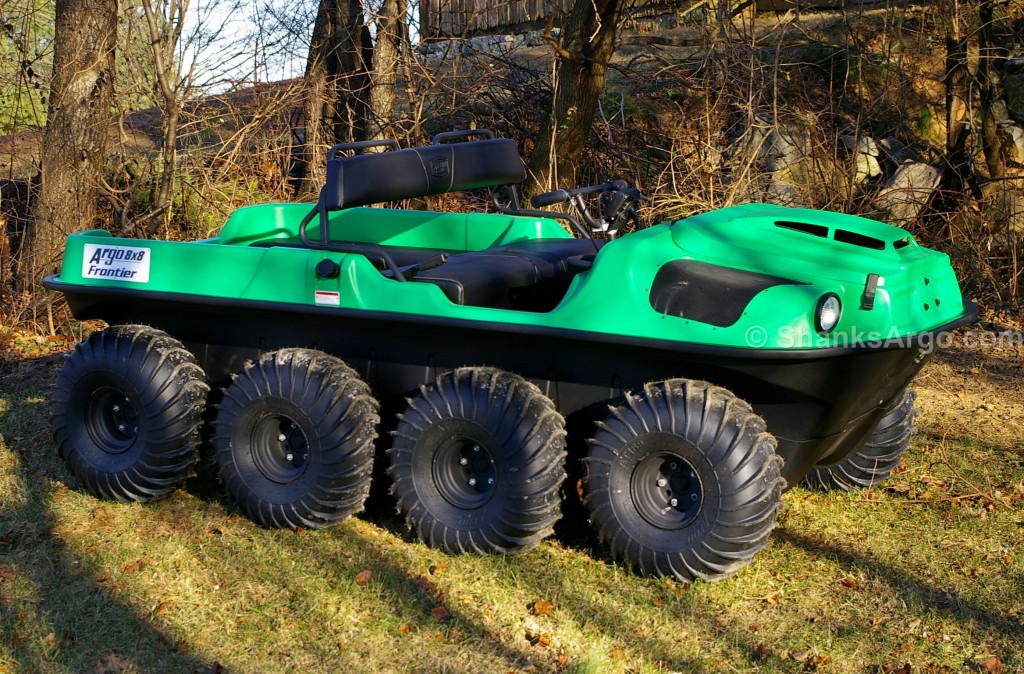 There's more to this unique off-road vehicle than just their amphibious abilities. Between its cargo capacity, low ground pressure and ability to handle a wide range of weather conditions, an Argo XTV has major advantages over ATVs and UTVs for hobbyists and professionals alike.
Water
These vehicles are built for short distance water travel, sticking mostly to the shoreline. You won't be able to use it to replace a boat, but you can use one to get across ponds and streams. This makes it a great choice for areas covered in waterways or island-filled coastal areas. They also don't need a dock to launch from, letting you access new areas. This adds fun to backcountry travel, saves time going to remote work sites and gives hunters and fishermen an upper hand when pursuing game.
Sand
With weight spread across several giant tires, these vehicles have extremely low ground pressure, letting them float over sand instead of digging into it. As is, these vehicles are designed for operating temperatures up to 104ºF. A cooling fan can be added for high desert temperatures.
Snow
Low ground pressure makes this vehicle drive like it's on snowshoes and tracks can be added with teeth that can bite into ice. All XTVs come with fuel-injected engines, so they're easy to start in cold weather, and the components are designed to handle use at temperatures as low as -40ºF. An enclosed cab can be added, and a heater can be installed on models with liquid-cooled engines.
Swamps
Low ground pressure combined with its amphibious abilities let XTVs travel effortlessly in swamps, passing through shallow water and over soft mud.
Steep Terrain
In an XTV, the tires are the suspension. This gives it a much lower center of gravity than an ATV or UTV, making it far more stable on steep inclines.
Speed
Sport UTVs and ATVs can reach speeds as high as 70 mph, while top speeds in an Argo range from 17 to 25 mph depending on gearing. This may be a disadvantage for desert racing, but speed in virtually all other off-road use is limited by terrain and obstacles, making top speed a non-issue.
People with Disabilities
Argo's XTVs only have hand-operated controls, so if you have limited use of your legs, you can still operate an XTV. Argo doesn't make a handicap-accessible model, but there are third-party systems available to outfit XTVs for this use.
Search and Rescue
Emergency services around the world depend on Argo. Their ability to launch into water from any point makes them perfect for flood response, and they can be outfitted for ambulance services and firefighting.
Remote Operation
XTVs can be equipped for air transport via helicopter, and once on site can run up to 7 hours on one tank of fuel. Add some extra fuel storage, equipment, and a trailer, and these vehicles can carry supplies for days of operation. These features have made Argos a favorite of everyone from big game hunters to rural linemen.
Outfitters and Adventure Touring
With large seats, an open design and available weather protection accessories, an XTV is perfect for traveling in the great outdoors. Mossy Oak camo designs are available to help your vehicle blend into the surroundings.
Outdoor Work
From personnel transport to mining and snow plowing, there's an XTV that's perfect for the job. The Conquest Series comes with a bed for moving materials, and Argo's universal mounting system lets you set up a mobile workbench for repairs in hard-to-reach locations. An optional diesel engine lets you use the same fuel as your heavy equipment, while ROPS and lighting accessories let you build a vehicle that will comply with work site safety regulations.
Weekend Warriors
While there are cheaper UTVs on the market, 6×6 XTVs are priced in line with quality name brand models. This puts them within reach of people looking for a fun alternative to traditional off-road vehicles.
Find Out What an Argo XTV Can Do for You
If you want to find out what XTV will fit your needs, talk to the experts at Shank's Argo. We're one of the largest dealers in the East, and we have over three decades of experience helping everyone from homeowners to fleet customers with their outdoor equipment. Our shop is at 4900 Molly Pitcher Highway in Chambersburg, PA. That's one mile east of Exit 10 from I-81.
Are you looking for parts and accessories for your Argo? Visit us online at www.shanksargo.com.