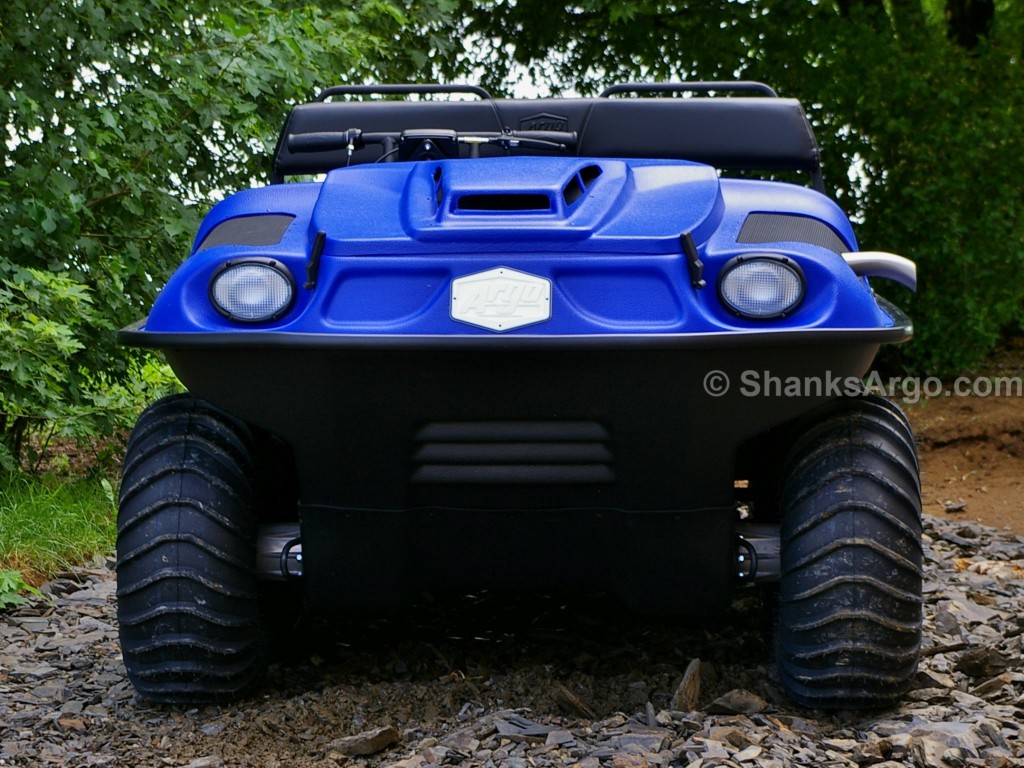 If you're a weekend warrior, you've probably heard praise for Argos from off-road and hunting magazines. If you have a business, you've probably seen companies use these vehicles to solve logistical problems when working in harsh environments. Either way, there's no denying that these amphibious ATVs have a unique place in the power sports market. That leaves one question: Is an XTV right for you? Here are some reasons you should choose an Argo over a traditional off-road vehicle.
How Good is an Argo for Technical Terrain?
All XTVs have 9 inches of ground clearance, increasing to 10 inches with tracks installed. On paper, that's average for off-road vehicles. However, the vehicle's design gives it major advantages over the tallest sport UTV.
With 6 or 8 giant tires to spread the load, an XTV has no problem driving on top of soft ground. While you would need to feather the throttle to keep the tires of an ATV from digging into mud or sand, an XTV can cross at full throttle. If mud is your foremost concern, take a look at the new Bigfoot series. These vehicles use tires designed for maximum mud traction. A low center of gravity also aids hill stability, making rollovers far less common.
Are They Expensive?
Fully loaded commercial market vehicles can get pricey, but that doesn't mean XTVs are out of reach. The Frontier line is competitively priced with mid-range UTVs while offering superior performance.
Are They Hard to Operate?
You won't be able to jump from a regular ATV or UTV immediately and drive a UTV. Skid steer vehicles react differently to steering inputs, but Argo's handlebar-based steering is easier to learn than the levers on a front loader. The new APS steering in the Aurora feels almost identical to an ATV, making it even easier to learn.
Why are Amphibious ATVs Popular with Hunters?
When it comes to big game hunting and remote excursions, it's hard to beat an Argo. Great off-road and water capabilities combine with ample cargo space and reliability to make the perfect hunting vehicle. Their Hunt Master line was created at the request of professional hunters who were using Argos to replace UTVs, horses, and boats, simplifying logistics and lowering operating costs. By using an XTV, these hunters are able to drive directly to hunting spots and go to areas out of reach to other off-road vehicles.
These models are available with Mossy Oak's Breakup Country camo, the most popular camouflage pattern on the market today. This makes it easy to match your equipment, hiding both you and your vehicle.
Why Choose an Argo for Fishing or Waterfowl Hunting?
Obviously, an amphibious ATV is a good choice because it can operate in water. However, its true advantage lies in its ability to drive over soft mud and cross waterways at any place with flat land. This greatly expands the areas you can reach, cutting time reaching fishing holes and accessing areas that are out of reach to other vehicles.
Hate standing in cold water? With an XTV, you can park at the water's edge or drive into duck blinds, keeping you out of the water.
Want to blend in? Argo partnered with Mossy Oak to bring their Shadow Grass Blades camo pattern to the Huntmaster line. This pattern combines photos of grass and thatch with realistic shadows to create a pattern that blends into marshes and streams while obliterating the vehicle's outline.
Why Should I Choose an XTV over a UTV for Commercial Work?
Most motorsports vehicles are built with a "performance first" mentality: they know these vehicles will only be used sparingly as toys, so reliability is not a priority.
Argo focuses on commercial use because they know even weekend warriors take their vehicles to remote areas. Instead of using motorcycle engines, they equip their vehicles with commercial small engines from Kohler and Briggs & Stratton Vanguard. These drive transmissions build by Argo's parent company, Ontario Drive & Gear. Their transmissions and gears are used in military and industrial equipment.
To better serve their customers, Argo builds models designed specifically for line work, emergency services, mining, and wilderness excursions. That means you can buy a new vehicle with factory accessories that will fit your needs perfectly.
Are You Ready to Be an Argo Owner?
If you're looking for a fun toy or a serious commercial machine, visit the experts at Shank's Argo. We're one of the largest dealers in the East, and our shop has been in the outdoor equipment business since 1984. We can help you find the right Argo, outfit it with accessories and keep it running. Visit us at 4900 Molly Pitcher Highway, Chambersburg, PA. You can also check our current inventory and schedule a demo at our website, www.shanksargo.com.