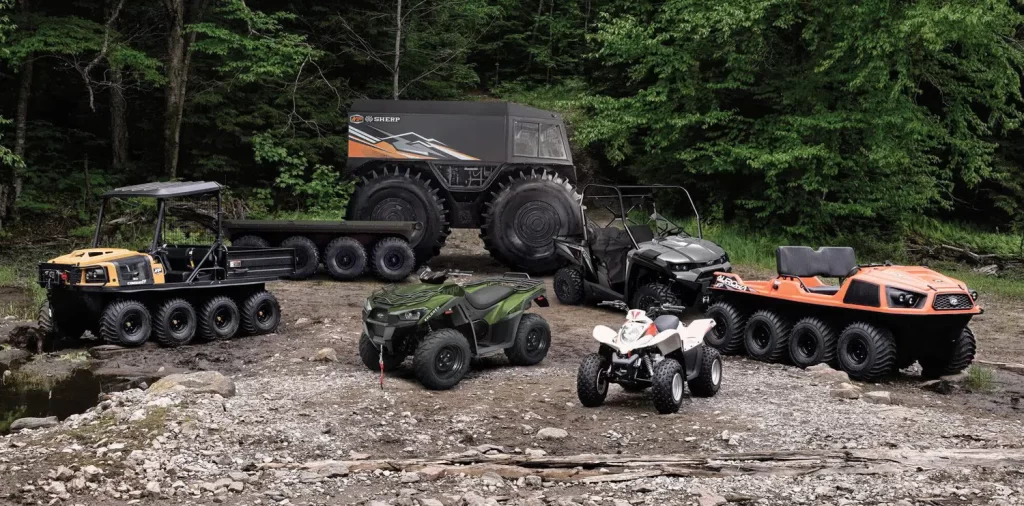 For 2022, Argo added two new technologies to their amphibious ATV transmissions: ITDS and ITC. You may not know what these acronyms stand for, but they bring better performance and eliminate the need for a high torque transmission option. Here's how they work.
What Makes an Argo Transmission Different from Other All Terrain Vehicle Gearboxes?
Both the standard and Admiral transmissions are CVTs with high and low final drive gears. That sounds the same as any UTV. However, the transmission is also part of the steering system. It has dual differentials and steering brakes. Together, these allow the left and right sides of the vehicle move at different speeds. This makes the vehicle turn toward the side with the slower spinning wheels. Shifting into low gear isn't as much for tough climbs as it is for taking sharper turns. In fact, the Admiral transmission will make the inner wheels spin slowly in reverse while in low gear. This is what gives Argo's amphibious ATVs such a small turning circle.
In the past, if you wanted more low-end torque, you needed different gearing. That's why Argo offered many of their models with a choice of Standard Torque (ST) and High Torque (HT) gearsets. Opting for an HT transmission gave owners better acceleration under heavy load at the expense of a lower top speed.
Getting High Torque and High Top Speeds with ITDS and ITC
The new Instant Torque Drive System (ITDS) has a wider gear range, covering the gear ratios of both the old ST and HT transmissions. The variator is also faster than before. This part moves the cones and belts inside the transmission to change gear. That way, you get a wider gear range with better response, especially under low load.
CVTs use a centrifugal clutch, which engages automatically as engine RPM goes above idle. This makes slow maneuvers difficult, because light throttle inputs can constantly engage and disengage the clutch. With Instant Torque Clutching (ITC,) even a light tap of the throttle engages the clutch. This makes low speed maneuvers easier, and eliminates the rubber band feeling CVTs are known for.
Argo says the new ST transmission with ITDS offer 25% faster acceleration than the old ST transmission, and 28% faster acceleration than the HT transmission. The biggest gains are at low speeds, making these vehicles much faster with heavy loads.
Do You Want the Ultimate Off-Road Vehicle?
Do you need a vehicle that goes beyond the capabilities of a regular ATV or side-by-side? Whether you need a vehicle for work or fun, we can help. Shank's Argo is one of the largest dealers in the East. We carry their full line of amphibious ATVs, including commercial and recreational models. Visit our showroom at 4900 Molly Pitcher Highway in Chambersburg, PA, or check out our current inventory at www.shanksargo.com. We also ship OEM parts and accessories for Argo XTVs across the United States and Canada.