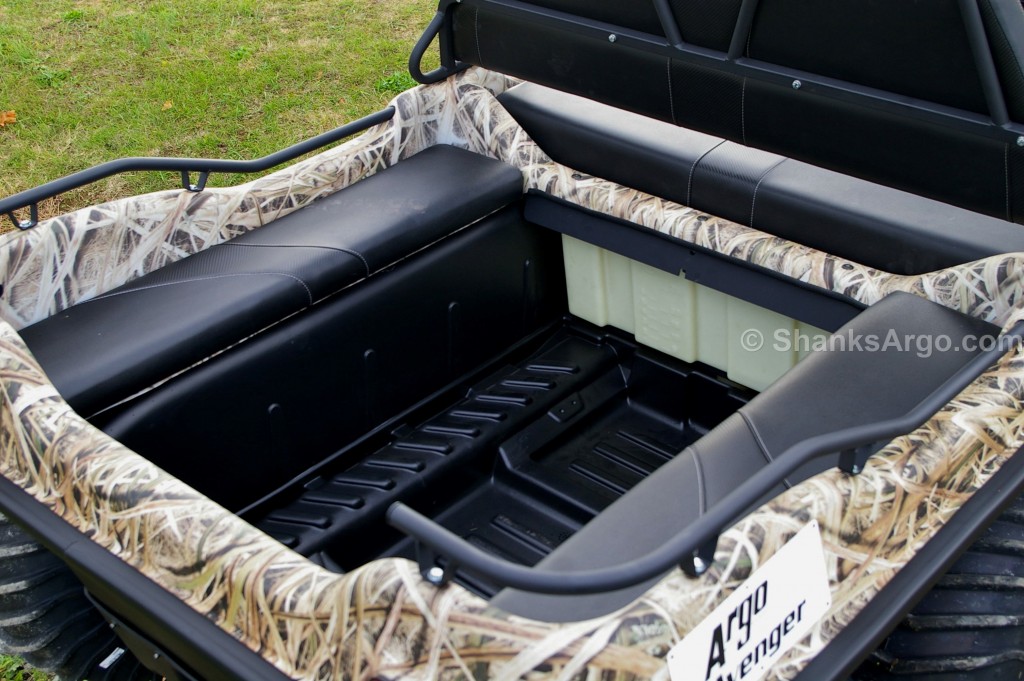 How much stuff can you get in an XTV? How many people can you carry? There's more to loading your XTV than keeping under the weight limit. Installed equipment and operating conditions can drastically change both how much you can carry and how it needs to be loaded.
Maximum Weight
The capacity plate is located on the left side of the dash above the VIN plate. This lists the maximum weight capacity on land and water as the vehicle was equipped from the factory. However, this rated load is only safe under ideal conditions. Under certain circumstances, your vehicle will need to carry less weight to operate normally and prevent rollovers.
Accessories and Weight
If you install additional accessories, their weight needs to be subtracted from the weights listed on the capacity plate. These are the weights of accessories currently offered by Argo:
Winch kit – 65 lbs.
Rear receiver winch kit – 10 lbs.
Brush guard – 15 lbs.
Tire carrier with spare – 44 lbs.
Gas can carrier with full can – 13 lbs.
Heater/defroster – 15 lbs.
Windshield 25 lbs.
ROPS, two-person – 105 lbs.
ROPS, four-person – 165 lbs.
Half top – 16 lbs.
Full top for 6×6 XTVs – 22 lbs.
Full top for 8×8 XTVs – 27 lbs.
Hardtop, two-person – 24 lbs.
Hardtop, four-person – 44 lbs.
Canvas enclosure, two-person – 16 lbs.
Canvas enclosure, four-person – 22 lbs.
Chain auto lubrication system – 11 lbs.
Snow plow – 165 lbs.
Dump box – 100 lbs.
Flatbed – 170 lbs.
Flat bed sides – 50 lbs.
Mud flaps, ¾ length – 22 lbs.
Mud flaps, full length – 75 lbs.
Suspension seats – 110 lbs.
Rear bench seat – 50 lbs.
Other accessories including tracks and outboard motors should also be taken into account when calculating the cargo capacity of your XTV. The weight of these parts will vary depending on their type and size.
Weight Distribution
Keeping cargo low in the body will keep the vehicle's center of gravity low for more stability. When loading the vehicle, place heavy objects in first, starting with the rear cargo area, and then moving to the front rack, if equipped. 6X6 models have a rear cargo compartment that can carry a maximum of 140 lbs. Going over this weight increases the chance that the vehicle will roll over backward when climbing a hill.
The ROPS uses metal tubing to create a cage that protects passengers in a rollover. However, this added weight is mounted high, making rollovers more likely, especially in water. Turns must be taken slowly to keep from upsetting the balance of the vehicle on hills and during amphibious use.
For greater stability, move weight toward the front when climbing hills and toward the rear when descending them. If you have several passengers with you, they may need to get off for steep hills to get a better weight balance.
Weight should also be distributed evenly from left to right. When entering water, redistribute the weight to get the vehicle to sit level before moving away from land.
Weight and Buoyancy on Water
The maximum weight your vehicle can carry on water is lower than its capacity on land due to buoyancy. If your XTV is equipped with tracks, it won't float, no matter how little weight is on-board. It can still ford water up to 25 inches deep, but if it gets swamped, the vehicle will sink.
Your XTV should never be driven through water if it's equipped with a snow plow. The added weight at the front end will make the vehicle tip forward and capsize.
Need Help with Your XTV? Visit Shank's
Shank's Argo is one of the largest Argo dealers in the Eastern United States. We can help you find the XTV to fit your needs, add the accessories you want and keep it serviced. Visit our shop at 4900 Molly Pitcher Highway in Chambersburg, PA. That's just south of Marion, one mile East of I-81. To schedule a test drive, visit www.shanksargo.com.