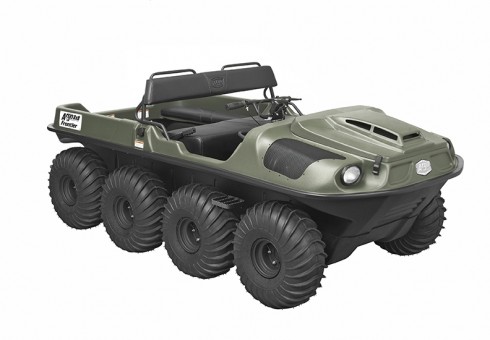 Need a vehicle that can go anywhere, carry a lot of people, and not break the bank? The Frontier 8×8 S is Argo's most basic 6 passenger model, but "basic" doesn't mean "ill equipped." It comes with all the features you need to handle just about any terrain, and with a few accessories, you can tailor it to suit your specific needs.
Boat? UTV? Why Not Both?
When it's on land, the tires are the suspension, absorbing bumps and providing plenty of ground clearance. With eight wheels to spread the load, the Frontier floats over sand and snow, and its low center of gravity lets it ascend hills at up to a 45-degree angle.
When it's in the water, the lower body acts as a hull and the tires provide ballast so the vehicle can float. Argo's unique tire tread pattern acts like a series of paddles, pushing the Frontier through the water without needing a separate drivetrain for a propeller. That means you can quickly cross streams and ponds without having to switch between vehicles.
Performance
The 8×8 S is motivated by a commercial quality air-cooled Kohler V-Twin producing 23 hp. This engine drives one of two transmissions: a standard model that has a top speed of 19 mph (30 km/h,) or the high torque transmission which has a lower top speed at 17 mph (27 km/h,) but offers more mechanical advantage for climbing steep hills with heavy loads. Both versions are CVTs, but they also come with a high and low gear, letting you shift down when you need a little more power for unusually difficult climbs. With either transmission, top speed over water is 3 mph (5 km/h.) Together, this powerplant and drivetrain can provide reliable performance in almost any weather with an operating temperature range between -40 and 104°F (-40 and 40°C.)
On land, this XTV can handle a payload of 910 lbs. (413 kg) and carry up to 6 passengers. Get it in the water, and payload is reduced to 810 lbs. (367 kg) and it can only carry four passengers.
Included Equipment
While the most basic Argo, the 6×6, makes due without a lot of standard equipment, the 8×8 S includes a bilge pump, side step, and full length skid plate from the start. The upper body is available in three colors: green, black and Mossy Oak's Infinity Break Up camo pattern.
Accessories
If none of the other 8×8 models quite fit your needs, the S is a great place to start, allowing you to pick from the full range of available accessories to build the XTV you want.
If it comes on the Scout, you can add it to your S. That includes the hunting vehicle's cargo rack, brush guard, winch, and lighting.
Going to drive your Frontier to the limit? Argo offers a range of options that fit over the tires and provide traction for specific surfaces. Adding additional fans, bearing extenders and a heavy duty drive belt can help the 8×8 S handle even more difficult conditions. Want to go faster on the water? Add a bracket to the rear end to mount a small outboard motor. Worried about getting stuck? Add a Warn winch to the front or rear to pull yourself out. If you want to get to really remote areas, there's even a kit that provides mounting points to lift the Frontier with a helicopter.
Getting the Frontier 8×8 S and its Accessories
The Frontier 8×8 S is great for buyers who want maximum space, minimum price and the greatest flexibility when setting up their XTV for excursions. Want to get a closer look? Visit Shank's Argo, located at 4900 Molly Pitcher Highway in Chambersburg, PA, or schedule a demo on our site. Not in South Central PA? We can still help you: we carry the full line of Argo accessories, and we can ship them nationwide.