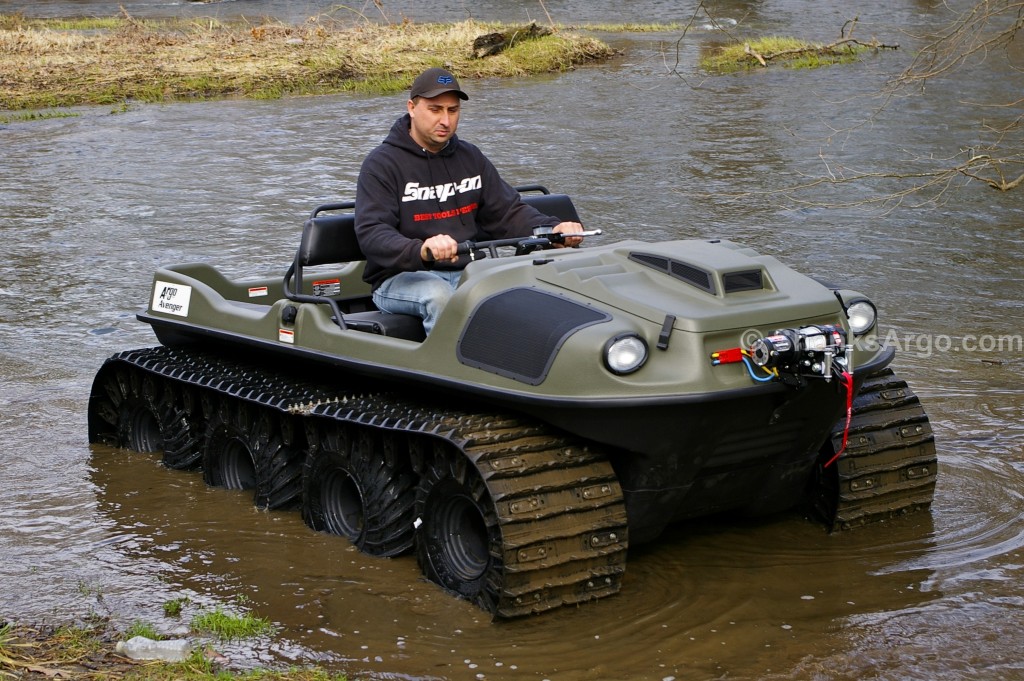 Swamps and marshes offer some of the most challenging terrain for any vehicle. Low water levels make them almost impenetrable to boats, while soft mud swallows off-road vehicles. However, with a little planning and the right equipment, you should have no problem conquering these areas in your Argo. This gives you more space to explore, and more places to hunt and fish. Here's how you can prepare and use your XTV on soft terrain.
Getting Better Traction on Soft Ground
If you plan on taking designated off-road tracks through wetlands, you won't face any major challenges aside from some mud. Your XTV's low ground pressure will have no problem getting around. However, driving directly into marshes can be a challenge, even for a vehicle like an Argo. Fortunately, you can fit tracks to get your vehicle's ground pressure even lower, letting it drive over the softest surfaces.
All Argo tracks work well on soft mud. Rubber tracks are also good for getting extra traction on hard ground, while plastic Supertracks offer superior mud performance in exchange for extra noise on hard surfaces. Most recent amphibious ATVs come with axle extensions from the factory. If your wheels bolt directly to the hubs, you'll need to add extensions to keep the tracks from rubbing against your vehicle's hull.
Tracks prevent tire treads from paddling in water. Once the water level reaches the midpoint of the hull, your XTV will still float, but it won't be able to propel itself. If you want to use your vehicle with tracks and go into deep water, you'll need to add an outboard motor. Argo makes a mount that works with sub-10 HP long shaft motors.
If you don't want to use tracks, you also have the option of installing AquaTorque tires. These tires come with Bigfoot XTVs, and can be installed on any amphibious ATV model. Their treads are designed specifically for mud traction, but like tracks, they don't paddle effectively on water.
Other Upgrades You Should Consider
Tires and tracks will help you travel across marshes and swamps, but there are some other accessories you should consider to make your excursion easier:
– Argo's mud flaps line the back and sides of your amphibious ATV's hull, deflecting water and mud kicked up by the tracks.
– A winch can pull your vehicle out if it gets stuck. Argo has complete kits with Warn winches and hardware that attach directly to your vehicle's front end and factory wiring harness.
– The hull can take a beating from hidden obstacles under the water. If you have a Frontier, now is a good time to add a skid plate. Other models come with one from the factory.
Techniques for Swamp and Marsh Driving
If you're riding on tires, low air pressure will give you the best traction on mud, but it limits your vehicle's buoyancy in water. You may want to pack a portable air compressor, so you can keep your tires at 1.5-2.5 psi for ground travel, then air them up to 4 psi when you need your vehicle to float.
You will get the best traction by driving straight. When making transitions into mud and water, line up your vehicle on solid ground first. This way, you don't need to turn while driving over soft soil into the water. Even with your vehicle's traction and low ground pressure, it's still possible to get stuck. Keep a steady hand on the throttle, maintaining momentum without revving the engine. If you open the throttle too fast, the tires or treads will break traction and spin in place, digging a hole.
Murky water can hide rocks and tree roots that can snag on the bottom of your vehicle. This makes it easy to high side your XTV. If you get stuck, try moving the cargo in your vehicle around to put weight on one set of tires. As long as you have some grip, you should be able to drive out of the situation. With severe snags, you may need to use your winch to pull your vehicle out.
Get the Help You Need for Your Next Excursion
Shank's Argo is your complete source for everything Argo, including amphibious ATVs, parts, accessories and service. We're one of the largest Argo dealers in the East, and we have 35 years of experience in the outdoor equipment business. Visit us at 4900 Molly Pitcher Highway in Chambersburg, PA, or online at www.shanksargo.com. We can help you find the right XTV, fit it with the accessories you need, and make the repairs you need to keep it running.