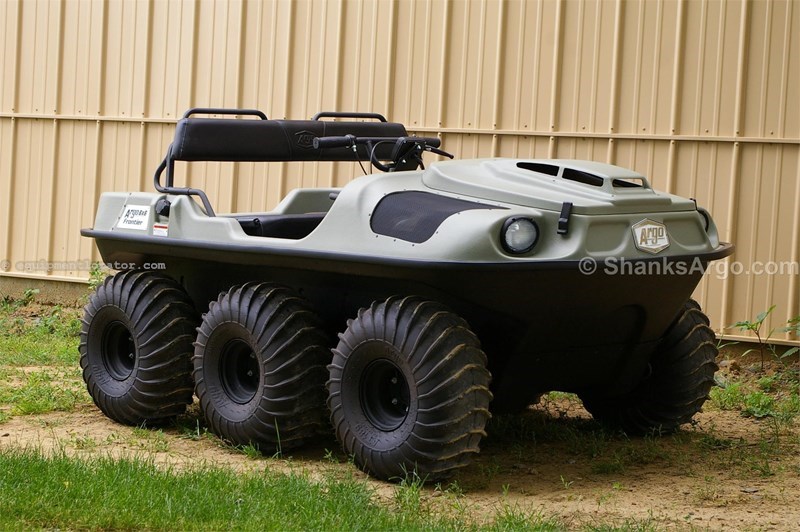 Argo's XTVs aren't just for fun: businesses around the globe depend on these machines to reach remote areas, whether that means transporting personnel to oil wells, reaching downed power lines or maintaining remote stations. To make your job easier, Argo offers accessories that let you equip your vehicle for the task at hand.
Alternator
Get the power you need to support electric accessories by adding an alternator or upgrading to a new unit that delivers 40 amps of power. Kits are available for the Vanguard, Vanguard II, Conquest, Avenger, HD, HDI, Huntmaster Bigfoot, and Response.
Hitch Receiver
Add a receiver to the back of your Vanguard or Vanguard II for use with trailers or a rear winch mount.
Hood Rack
This rack mounts over the hood for carrying up to 50 lbs. (23 kg) of equipment. Due to its placement, this rack isn't compatible with the accessory hood scoop, and it doesn't allow the windshield to be folded down.
Rear Rack
Expand your Argo's cargo capacity with a rack that extends behind the rear of the vehicle, giving you space for up to 50 lbs. (23 kg) of gear. Due to its placement, it can't be used with the gas can, spare tire or outboard motor mounts.
Utility Pouch
Large pockets provide storage for odds and ends including tools, safety gear, and first aid equipment. Not compatible with the gun rack or utility rack.
Utility Rack
This rack mounts to the front seat back to provide a place for carrying cables, chains and long objects like axes and shovels. Not compatible with the gun rack or utility pouch.
Universal Mount
Two metal rails provide mounting points for sprayers, generators, welders and other heavy equipment. This mount is available in two versions: one for an XTV's rear cargo area that can carry up to 750 lbs and a smaller unit for 8×8 amphibious trailers that can carry up to 550 lbs.
Tie Down Kit
Add 6 tie down points to your XTV's rear cargo area for securing awkward loads.
Snow Plow
This 81-inch snow plow is designed to be attached and removed in minutes, letting you put your XTV to work clearing roadways and parking lots as needed. A winch is required to lower and lift the blade when in use.
Amphibious Trailer
Expand your XTV's cargo capacity with a four or 8 wheel trailer. These trailers use the same hull construction and high flotation tires as an XTV, letting them travel across water and terrain. Need to move heavy equipment? Argo offers a version of the universal mount that fits the 8 wheel trailer.
Maximum weight capacity for the four-wheel trailer is 600 lbs, while the 8 wheel trailer can carry a maximum of 1,400 lbs.
Winch
Need to rescue equipment or pull your vehicle out of ruts? Argo offers Warn Provantage winches rated at 3,500 and 4,500 lbs with all the hardware you need to mount them to the front of your vehicle.
Even if your model came with a winch, there are ways of upgrading it to make it more useful. The hitch mount kit allows the winch to be mounted in the rear hitch receiver, while a wireless remote system can operate the winch from up to 50 feet away, letting you activate the motor as soon as the rope is anchored. Warn also makes synthetic rope to replace the steel cable, reducing weight while increasing durability.
Storage Tote
This waterproof, lockable box has 38 gallons of storage space, while built-in wheels and handles make it easy to transport once at the work site. The mount for this box is only compatible with the Conquest.
Bedliner
This polyethylene liner protects the cargo area from debris and sharp objects. Available for the 8×8 Frontier and Avenger.
Flatbed Deck
This deck turns the back of your Conquest into a flat cargo area with four tie-down points, while still allowing access to the cargo area via a built-in hatch. Stake sides can also be added.
Dump Box
This solid steel box carries up to 1,000 lbs. (450 kg,) and is easy to operate thanks to a driver's side-mounted 14-inch stroke actuator. This box is compatible with the Conquest and is not intended for amphibious use.
Rear Bench Seat
This seat fits over the Conquest's rear cargo area to provide seating for two more passengers. It's designed for easy removal and installation, letting you maintain the full function of the cargo area.
Outfit Your XTV for Work with Help from Shank's Argo
We've spent over three decades helping our residential and commercial customers with their outdoor power equipment, so we know what you need to get the most from your Argo. To see how your XTV can be set up for your needs, schedule a demo at our showroom, located at 4900 Molly Pitcher Highway in Chambersburg, PA.