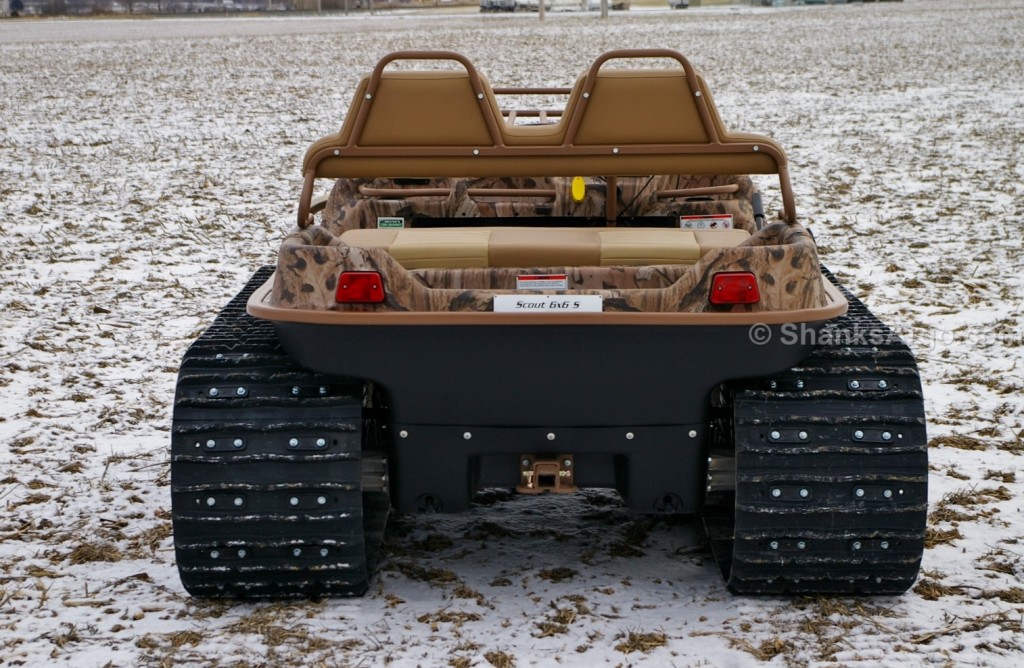 Is it time to put your Argo away for the season? Are you ready to take your XTV out for some winter adventuring? Either way, there are some steps you should take to make sure your amphibious ATV makes it through the season.
Preparing Your Amphibious ATV for Use at Low Temperatures
Argo thoroughly tests their vehicles to make sure they're reliable down to -40°F. However, engine manufacturers recommend switching to lower viscosity oils when operating in cold weather:
– Vanguard recommends conventional or synthetic 5W30 oil when operating at temperatures below 40°F. Synthetic 5W30 can be used at temperatures up to 100°F.
– Kohler recommends switching to 5W20 or 5W30 below 32°F. Synthetic oils can be used up to 40°F.
Always clean off any ice and snow before driving your XTV. As the vehicle warms up, this precipitation can melt then refreeze on drive components.
Now is a good time to add a windshield or an enclosure to your vehicle. This will shield you from cold, wind and snow, making your trip more comfortable. If you have a liquid-cooled engine, you can also install a heater.
Operating in Winter Weather
A combination of cold temperatures and wind can rapidly draw heat from your body, causing frostbite. If you're operating your XTV at top speed, you're experiencing constant 20-25 mph winds. Here's how long it takes to put your body in danger:
– 20 mph at 0°F (-20°F wind chill): 30 minutes
– 20 mph at -5°F (-30°F wind chill): 10 minutes
– 20 mph at -15°F (-40°F wind chill): 5 minutes
To prevent frostbite, it's important to cover your body from head to toe. Small gaps between gloves and sleeves or your helmet and jacket can be enough exposure to have dangerous consequences.
Plan on crossing a frozen lake? Argo recommends driving in areas with at least 5 inches of clear ice or 10 inches of white ice. If you think there's even a slight chance the ice may break, don't go. If you do end up in the water, make your way back to the ice as soon as possible. You may find that it's easy to climb out going in reverse since the rear end of the vehicle sets higher in the water.
Storing Your Argo for the Season
If you're done with driving your amphibious ATV until spring, there are some steps you should take to ensure it's ready for next year.
General Inspection
Now is a great time to check your vehicle for issues and make any necessary repairs. Argo recommends cleaning the drive chains once per season, even if you have an automatic oiling system. While you're at it, make sure the axles are watertight and inspect your engine's exhaust and air cleaner.
Tires
Your XTV's tires will develop flat spots if they're supporting your vehicle for long periods of time. Place wood blocks on the four corners of the vehicle inside the wheels so that they support the ends of the axles. This distributes the load better than a set of jack stands.
Fuel
Carburetor-equipped engines are sensitive to stale fuel. Before you store your Argo, drain the fuel tank and run the engine until it shuts off. This removes any remaining gas in the fuel lines.
EFI engines like the Kohler Aegis are less sensitive to stale fuel. However, you should still fill your Argo's tank with gas treated with a stabilizer. Run the engine for a few minutes to pull the stabilized fuel through the fuel system. By keeping the tank full, you reduce contact between the fuel and air, which can cause oxidation.
Diesel engines don't require any fuel treatment. Just make sure the tank is full to reduce oxidation.
Oil
Change the oil before storage, even if you changed it recently. Combustion can leave acids in oil that will corrode engine surfaces. You can fill the engine with the same oil you use in the summer. Engine manufacturers also recommend adding a small amount of oil to each cylinder through the spark plug holes. Run the starter for a few seconds to circulate the oil and push out any excess before reinstalling the plugs.
Electrical System
Remove the battery and attach it to a battery tender. This prevents sulfation that can ruin the battery during storage. Now is a good time to check the electrical connections and coat them in silicone lubricant. This disperses moisture and prevents rust.
Get the Parts, Sales and Service You Need from Shank's Argo
Shank's is a major Argo dealer, so we know what you need to get the most out of these unique vehicles. If you're looking for an amphibious vehicle, or you need help with your XTV, visit us at 4900 Molly Pitcher Highway in Chambersburg, PA. You can schedule a test drive with us by visiting www.shanksargo.com.