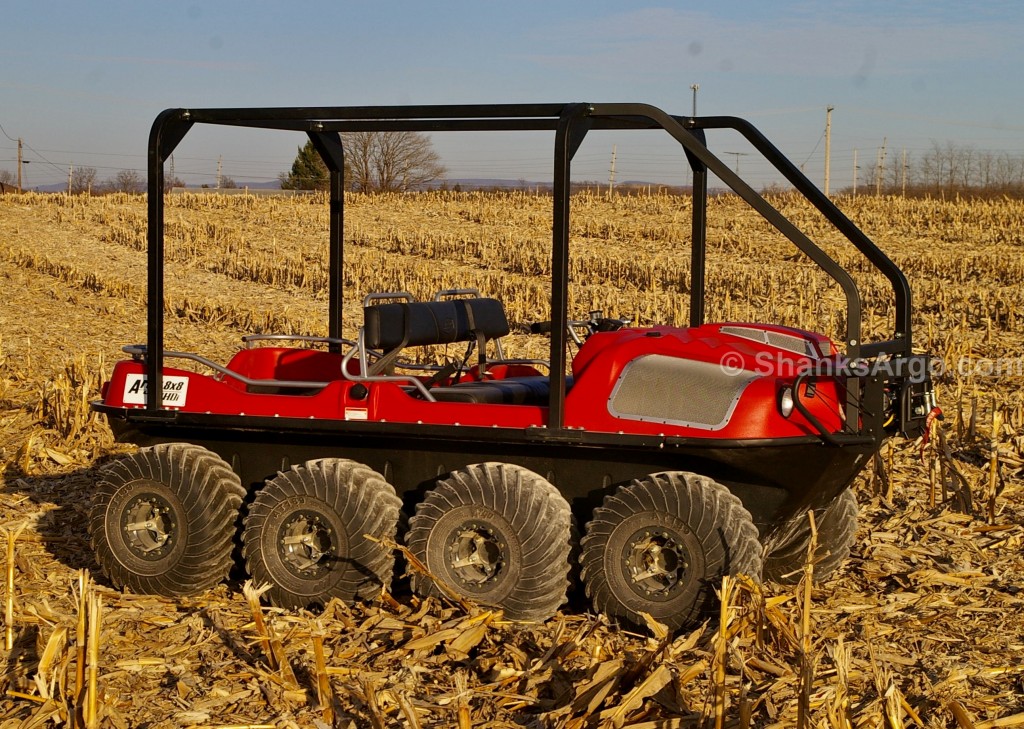 Rollover protection structures have been standard on UTVs since their inception, yet most Argos don't come with a ROPS, and those that do use a design that's less constricting than those found on modern side-by-sides. Why don't they come standard? When should you add a rollover protection structure with your amphibious ATV? Here's everything you need to know about rollover protection for your XTV.
What is a ROPS?
A Rollover Protection System or Rollover Protection Structure is a support structure that extends above the open seating positions in a vehicle. The first ROPS was introduced in 1967 to prevent tractor rollover injuries, one of the biggest dangers for farmers at the time. The concept is simple: adding a roll bar or cage gives something for the tractor to fall on during a rollover, keeping the vehicle from landing on top of the operator. If the operator is wearing their seat belt, they should be able to escape a rollover mostly unharmed. ROPS were later mandated for UTVs to prevent similar accidents when driving off-road.
Why Don't All Argos Come with Rollover Protection?
There are three reasons why most Argos don't come with a roll cage from the factory: vehicle stability, water use, and legal requirements.
Since an amphibious ATV doesn't use a long-travel suspension, the mechanical components can be mounted low in the body. Pair that with a wide track, and you get a vehicle that is extremely stable. As a result, the rollover risk is far smaller in an XTV than a comparable UTV or ATV.
Adding a ROPS raises the vehicle's center of gravity, which makes it less stable on land and in water. While the difference on land is small, a quick turn on water could capsize the vehicle. Argo recommends unbuckling seat belts during amphibious operation in case the passengers need to abandon the vehicle quickly.
Legal requirements for roll cages are narrowly defined, so an Argo's design usually falls outside of these parameters. This gives the manufacturer and the owner the option of running with or without a ROPS. In most cases, Argo thinks the increased risk of capsizing outweighs the added safety on land.
Meeting Legal Requirements and Workplace Standards
Are you legally required to install ROPS for an amphibious ATV when it's used as a commercial vehicle? That depends on how it's categorized.
Argo is based in Ontario, so they build their roll cages to meet the Ontario's Occupational Health and Safety Act Regulation 856, which covers the following standards:
– SAE J2194
– CSA B352.0
– CSA SA 352.1
– ISO 5700
– ISO 3463
This covers requirements for use across both America and Canada. A compliant rollover protection system can handle a 360-degree rollover and support the vehicle after the crash while keeping the driver and passengers safe in the vehicle.
Is an amphibious ATV considered a tractor? According to OSHA 1928.51, a tractor has at least 20 horsepower and is used to drive, carry or pull implements used in agriculture. That means it encompasses a range of vehicles, including UTVs fitted with attachments. However, there's a catch: this vehicle has to have two or four wheels or use tracks. Because an XTV has 6 or 8 wheels, it isn't a tractor unless you install a track system.
What about wilderness use? Under Bureau of Land Management rules, an Argo usually falls under UTV rules and has to meet rollover requirements.
Why is an Argo ROPS Less Restrictive Than a UTV ROPS?
There are several inches between the edge of the vehicle and the edge of the cab in an XTV. This adds a buffer between passengers and potential collision points. As a result, a ROPS on an Argo doesn't need the head and shoulder bars found on new UTVs.
Adding a ROPS for Comfort
Adding a roll cage can do more than increase your safety. It also serves as a mount for weather protection, including a hard roof and a convertible top. Argo's windshields are self-supporting, so you don't need to add a ROPS to use one. The cage on the Aurora also has handles, making it easier to climb up into the seats.
From Safety Compliance to Performance, We Can Help You Get More from Your Argo
Whether you want to get a new Argo, or you want to get more from one you already own, go to Shank's Argo. We can help you find a new XTV that will fit your needs and add accessories that help you get more from your Argo. Visit us at 4900 Molly Pitcher Highway in Chambersburg, PA or visit us online at www.shanksargo.com. Our site lets you check our current inventory and order parts and accessories. We ship across the United States and Canada.