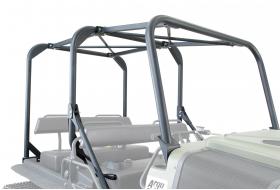 Whether you're far from civilization or working in town, there are a lot of reasons that safety should be a primary concern. Argo makes accessories that help reduce operation risks, comply with workplace regulations and make your XTV easier to use.
ROPS
The average ATV or UTV is 5 times more likely to roll over than an XTV, but that doesn't mean it's impossible to flip an Argo. A Roll-Over Protection System adds bars for the vehicle to land on, protecting the driver and passengers inside the cage during a rollover. This protection system is available for full coverage of the passenger area as well as a front seat only version which works on all models including the bed-equipped Conquest.
The ROPS can interfere with some accessories, so Argo offers compatible versions that attach onto or around the bars, including brushguards, lights, and side curtains.
Skid Plate
A skid plate comes standard on most models, but it can still be added to the Frontier 6×6. Thanks to the XTV's design, this plate can cover the entire bottom of the vehicle, protecting everything between the wheels.
Brushguard
Limbs and rock outcroppings can damage the front end and break headlights. Adding a brushguard deflects obstacles away from the front end.
Entry Steps and Hand Rails
Most models come from the factory with at least one step for easy entry and exit from the vehicle, but the hull is designed to accommodate steps on both sides. For rear passengers, a set of hand rails can be added to make it easier to climb into the back, and a third step can be mounted inside the receiver hitch.
Brake Lights
Not going to be the only vehicle in the area? Adding brake lights increases your XTV's visibility and lets other vehicles know when you're slowing down. In some areas, brakes lights are required if you drive your XTV on the street. Argo makes lights to fit the back of the vehicle, as well as a kit that fits into the end of their ROPS-mounted hard tops, giving you more visibility to tall vehicles.
Fog Lights
Light up your path without reflecting off of cloud banks. Available with either halogen and LED lights.
Horn
Loud noises may not be conducive to hunting, but they can be a lifesaver if you need to get a driver's attention. In some states, a horn is required to make your XTV legal to drive on the street.
Reverse Beeper
This device plays a warning sound when backing up, which may be required for some work sites.
Getting Safety Accessories for Your Argo
Whether you're looking for workplace compliance, road safety compliance or just want some added peace of mind, you can get everything you need for your XTV from Shank's Argo. We're not just a major Argo dealer, we've been helping everyone from hobbyists to landscape and construction professionals with their outdoor equipment for over three decades. When you need parts, accessories or service, visit us at our shop, located at 4900 Molly Pitcher Highway in Chambersburg, PA, one mile east of I-81 via Exit 10 to Marion. Stop by to schedule a test drive or contact us.