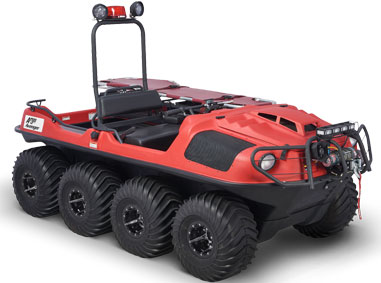 Argo's XTVs are used the world over by emergency services operating in remote and not-so-remote locations. Their stability makes them perfect for climbing mountainous areas, their low ground pressure lets them cross snow and sand with ease, and their amphibious abilities let them move in and out of flooded areas and waterways. Thanks to partnerships with Ferno and CET, Argo is able to offer equipment for these purposes, letting you build a vehicle that's perfect for your organization's needs.
Responder: An Ambulance for Anywhere
Argo knows how popular their vehicles are for search and rescue, so they built the Responder with this use in mind. This model is based on the Avenger 8×8, so it comes with a liquid-cooled EFI engine and an Admiral transmission. Argo offers the Responder with standard gearing or high torque for mountainous areas. An automatic chain lubrication system and heavy-duty drive belt also come standard for reduced maintenance.
This vehicle comes with a mount for a Ferno #9 stretcher. When in folded out, this stretcher runs across the left side of the vehicle, covering the seats on that side. When deployed, seating goes from four people on water and 6 on land down to two people on water and three on land plus the person in the stretcher.
The 3,500 lb. Warn winch attaches to the front or rear thanks to an included receiver kit. This makes it easy to extract vehicles and equipment in hard-to-reach places. Headlights and flood lights are included for visibility at night. Even with these accessories, the Responder can carry up to 950 lbs. on land and 800 lbs. on water.
Fire Fighting with an XTV
Sometimes, it's not so much the terrain but the size of pathways that limits the reach of traditional firefighting vehicles. The compact size of an XTV makes it perfect for getting in areas that are out of reach for trucks and boats, and with the fire skid, you can get the maximum amount of firefighting power in the smallest possible package.
Argo worked with CET to make a skid that drops into the rear compartment of any Frontier or Avenger. It has a main tank that can carry 75 gallons of water and a second tank that holds 5 gallons of foam. The pump is operated by a 6.5 hp Honda GX-Series engine connected to a two-stage centrifugal pump. This means the drive engine can be operated separately or shut off while the pump is in use. The skid includes a 100-foot hose and a forestry nozzle.
Accessories
These accessories were built with the Responder in mind, but most of these add-ons can be used with other Avengers.
The emergency lighting package uses LED lights to reduce power demands. It includes a fold-down light bar that mounts behind the driver that can be fitted with a red and white perimeter strobe or a pair of overhead spotlights. If you need audio capabilities and more visibility, Argo also offers a front-mounted siren and speaker with a built-in strobe.
Want to use a stretcher with any Avenger? Argo offers the Responder's mount as a separate kit. For carrying injured people through difficult terrain, an adapter can be fitted to this mount to carry a Ferno Traverse basket. A holder can also be added to the side of the mount carry an oxygen bottle next to the stretcher.
Other general-purpose accessories can also be useful for emergency services. Argos are popular in areas that have snow and severe cold, so it's common to see these vehicles outfitted with tracks, a cabin enclosure and a heater for passenger comfort and improved snow traction.
Working in Remote Areas
Speed is everything when disaster strikes, which is why Argo offers accessories that let XTVs work alongside helicopters. For quick deployment, the helicopter kit adds D-rings to corners of the XTV, letting it be lifted and dropped off using a sling. The Traverse basket is also designed with holes to attach a sling for hoisting it into a helicopter for quick evac.
XTVs can also be adapted for longer missions. The fuel tank holds enough fuel to run the vehicle for up to 7 hours, while mounts can be added to carry an extra tire or fuel can. If you need to bring extra equipment, an amphibious trailer can be added without hindering the vehicle's on-water or off-road abilities.
When Lives Depend on Your Equipment, Talk to the Experts
Shank's Argo is one of the largest dealers in the Eastern U.S, and we have decades of experience helping professionals with their outdoor equipment. We can help you find the right XTV and outfit it for your needs, whether you fight fires, rescue lost hikers or need to work in flooded areas. To learn more about Argo's rescue XTVs, visit our showroom at 4900 Molly Pitcher Highway in Chambersburg, PA.  To schedule a test drive, visit our website, www.shanksargo.com.