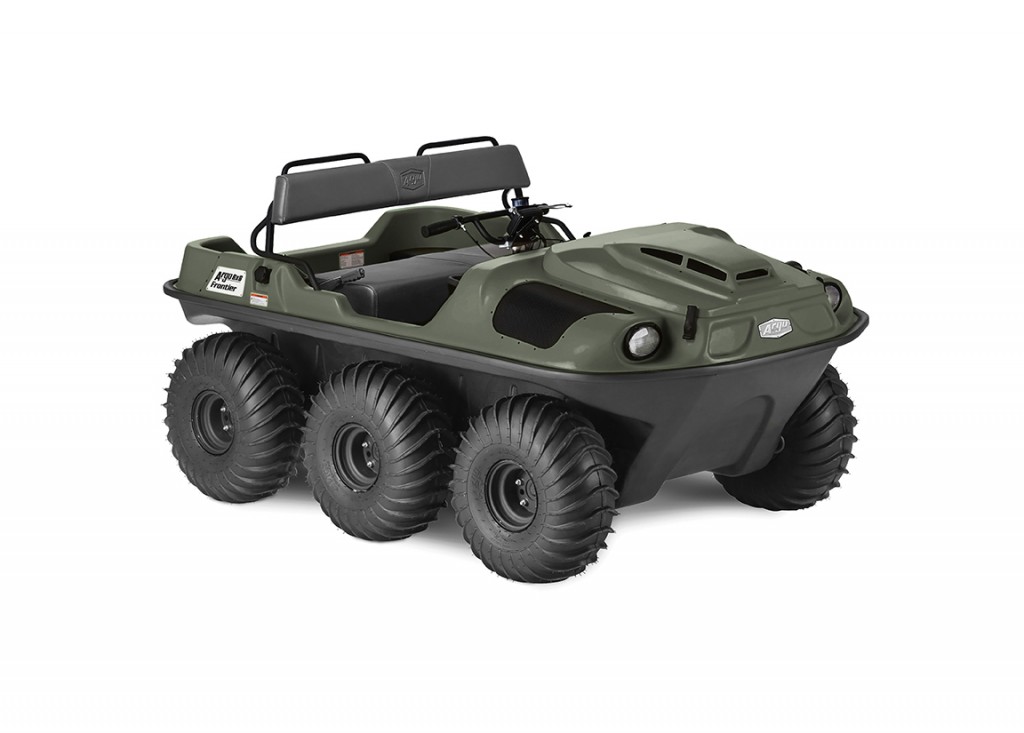 Are you new to Argo's XTVs, and you want the simplest, easiest-to-learn model available? The Frontier 6×6 ST uses the Admiral transmission for easy steering and includes the most popular equipment, letting you add accessories later to best fit your needs.
Power
The 6×6 ST is powered by a 23 hp Kohler Command Pro V-twin. This industrial-grade motor uses electronic fuel injection and full pressure lubrication like a car engine for reliability and fuel efficiency. Kohler guarantees this engine for three years, while Argo provides a limited one year warranty for the rest of the vehicle.
A CVT links this engine to an Admiral transmission with standard gearing for a top speed of 22 mph (35 km/h) on land and 3 mph (5 km/h) on water. This transmission delivers even torque to each wheel and can vary the speed of the wheels when turning instead of braking, making the ST's driving experience closer to that of an ATV.
Performance
The ST can go a lot of places that are inaccessible to most UTVs. It's designed to work in temperatures ranging from -40 to 104 degrees Fahrenheit (-40 to 40 degrees C,) and it has 9.5 inches of ground clearance. Giant tires spread out the weight of the vehicle, letting it drive over mud and snow instead of digging into it, and those same tires act like paddles in the water. Its unique design also gives it a low center of gravity, letting it tackle grades up to 45 degrees. This opens up access to shorelines, swamps, mountainsides, and other difficult terrain.
Want to be out all day exploring the wilderness? The on-board gas tank holds enough fuel to run up to 8 hours, and it has a clear window so the fuel level can be checked at a glance. Other information including speed, engine RPM, and operation hours are displayed on an LCD digital dash cluster in front of the driver.
Cargo and Seating
The 6×6 ST can carry up to 630 lbs. (286 kg) on land and 430 lbs. (195 kg) on water. The front seats hold two passengers, while the rear compartment can handle loads up to 140 lbs. (64 kg.) It can tow up to 1,200 lbs. (544 kg.)
This vehicle weighs 920 lbs. (417 kg) and measures 95 x 58 x 45.8 inches (2,413 x 1,473 x 1,163 mm.)
Standard Equipment
The Frontier 6×6 ST comes with a full-length skid plate to protect the underside of the hull, a bilge pump to keep the interior dry while on water, and an entry step to make it easier to get in and out of the vehicle.
Colors
This model is available in Black, Tundra, and Mossy Oak's Infinity Camo.
Buying and Maintaining a Frontier 6×6 ST
If you're looking to buy an Argo Frontier 6×6 ST, stop by Shank's Argo at 4900 Molly Pitcher Highway in Chambersburg, Pennsylvania. That's just off Route 11, or you can get here via Interstate 81 by taking Exit 10 to Marion.
Not in the area? We can still ship the parts and accessories you need to get the most from your Argo, no matter where you are in the U.S. Visit us on the web at www.shanksargo.com.