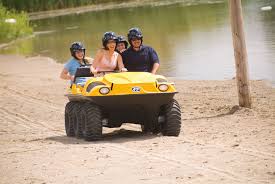 There are few places that lend themselves more to the capabilities of an Argo amphibious ATV than an open beach. Low ground pressure and constant all-wheel drive makes driving on soft sand easy, crossing areas that will halt other off-road vehicles. However, driving on beaches requires a different approach than you would take driving in a forest. These tips will help you get the most out of your seaside excursion.
Setting Up Your XTV for Beach Travel
Amphibious ATVs are not built for sea travel. Minor saltwater contact is fine, but long term exposure will cause corrosion. Never drive your vehicle into the ocean. After driving on the beach, wash your XTV thoroughly and check the axle seals for leaks.
Argo recommends airing up tires to 1.5-2.5 psi when driving on sand. By keeping the tires at their minimum operating pressure, the sidewalls have maximum flex for gripping terrain. If you don't have beadlock rims, be sure to inflate the tires to a higher pressure before driving any distance on hard ground.
For maximum floatation, consider installing a set of plastic or rubber tracks on your vehicle. By increasing the size of your vehicle's contact patch, ground pressure decreases from 1.5 to 0.4 PSI. That's less than a person walking in snowshoes, and about half that of an ATV with rubber tracks.
Gear to Bring on Your Excursion
These items are required for most beach permits, and they're handy to have on hand for any beach excursion:
Shovel – This lets you fill in ruts to get traction on sand.
Tow straps – With few objects to anchor a winch, you'll need a tow strap to pull vehicles out of ruts.
Jack and support board – In severe ruts, the vehicle will need to be physically lifted out. Typically, park and recreation areas mandate a support board measuring a minimum of 18 x 18 inch to spread out the jack's ground pressure.
Tire gauge – All vehicles need to run their tires at low pressure for maximum grip.
It's also a good idea to bring a flashlight to help you position support boards and jacks at night, as well as a first aid kit in case of injuries.
Know Where You Can Go
Erosion is a problem in any off-roading area, and none more so than the beach. Check the trail conditions before you go. It's common for sections to be closed off to protect plants and wildlife.
When entering the beach, use designated ramps to reduce erosion. Once you're underway, avoid ruts. This spreads out wear and tear, making it easier on the beach and other off-roaders.
Don't drive or park on the wrack line. This is the trail of debris left by high tides. Many types of birds depend on this line for food.
Check the tides: In most areas, it's recommended to stay just below the high tide line. Each high tide washes away and fills in the ruts, renewing the surface.
Go slow. Pedestrians always have the right of way, and children are likely to dart out in front of your vehicle without looking. In some areas, you may need to keep an eye out for fishing lines.
Technique
All the rules that apply to regular off-roading apply here. Most beaches also apply highway driving rules, including a speed limit.
Avoid making sharp turns. Even though Argos use a skid steer system, the wheels take a lot more force to turn when moving at an angle.
If you lose forward momentum, stop and back up. Trying to speed up will only dig your vehicle in deeper. Once you're out of a rut, fill in the hole to prevent other vehicles from getting stuck.
Get Ready for Your Next Off-Road Adventure with Help From Shank's
Are you ready to take the next step in off-roading an Argo amphibious ATV? Do you need service or accessories on your current XTV? Visit Shank's Argo. We're one of the largest Argo dealers in the East, offering the vehicles, parts and support you need to get the most from your vehicle. Visit us at 4900 Molly Pitcher Highway, Chambersburg, PA. Ready to try out a new Argo? Visit www.shanksargo.com.