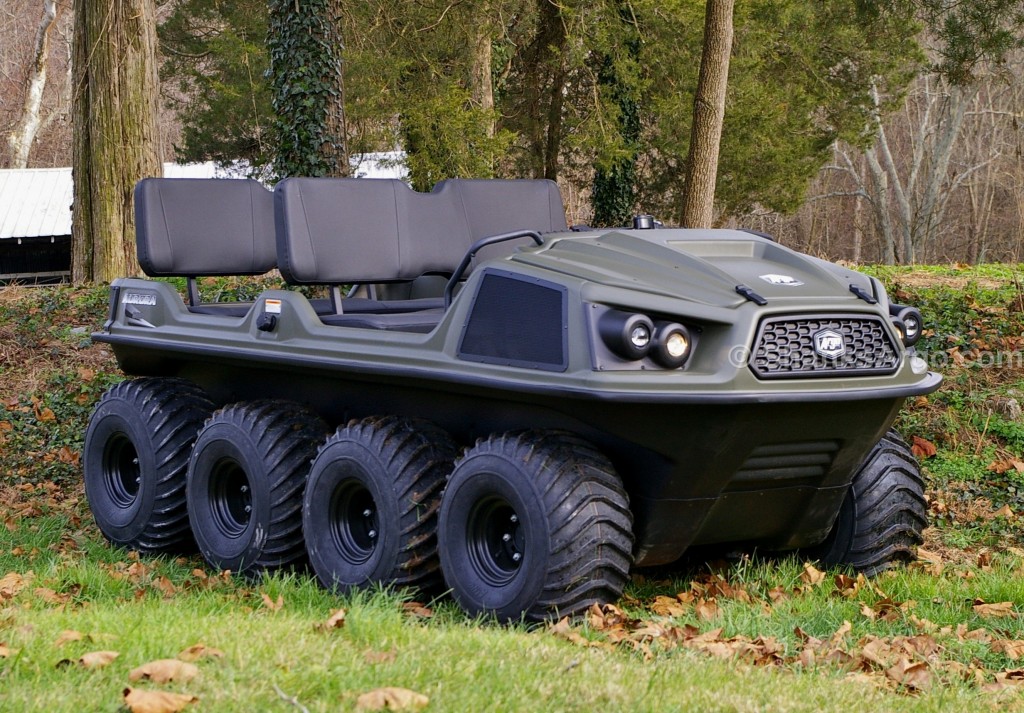 What does the future hold for Argo? If you want to know, just look at the new Aurora 800. This all-new design addresses a long list of owner requests, resulting in a vehicle that rides better, has more room and is easier to operate while still delivering Argo's legendary amphibious and off-road abilities.
Easier Control
The Aurora is the first model to get an Admiral transmission fitted with Argo Progressive Steering (APS.) This spring-loaded return gives the handlebars steering feel that's similar to an ATV with all the advantages of the Admiral transmission's skid steering. This makes the Aurora easier for ATV riders to learn and avoids problems with brake overheating caused by slightly off-center steering. Since it brakes the wheels instead of using a rack to steer, there's no bump steer, and steering effort remains light without having complicated power assist. APS also offers four times the steering motion of Argo's other transmissions, making it easier to pull off precise maneuvers.
To reduce hand fatigue, the throttle has been moved from the grip to a short finger lever like those used for mountain bike brakes. The transmission has also been updated, allowing the engine to be started while in gear as long as the handbrake is on, while the in-dash shift lever is mounted higher to make it easier to reach.
A Roomier, More Practical Cab
The Aurora is Argo's first left-hand drive vehicle, making it easier to operate on roads. The redesigned cab offers 20% more room for the driver, and a flat floor provides more foot room for everyone. The rear jump seats have been replaced by forward-facing bench seats just like the front of the vehicle. That means maximum seating capacity is down to four people, but the rear passengers will be far more comfortable. The 800 also has a thicker firewall to block heat from the engine.
A Better Ride
Argo is introducing a new tire design with this model that reduces noise and gives a smoother ride while still being able to effectively propel the vehicle in water. The 800 also comes with redesigned steel wheels that can handle lower tire pressures, increasing the amount of shock they can absorb.
A Shape That's More than Just Looks
The front of the 800 isn't just modern, it has a couple new features. In place of the single element headlights, there are now automotive-style high/low beam projector headlights, while the taillights use LEDs for increased brightness and longer life. The hood has an automotive-style latch, making it easy to open and eliminating the external latches that can get hooked on branches while off-roading.
Everything You Want from an Argo
The Aurora still has everything that makes an XTV the best choice for extreme off-road conditions. It's still amphibious, it still has low ground pressure to float over soft ground, and it still has the stability to tackle extreme slopes without needing a roll cage. The drive system still powers all 8 wheels 100% of the time for maximum traction, and it still has the high-quality components and large fuel tank that make it a practical choice when working in remote areas.
Power
The Aurora 800 has the same 30 HP fuel-injected, liquid-cooled engine that powers the Avenger series. The Admiral transmission is available with ST or HT gearing, which, like other models, results in a top speed of 20 mph and 17 mph respectively. An HD drive belt comes standard. Move into the water, and top speed is limited by the paddling action of the tires to 3 mph.
Cargo
The 800 can carry up to 1,070 lbs. on land and 920 lbs. water. Thanks to the position of the rear seat, this vehicle can seat up to four people on both land and water. Towing capacity is 1,800 lbs.
Colors
The Aurora 800 is available in Orange and Tundra Green.
Looking for an Argo? Talk to the Experts.
Shank's Argo is one of the largest dealers in this part of the country, and we have decades of experience helping people with their outdoor equipment. If you're looking to buy an Aurora or you need help with an older Argo, visit our shop at 4900 Molly Pitcher Highway in Chambersburg, PA. To get here from I-81, take Exit 10 to Marion and drive one mile East.