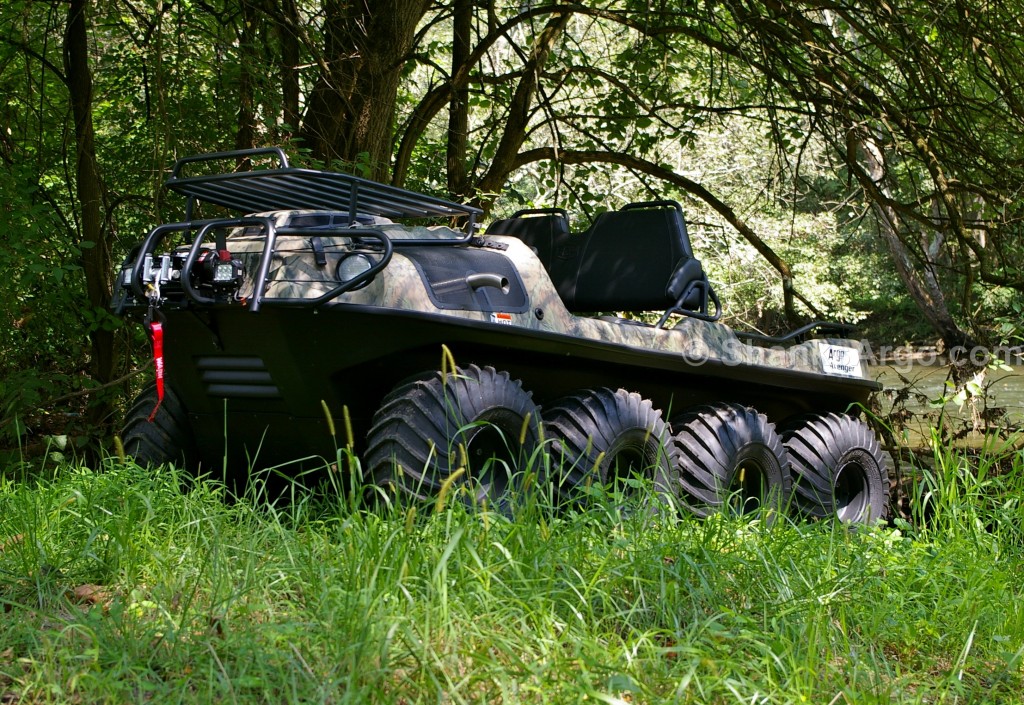 Argo's XTVs can tackle the toughest terrain and cross water, so it should come to no surprise that they're popular with sportsmen, whether it's a hobby or a job. The 2019 Argo Avenger 800 Hunt Master is designed for both types of users, offering popular hunting equipment and camouflage patterns from Mossy Oak on a robust platform.
The Swiss Army Knife of Off-Road Vehicles
The Hunt Master series didn't start because Argo decided to enter the hunting and fishing market, it was built at the request of hunters who found the capabilities of these vehicles to be a perfect fit for their sport. Hunting guides haven't just used XTVs to replace off-road vehicles: they've used them to replace horses, mules, and boats, simplifying logistics and adding flexibility for hunting trips.
XTVs float, using their unique tire treads to propel them through water. They can be launched without a dock or specialized ramp, and they have no trouble transitioning between solid ground, soft mud, and water. This makes travel faster in areas with lakes and streams and allows access to areas that are impossible to reach in other vehicles.
The tires act as the suspension, so major components can be mounted at the bottom of the hull while still maintaining plenty of ground clearance. This reduces the chance of rollover by 75% compared to a UTV. Climbs that would be impossible in other vehicles are no problem in an XTV, even when fully loaded.
With 8 tires supporting the vehicle, the ground pressure of the Avenger is less than that of a human foot. This makes the Hunt Master the perfect choice for waterfowl hunting, letting operators drive through marshes without worrying about getting bogged down. This also lets the vehicle drive over the snow instead of powering through it, making winter travel faster and easier.
Built for the Worst Conditions
Like all XTVs, the Avenger Hunt Master is built to work reliably in temperatures ranging from -40 to 104ºF. To perform in this wide temperature range, it uses an industrial 30 HP V-Twin. It's liquid-cooled to maintain temperatures at low speeds and fuel injected for easy starting in cold weather.
The 800 uses an Admiral transmission with ST gearing for a maximum speed of 20 mph, while HT gearing is 3 mph slower in exchange for more torque. An HD drive belt comes standard.
Cargo
The 800 Hunt Master has seating for 6 on land and a total cargo capacity of 970 lbs. In water, capacity is reduced to four passengers and 820 lbs. Over land and water, this vehicle can tow up to 1,800 lbs.
Turning a Great Off-Road Vehicle into a Great Hunting Vehicle
The Hunt Master comes with equipment and features most requested by hunters. There's a skid plate that protects the hull and extends to the top of the body line, so it can't get caught on branches. The front end is protected by a full-length brush guard, while a 3,500 lb. Warn winch can pull the 800 out of jams and rescue other vehicles. The front rack adds 50 lbs. of cargo capacity, freeing up room in the back for passengers and gear.
Argo teamed up with Mossy Oak to bring their camouflage patterns to this vehicle series. For hunting in forests, there's Breakup Country, the most popular camo pattern in America. It uses digitally-enhanced photos in varying sizes to blend in with forest colors and obliterate outlines. Hunting waterfowl? Shadow Grass Blades takes a similar approach, combining shoreline grass and weeds with digitally enhanced shadows to blend in with marshes.
From there, the vehicle can be built up to fit specific operating environments. For winter hunting, a heater and enclosure can be added for increased comfort. Tracks can be added to get better traction on ice, snow, and mud, while there are several options to increase cargo capacity including mounts for spare tires and fuel as well as amphibious trailers. For the most remote excursions, loops can be added to carry the Avenger by helicopter.
Get the Vehicle You Need to Get the Most from Your Next Hunting Trip
If you're looking at XTVs, visit Shank's Argo. We're one of the largest Argo dealers in the east, and we've helped hobbyists and professionals with their outdoor equipment for over 30 years. We're located at 4900 Molly Pitcher Highway in Chambersburg, PA. To get here from I-81, take Exit 10 to Marion and drive East one mile. To learn more, visit us on the web at www.shanksargo.com.