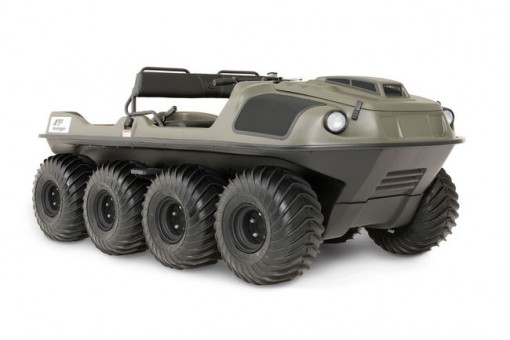 Want more capability from your XTV than you can get from a Frontier, but don't need to step up to a professional Conquest model? The Argo Avenger 800 bridges the gap, offering more towing power, the superior steering of Argo's Admiral transmission and a clean slate to build a vehicle that perfectly fits your needs.
Going Beyond the Capabilities of Traditional Off-Road Vehicles
Most people learn about XTVs because of their ability to travel across water, but there's so much more that makes the Avenger superior to a UTV or ATV.
XTVs have full time all wheel drive and use skid steering instead of a steering rack. The 800's Admiral transmission has variable steering brakes, gradually decreasing inside wheel speed for smooth turns. Unlike a steering rack, there are no issues with bump steer, and steering effort is always light, even though there's no power assist. It also gives the 800 a turning radius that is the length of the vehicle, letting you get places that are impossible in a UTV. With a ground pressure of 1.7 psi, the tires float on soft and hard surfaces. This nearly eliminates scrubbing on pavement and keeps the vehicle from getting bogged down on mud, sand, and snow.
The giant 24-inch tires act as the suspension, so the axles, engine, and transmission can be fitted to the bottom of the hull. The result is a low center of gravity for excellent hill stability while still having 9.5 inches of ground clearance. In fact, this vehicle is so stable that in most cases it doesn't need a ROPS, giving it an open feel that you won't find in a UTV.
Power
The Avenger 800 uses an industrial 30 hp EFI V-Twin. This engine is designed for maximum reliability and fuel efficiency, running between 7 and 12 hours on a single tank of fuel. The transmission is available with an ST final drive for a top speed of 20 mph, while the HT drive tops out at 17 mph while delivering more torque. Both versions have a low gear for increased climbing power and sharper turns. Once in the water, the tire treads act like paddles, propelling the vehicle to a top speed of 3 mph with either transmission.
Cargo
On land, this vehicle can carry up to 1,070 lbs. and 6 people. Drive into water, and buoyancy limits capacity to 920 lbs. and up to four people. No matter where you ware, this vehicle can tow up to 1,800 lbs.
Accessories
As the base model in the Avenger lineup, the 800 comes with minimal equipment so you can configure it to fit your needs.
Adding a set of tracks lets you pick a tread that works best in your local environment, whether you're traveling on mud, snow, ice or pavement. It also drops ground pressure from 1.7 to 0.67 psi, giving your XTV unparalleled flotation for the softest surfaces.
Working in hot or cold climates? Argo offers several options for enclosing the cab as well as fans to keep the steering brakes cool in extreme weather.
How do you tow a trailer when you're in a vehicle that can go anywhere? While you can use a standard trailer, Argo makes their own amphibious models that use the same construction as their XTVs. That means they can go anywhere your Avenger can go. Want more cargo space? Racks can be added to the front and rear, or you can add mounts for a fuel can and spare tire.
Need to rescue other vehicles? A 3,500 lb. Warn winch can be added to the front end. Plan on using your vehicle for more than occasional water crossings? A mount can be added to use an outboard motor.
Colors
The Avenger 800 is available in green and black.
Get More from the Outdoors
If you're looking to do more when you go outdoors, visit the experts at Shank's Argo. We're one of the largest Argo dealers in the country, so we know these vehicles inside and out. Visit our shop at 4900 Molly Pitcher Highway in Chambersburg, PA. That's one mile east of Interstate 81 via Exit 10 to Marion. To schedule a test drive, visit us online at www.shanksargo.com.