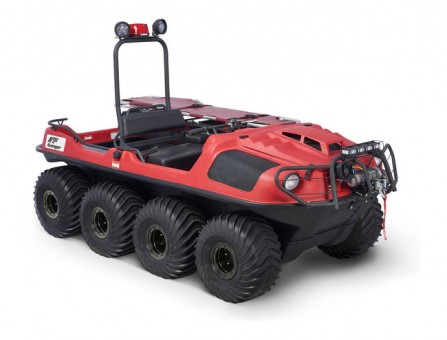 It's easy to see why Argo's Responder XTVs are popular around the world: few vehicles are able to cross both land and water, and even fewer can carry a stretcher, medical equipment, and personnel in a space that's narrower than a subcompact car. Simply put, these vehicles can go places that are out of reach for anything else on the market. The new 2019 Avenger Pro Responder builds on this reputation by offering a flexible package that can work as an ambulance and firefighting vehicle in the most hostile conditions faced by emergency crews.
The First Choice for Difficult Rescue Operations Worldwide
From mountains to tsunami-struck cities, Argo's Responder is used by search and rescue programs around the world when disasters strike. Its popularity comes down to a clever design that lets it reach victims faster, saving precious time when lives are on the line.
The XTV's ability to travel over water combined with low ground pressure makes it perfect for flood rescues. The vehicle floats over soft ground and doesn't require a dock or ramp to enter and exit the water. Built to operate in a wide range of temperatures, it also has no problem tackling snow and ice. The design also gives the vehicle a low center of gravity, making it capable of climbing slopes up to 45 degrees.
At 60 inches wide and 124 inches long, the Responder is smaller than just about any search and rescue vehicle on the market. In wooded areas and cities, this lets the vehicle get closer to incident sites, reducing the distances personnel have to carry equipment to the scene.
To better suit its use as an ambulance, Argo includes a rear-loading stretcher mount with a Ferno # 9 stretcher. Argo also fits this XTV with a brushguard to protect the front end and a Warn winch rated at 3,500 lbs. for moving downed trees and rescuing vehicles. Accessories are available to turn the Responder into a firefighting vehicle or add to its remote rescue capabilities.
Reliable Performance
This professional model uses an industrial 30 HP liquid-cooled V-Twin with EFI, giving it reliable performance, the ability to operate in almost all weather conditions and low fuel consumption. With just over 7 gallons of fuel on-board, the Responder can run for up to 8 hours on one tank of fuel.
The drive system uses the Admiral transmission with ST gearing for a top speed of 20 mph. This CVT has built-in variable steering brake system which lets the vehicle turn within its length, giving it far better maneuverability than an ATV or UTV. An automatic chain lubrication system and an HD drive belt come standard to reduce maintenance.
As equipped, the Pro Responder can carry up to 6 passengers and 840 lbs. on land, and four passengers and 690 lbs. on water. When the stretcher is deployed, it covers the left side of the seating area, halving seating capacity. No matter how it's used, the Responder can tow up to 1,800 lbs.
Accessories
Lighting options are available to fit your department's needs, including a light bar that has mounts for a strobe and work lights. For medical evac, there's an optional oxygen bottle holder and a head immobilizer for use with patients who have spinal injuries.
The fire skid is a drop-in tank and pump that fits into the rear seating area of the Responder. It carries 75 gallons of water and 5 gallons of foam, fed through a 100-foot hose and forestry nozzle. The pump is powered by a separate engine.
For remote rescue, the stretcher rack can be fitted with a basket designed for helicopter transport, and the XTV can be carried using a sling by installing a set of D-rings.
The Pro Responder can also be tailored to local weather and terrain conditions. Tracks are available in treads designed for mud, ice, and snow, and they fit directly over the tires, simplifying maintenance and keeping costs low. A windshield, heater and full fabric enclosure can be added for weather protection.
Colors
The Responder is available in bright red and orange.
Get the Expertise You Need for Your Vehicle
Shank's Argo is a leading Argo dealer and we have over three decades of experience helping professionals with their outdoor equipment. If your organization is looking to add an Argo to its fleet, visit or shop at 4900 Molly Pitcher Highway in Chambersburg, PA or visit us online at www.shanksargo.com. Need something for your XTV? Stop by our showroom today.