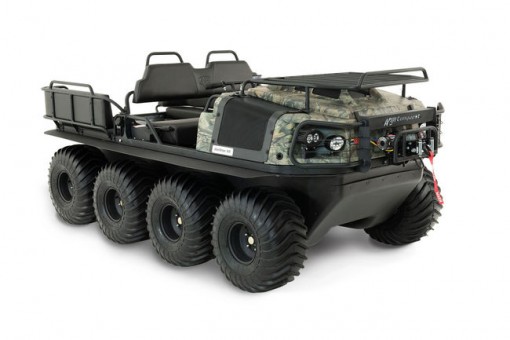 If you want to make a living helping people enjoy the outdoors, you need to offer your customers an experience they can't get by themselves. The 2019 Argo Conquest 800 Outfitter helps you deliver on that promise by letting you reach places that are out of reach to standard off-road vehicles while still being able to tackle the rigors of commercial service. It combines Argo's strongest chassis with Mossy Oak camouflage and popular features, making it perfect for hunting trips, sightseeing tours, and event support.
The Choice of Outfitters and Professional Hunters
Commercial owners don't just use XTVs to replace ATVs and UTVs: their ability to handle steep climbs, soft surfaces and water makes them a great alternative to horses and boats. Since they're able to cross the water almost anywhere, using an XTV can save significant amounts of travel time when moving across areas with swamps and streams. On land, a low center of gravity makes it possible to climb steep grades that would be unsafe in other off-road vehicles. A large contact patch keeps ground pressure low, so the Conquest can float over sand, mud, and snow instead of digging in and getting stuck. The Outfitter goes beyond standard Argos by including steel beadlock rims. This lets you run the tires at low pressures for better grip and a softer ride.
Considering a tracked vehicle? Thanks to the design of these vehicles, tracks can be wrapped around the tires without adding any extra equipment. This makes installation significantly cheaper than conversion kits for UTVs, and the tracks are easy to remove when you want to return to the stock configuration. While a track-equipped 800 won't float, its wide footprint decreases ground pressure to 0.67 psi. This lets it roll over the softest ground and minimizes environmental damage. Argo offers track designs for a variety of surfaces from pavement to ice.
Blend In With Your Environment
Argo teamed up with Mossy Oak to bring two of their most popular camo patterns to the Hunt Master series: Breakup Country and Shadow Grass Blades.
Breakup Country is the most popular pattern on the market today, offering users a design that blends photorealistic elements to obliterate outlines and blend in with North American forests. Want to use your Argo for waterfowl hunting? Shadow Grass Blades takes a similar approach with marshes and waterfronts, blending together river grasses with enhanced shadows to replicate glare from water.
Power
This model is powered by a commercial 30 HP V-Twin with fuel injection. It's liquid-cooled, helping it handle extreme temperatures, and it can be used with an optional heating system if you'll be using your XTV in cold weather.
The full time 8 wheel drive system connects to the engine using an Admiral transmission outfitted with ST gearing. This gives the Outfitter a top speed of 17 mph on land. Enter the water, and the tires can paddle the vehicle to a top speed of 3 mph.
An automatic chain lubrication system and heavy duty drive belt come standard to extend maintenance intervals, while a 60 amp alternator provides plenty of power for lights and accessories.
Cargo Capacity and Size
At 128 inches long and 65 inches wide, the 800 Outfitter is closer in size to a two-seat UTV, but it can carry a lot more. The Outfitter can carry up to 6 people and a total payload of 1,190 lbs. on the ground. When operating on water, capacity drops to 790 lbs. and up to two people. The rear seats can be folded up to use the entire rear area for cargo and equipment, and a rack is included, adding 50 lbs. of storage space to the front end. Maximum towing capacity under all conditions is 2,000 lbs.
Equipment
The Outfitter includes Argo's most popular accessories: dual rear entry steps to make it easier to get in and out of the vehicle and access cargo, a full skid plate that protects the underside of the hull, and a brushguard that shields the front of the Outfitter from branches and other obstacles. If you get stuck or need to help someone on the trail, you can use the front-mounted Warn winch. It's rated to pull up to 4,500 lbs.
Get the Professional Service You Need for Your Business
Shank's Argo is one of the largest Argo dealers in the East, and we have over 35 years of experience helping our customers with their commercial outdoor equipment. We can help you find the right XTV for your needs, install accessories and keep it serviced. Visit us at 4900 Molly Pitcher Highway in Chambersburg, PA. That's one mile east of I-81 via Exit 10/Marion. To schedule a test drive, visit www.shanksargo.com.