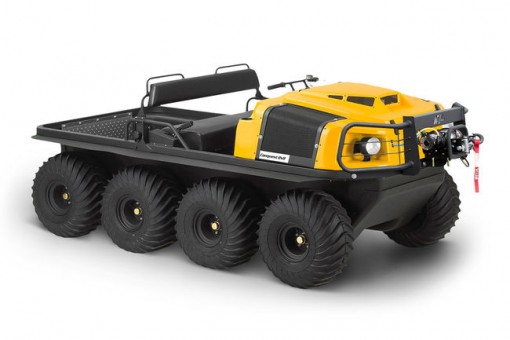 When you work in remote areas, logistics can make or break your operation. Argo's Conquest Pro 1050 XT-D uses a diesel engine, so you can use the same fuel as your heavy equipment while still getting the amphibious and off-road capabilities that make these vehicles the perfect choice for undeveloped areas. Here's why these vehicles are popular at remote work locations ranging from oil rigs to conservation areas.
Simplifying Logistics
What do construction equipment, heavy-duty trucks and large generators have in common? They all run off of diesel. If you're working in remote areas, fuel shipping can be a major operating cost, and you want to make supplying your equipment as simple as possible. That's why Argo makes the XT-D.
Instead of a gas-powered Kohler or Briggs & Stratton V-Twin, the XT-D uses a Kohler KDI diesel. This three-cylinder engine puts out 24 hp and 51 ft-lbs. of torque, so it can keep up with Argo's other vehicles, delivering the same speed and hauling ability. A belt-driven valvetrain and indirect injection system keep the engine quiet, while liquid cooling ensures reliable operation over a wide temperature range. Like Argo's other XTVs, the XT-D was designed to work reliably in temperatures ranging from -40 to over 100°F.
The XTV Advantage
With 8 giant tires to support the weight of the vehicle, ground pressure is extremely low, letting the vehicle drive over mud, snow, and sand with ease, even when fully loaded. Standard steel beadlock rims allow the tires to be run at extremely low pressures for better grip on rough terrain. The axles, engine, and transmission are mounted low in the hull, making the Conquest Pro far less likely to roll over when climbing steep terrain. While Argo offers a ROPS, in most cases, it isn't needed to meet workplace safety requirements.
The 1050 also floats, using the treads of the tires to paddle at speeds up to 3 mph. This lets you enter and exit the water anywhere, removing the need to transfer materials in and out of boats, and letting you drive directly to work sites instead of taking the long route to use bridges.
Transmission
The 1050 uses an Admiral transmission with ST gearing for an on-land top speed of 17 mph. A heavy-duty drive belt and automatic chain lubrication come standard to reduce drivetrain maintenance. The Admirals combination of a CVT, low and high range gears and integrated steering brakes give the operator precision control over any surface. The drivetrain sends power to all wheels 100% of the time, but it doesn't scrub on pavement thanks to the vehicle's low ground pressure.
Equipment
While Argo offers a long list of accessories for this XTV, the 1050 XT-D comes with their most popular equipment, adding utility without compromising hauling capabilities.
Axle extensions come standard, allow tracks to be added without modifying the vehicle. These tracks wrap around the tires, making them easy to install and remove as needed. When installed, the vehicle is no longer amphibious, but ground pressure drops to a point that it can drive over the softest mud and snow.
The XT-D also has a Warn winch rated to pull a maximum of 4,500 lbs. It's normally mounted to the front between the bars of the brush guard, but it can also be moved to the back using the included rear receiver kit. Outfitter switches next to the operator control the winch at either position.
Cargo
At 132 inches long and 65 inches wide, the 1050 XT-D is narrower and longer than most utility UTVs, giving it more cargo room while still being able to travel on narrow trails. As equipped, it can carry up to 1,350 lbs. on land, dropping to 715 lbs. on water. Using the built-in hitch receiver, it can tow up to 2,000 lbs. As equipped, this XTV has seating for two, but this can be expanded to four people on land using an optional rear bench seat. When not in use, this seat can be removed without tools to give full access to the cargo area.
Colors
This model is available in both Industrial Yellow and Tundra Green.
Get Professional Support for Your Professional Vehicle
Shank's Argo is one of the largest dealers on this side of the country, and we've been in the small equipment business for 35 years. To learn more about the Conquest Pro 1050 XT-D or to get service and parts for your current XTVs, visit our shop at 4900 Molly Pitcher Highway in Chambersburg, PA. That's one mile east of I-81 via Exit 10. If you're ready to learn more, we encourage you to schedule a test drive.