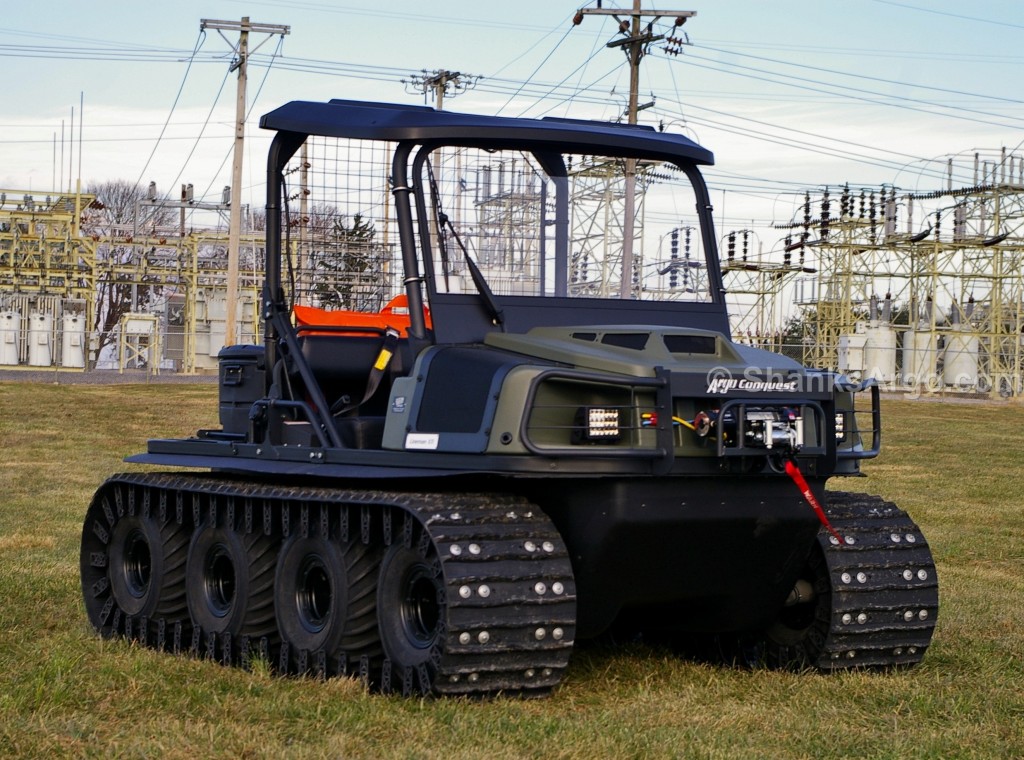 Electric utilities reach all but the most remote buildings, and that means someone has to maintain the lines, no matter how hard they are to reach. The 2019 Conquest Pro 800 XT-L is designed for the needs of rural line workers, giving them a way to transport tools and equipment to places that are out of reach to traditional vehicles.
More Than Just a Truck Replacement
An XTV isn't just a better performing alternative to traditional off-roaders, it lets rural linemen get to places that previously could only be covered on foot. Even cutting short walks between vehicles and poles can cut significant time off of jobs, helping you save money and service customers faster.
The drive system uses a CVT with high and low final drive, sending power to all 8 wheels 100% of the time via a chain drive. Between the chains and the transmission are a pair of disc brakes. Moving the handlebars gradually activates the brake connected to the inside wheels, slowing them down to make a turn. This gives the XT-L the maneuverability of a skid steer with controls that are closer to a standard ATV.
The tires act as the suspension, allowing the axles, engine, and transmission to be mounted low to the ground. This gives the XT-L superior traction and stability on steep slopes, making it perfect for working in mountainous areas. Need to work on soft ground? The large contact patch reduces ground pressure, letting this XTV float on mud, snow, and sand. The updated axles that allow tracks to be installed without adding spacers or lug extenders. This makes it easy to add mud or snow tracks for winter work, then remove them once the ground dries out in the spring.
Power
This XTV uses Kohler's Aegis ELH 775, an industrial V-Twin with electronic fuel injection and liquid cooling. It produces 30 HP and is designed to work reliably in a wide range of temperatures and operating conditions. The engine is mated to an Admiral ST transmission, geared to deliver a maximum speed of 17 mph.
Like other Conquest Pro models, the XT-L comes with a heavy-duty drive belt and an automatic chain lubrication system, reducing servicing frequency. A 60 amp alternator comes standard to power on-board electronics, including the vehicle's standard equipment, accessories and a pair of cab-mounted 12-volt outlets.
Cargo
As equipped, the XT-L can carry 1,055 lbs. including a driver and passenger. It isn't amphibious due to the addition of a ROPS and high-mounted toolbox, but it can still ford water up to 26 inches deep. A built-in hitch receiver lets this XTV pull trailers weighing up to one ton.
Equipment
For gear rescue, vehicle rescue and pole dragging, the XT-L comes with 4,500 lb. Warn Provantage winch wound with steel cable. It can be mounted to the front or to the trailer hitch using the included rear receiver kit.
While in motion, workers are protected by an ISO 5700-certified ROPS which also serves as a mounting point for a clear view roof, a rear protective mesh and a windshield with a built-in wiper. There's also a yellow strobe mounted on the roof for greater visibility.
Tools can be stored in the three-gallon waterproof tote, which straps down behind the seat during transport and has built-in wheels and a handle to make it easy to move once on site. A Wilton utility vice keeps conduit and other equipment in place, while a roof-mounted 6,000-lumen Golight spotlight illuminates the work area.
Accidents happen, and when you're working in the wilderness, every second counts when getting workers to medical facilities. The XT-L's folding stretcher lets you carry workers back to civilization instead of having to wait for a rescue team.
Colors
The Conquest Pro 800 XT-L is available in Industrial Yellow and Tundra Green.
Get the Support You Need for Your Fleet at Shank's Argo
We're not just a major Argo dealer: we have over 35 years of experience helping professionals with their outdoor equipment. When you buy an XTV from us, we can help you set it up for your needs and keep it running so you can think less about your vehicles and concentrate on your job. To see how an Argo can help you, visit our showroom at 4900 Molly Pitcher Highway in Chambersburg, PA. That's one mile east of I-81 from Exit 10. To schedule a test drive, visit www.shanksargo.com.