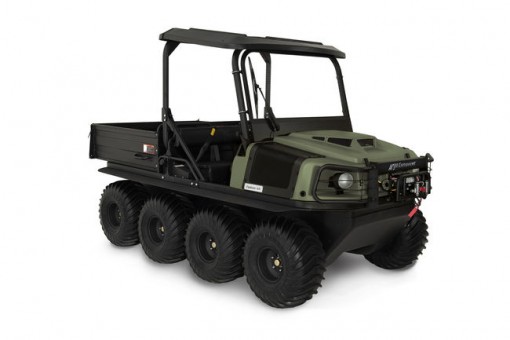 Are size constraints and terrain making it hard to use a truck, but you really need something with a bed for dirty jobs? The 2019 Argo Conquest Pro 800 XT-X is exactly what you need. Starting with Argo's tough Conquest chassis, this vehicle adds a heavy duty steel dump bed and both rollover and weather protection for use in mines and on nature's worst terrain.
A Dump Truck that can Go Anywhere
The XT-X is fitted with a steel dump box has a 1,000 lb. payload capacity. It has a hydraulic cylinder operated by an electric pump, allowing the operator to tilt the box by pushing a button next to the driver controls.
The axles and drivetrain are mounted low, making XTVs exceptionally stable, so a ROPS isn't required for regular use. However, the XT-X comes fitted with one to add extra protection in dangerous work locations, and it provides a place to mount the included roof and a windshield, which has a built-in wiper. Because the weight is hard to balance in the bed and the box and ROPS raise the center of gravity, Argo does not recommend driving this vehicle in water. However, it still retains the off-road capabilities of other XTVs.
In stock form, the eight tires spread out the load, resulting in 1.7 psi of ground pressure. This lets the XT-X operate on soft and unstable surfaces without disturbing them, so you'll get stuck far less often than you would in a truck or UTV. The included steel beadlock rims let you run extremely low tire pressures for added grip on rocky surfaces. Add a set of tracks, and the increased contact patch drops ground pressure to just 0.67 psi. That's close to the same pressure as a person wearing snowshoes. This makes the Conquest perfect for operating in marshes, wetlands, and swamps, driving over areas that will swallow other vehicles.
Even with the bed, this vehicle is just 132 inches long and 65 inches wide. It uses skid steering, braking the wheels on one side of the vehicle to make a turn. This keeps the turning circle tight: when in low gear, the turning circle is shorter than the XT-X itself.
Powertrain
Argo uses an industrial engine that is liquid-cooled and uses electronic fuel injection for high fuel efficiency and reliable operation in a variety of environments. Its 30 HP output is more than enough to reach a gear-limited 17 MPH, even when fully loaded.
Like other commercial models, Argo includes an auto chain lubrication system to extend maintenance intervals, as well as an HD drive belt to handle constant use under heavy loads.
Equipment
Aside from the dump box and drivetrain upgrades, this XTV comes with a Warn winch that can pull up to 4,500 lbs. It's normally mounted to the front of the vehicle, but it can also be attached to the trailer hitch using the built-in receiver kit. The XT-X's outfitter switches come pre-wired to operate the winch in either position.
Cargo
The XT-X can carry up to 1,055 lbs. including a driver and passenger, and it can tow up to 2,000 lbs. For towing in difficult terrain, Argo makes trailers with the same tires and hull as their XTVs.
Colors
This Conquest model is available in Industrial Yellow and Green.
Get the Service and Support You Need for Your Professional Equipment
Shank's Argo has grown to become one of the largest dealers in the Eastern United States for a reason: we have over 35 years of experience helping professionals with their outdoor equipment. We can help you outfit an XTV for your operating environment and keep it running. Visit our showroom at 4900 Molly Pitcher Highway in Chambersburg, PA. To get here, take Exit 10 from I-81.
Want to learn more and schedule a test drive? Visit www.shanksargo.com.