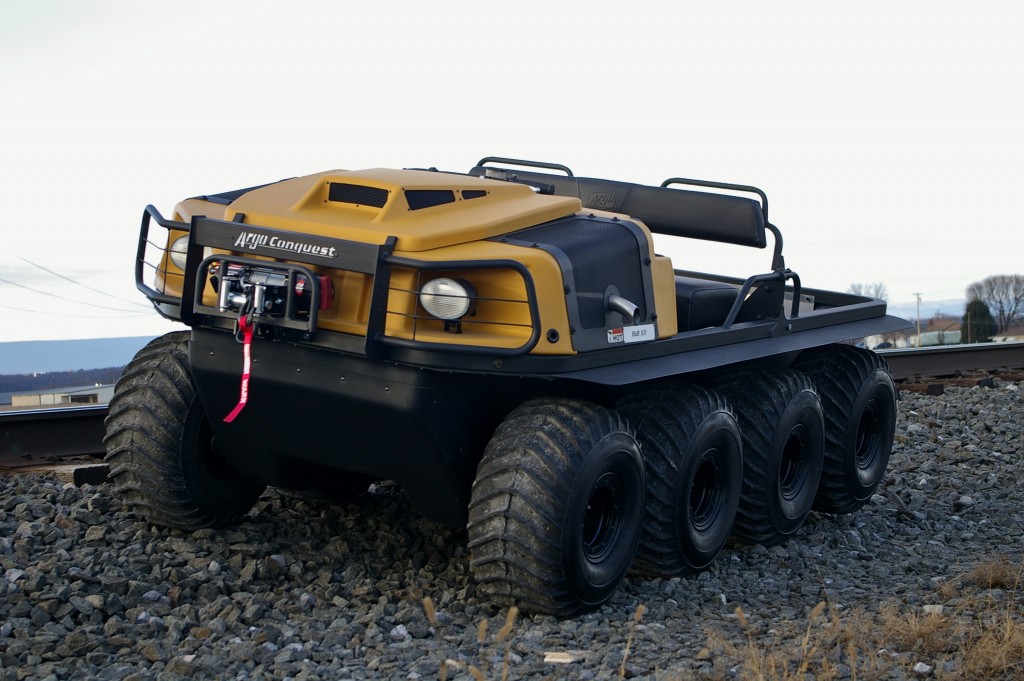 Argo made a name for themselves by making the first amphibious ATVs that could handle commercial duty, and they continue to support the market with their line of Conquest Pro XTVs. The Conquest Pro 800 XT does more than just cross water: its brake-based steering and low center of gravity give it unparalleled off-roading capability, making it the easiest way to get supplies and equipment to remote work sites.
The Ultimate Vehicle for Remote Work
XTVs use a sealed hull and tires with paddle-shaped treads to give it the ability to operate in water, crossing waterways without needing a dock or bridge. Even in developed areas, this can save significant amounts of time traveling between work locations. Need to make emergency repairs in flooded areas? An XTV lets you drive to the location directly without having to transfer materials between trucks and boats.
On the ground, the Conquest Pro outperforms trucks, UTVs and ATVs. Full time 8 wheel drive provides the traction needed for steep climbs, while the massive ground contact area keeps ground pressure low to float over soft terrain. The tires absorb the bumps, eliminating the need for a long travel suspension. As a result, the center of gravity is very low, making this vehicle significantly more stable than traditional off-road vehicles.
Instead of a steering rack, this model has skid-based steering, using brakes integrated into the transmission to slow down the inner wheels to make turns. The Admiral transmission combines a CVT with high and low final drive gears. When in low gear, the inner wheels will spin slowly in reverse. This gives the XT a turning circle that's shorter than the vehicle itself. Unlike steering racks, brake-based steering requires the same amount of steering effort across all operating conditions without the added expense of power steering.
The Conquest's heavy-duty chassis gives it the highest cargo capacity in Argo's lineup, and the XT's open cargo area gives it the most cargo space of any XTV. This makes it the perfect choice for hauling tools and materials.
Power
Under the 800 XT's hood, you'll find a commercial duty 30 HP EFI V-Twin coupled to Argo's Admiral ST transmission. Top speed for this model is 17 mph on land, dropping to 3 mph when in the water. A heavy-duty drive belt and auto chain lubrication system come standard to extend service intervals.
Like all XTVs, Argo has designed the drivetrain to handle temperatures ranging from -40 to 104°F. A 9.5-gallon fuel tank underneath the driver's seat holds enough gas to operate the engine up to 7 hours before refueling.
Features
A full-length skid plate protects the hull, and a brush guard shields the front end from branches. Single beam headlights and rear lights make the Conquest safe to drive at night. The XT comes with steel beadlock rims, keeping the tires attached at low tire pressures for better traction and ride quality.
The XT also comes with a Warn winch rated at 4,500 lbs. While this winch is normally mounted to the front of the vehicle, a rear receiver kit is included to attach the winch to the back of the XTV when needed. Switches are built into the control panel to operate the winch from inside.
Cargo
From the factory, this XTV has seating for two people and can carry 1,500 lbs. on land and 865 lbs. on water. It also tows up to 2,000 lbs. A removable bench seat is available that fits in the cargo area. It adds seating for two more people on land.
Configuring Your XTV
The 800 XT can be used as-is for maximum cargo capacity or built into the perfect vehicle for your needs using Argo's accessories.
6 and 8 wheel amphibious trailers use the same tires and hull construction as your vehicle, so they can be pulled over land and water.
For winter use, Argo offers a cab enclosure, windshield and heater kit, as well as an 80-inch snow blade that uses the winch to control height. Tracks are also available that lower ground pressure to drive over soft snow. These can be fitted with metal teeth to grip onto ice.
Colors
Argo offers the Pro 800 XT in Green and Industrial Yellow.
Get the Vehicle You Want with the Support You Need
Shank's Argo is one of the largest dealers in this part of the country, and we have the parts stock, technicians and experienced staff you need to get the most out of your XTV no matter where you use it. Visit our showroom at 4900 Molly Pitcher Highway in Chambersburg, PA. To get here, take Exit 10 from I81 and drive East one mile.