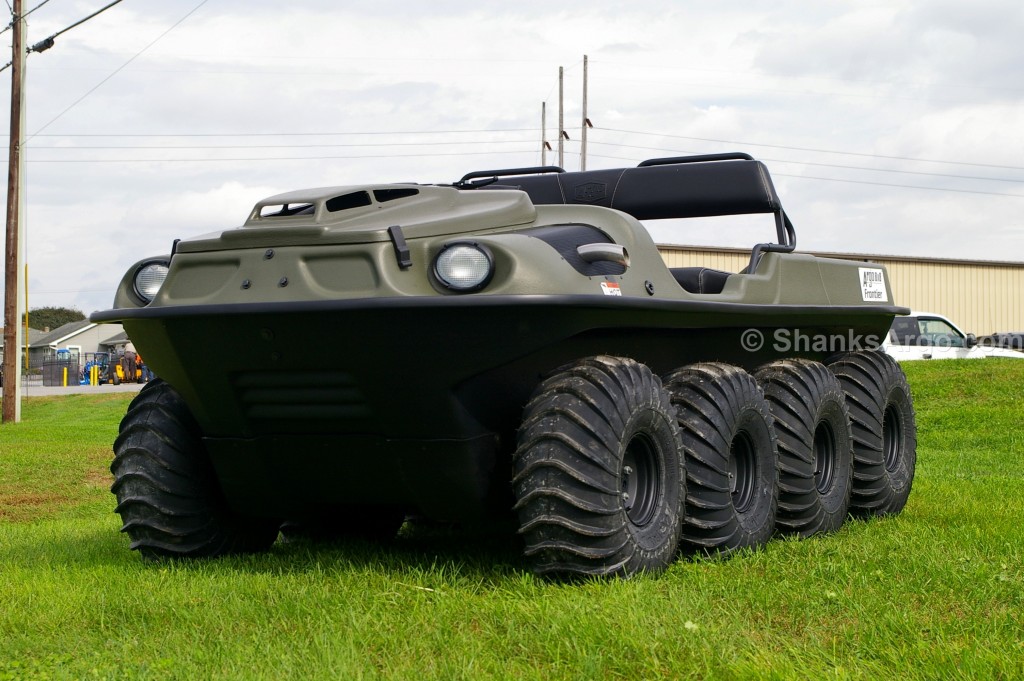 Do you need an off-road vehicle that has plenty of space for people and cargo, but find that crew UTVs are too cramped or sacrifice too much performance? With the 2019 Frontier 650 8×8, you don't have to compromise. Like Argo's other XTVs, it can travel over water and climb terrain that would stop other vehicles, yet it has space for up to 6 people and is affordably priced.
The Space You Need Without the Compromises
At 102 inches long and 58 inches wide, the Frontier 650 smaller is smaller than most four and six-seat UTVs. Overhangs are short, the drive system is inside the hull, and the vehicle is supported by 8 wheels. This lets it avoid the usual problems with departure angles and high centering that plague long side-by-sides. With so much rubber supporting the vehicle, the 650 also doesn't bog down in mud and snow like a UTVs, whether they're crew carriers or two-seater sport models. It also floats, letting the paddle-treaded tires propel the vehicle, so there's no need to worry about water depth when crossing streams and ponds.
Front and rear passengers have bench seats, and the Frontier's low center of gravity eliminates the need for a ROPS. This makes seating comfortable and roomier than regular UTVs. While crew models come with tiny beds, the seats in the back of the 650 fold up, letting you use the entire area for cargo.
The Frontier 650 can carry up to 830 lbs. with up to 6 passengers on land, and 730 lbs. with up to four passengers on water. The 650 also has a hitch receiver and can tow up to 1,200 lbs.
Power
This year, Argo has added Briggs & Stratton engines back to their lineup. The 650 comes with a Vanguard V-Twin that produces 23 hp. While it's an out-of-the-ordinary choice for a UTV, this commercial engine is a popular choice for commercial outdoor equipment thanks to its wide torque band and excellent reliability record.
The 650 uses Argo's Classic transmission with a choice of ST or HT gearing. The ST has a final drive ratio balanced for speed and torque, letting this vehicle reach 22 mph. If you plan on keeping your vehicle fully loaded or you'll do a lot of hill climbing, the HT's lower gear ratio gives you some extra torque but lowers the top speed to 19 mph.
Like all XTVs, this drive system sends power to all 8 wheels all the time. Low ground pressure keeps the tires from scrubbing, so it handles predictably on any surface from pavement to sand.
Equipment and Accessories
As the most basic 8×8 in the Frontier lineup, the 650 only comes with a bilge pump and a full-length skid plate. This lets you build your vehicle to fit your specific needs while keeping the weight low for more cargo capacity. As a general rule, if it's available as standard equipment on other Frontier models, Argo sells it as an accessory you can install on your 650.
Add a set of axle extensions, and you can fit a set of tracks over your Frontier's tires. Track designs are available for mud, snow, ice, and pavement.
Want weather protection? Argo offers a windshield with a wiper blade and a full convertible tops that enclose the entire seating area.
Need more space for cargo? Argo's amphibious trailers use the same hull and tire design of their vehicles, so they can be towed anywhere your XTV can go.
Colors
This model is only available in green.
Find the Right XTV for You With Help from Shank's
Shank's Argo is one of the largest Argo dealers in the East, helping everyone from enthusiasts to professionals with their amphibious ATVs. If you're looking for the ultimate off-road vehicle, visit our showroom at 4900 Molly Pitcher Highway in Chambersburg, PA. That's just one mile East of I-81. If you want to schedule a test drive, visit us online at www.shanksargo.com.