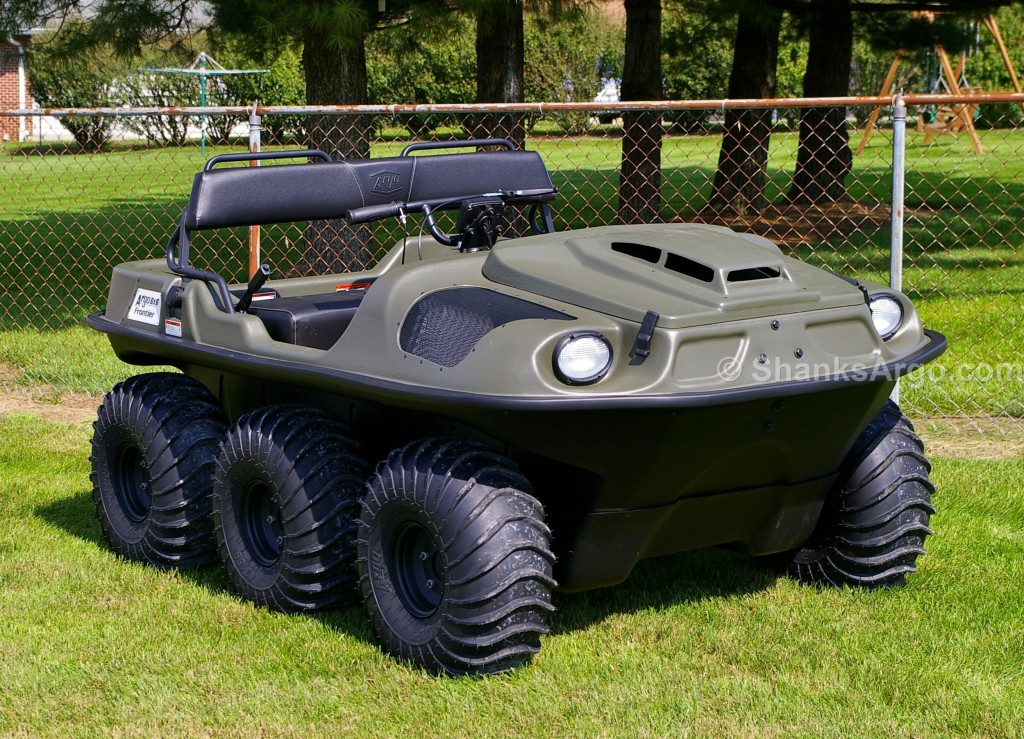 Unparalleled terrain capability paired with the ability to cross water has made Argo's XTVs legendary in the realm of off-road vehicles. Outfitters, remote workers and first responders around the world depend on these machines, but that doesn't mean they're out of reach for regular people. The Frontier 600 6×6 delivers everything Argo is known for at a price that's in line with less capable UTVs.
Why Argo?
The name "Xtreme Terrain Vehicle" could only be dreamed up by marketers, but "Utility Terrain Vehicle" doesn't really fit when these vehicles can do so much more than a regular UTV. An XTV is built around a sealed hull that gives it the ability to float while the paddle-like treads on the giant tires propel it. There's no need to worry about snorkels or exhaust pipe height when crossing waterways, giving these vehicles access to areas that are out of the way or impossible to reach in other vehicles.
Those tires also spread out the load, reducing ground pressure to just 1.7 psi. That's less than a human on foot. When traveling across soft terrain like mud and sand, these vehicles can drive over the surface instead of digging in, giving them superior traction over swamps, marshes, deserts, and snow.
Instead of using a long travel suspension, the tires absorb the bumps so the axles can stay fixed inside the hull. The result is a low center of gravity that provides unparalleled stability on hills while still maintaining 9.5 inches of ground clearance. Rollover risk is so low that a ROPS isn't required, giving the 600 a more open feel and more comfortable seating position than a UTV.
Power
This year, Argo is adding Briggs & Stratton Vanguard engines to their lineup. These industrial powerplants have a proven track record in top quality professional lawn mowers and tractors. The 600 uses an 18 hp V-twin from this line. It's fitted with a carburetor and a crankshaft-driven fan, simplifying maintenance.
The Frontier 600 comes with Argo's Classic transmission fitted with the ST gearing. This transmission uses a CVT paired with a two-speed final drive. Due to the way the skid steering system works, shifting to low both increases torque and makes the vehicle turn sharper. Top speed is 22 mph on land, while water speed is limited to 3 mph by the paddling action of the tires.
Cargo Capacity
At 95 inches long and 59 inches wide, the Frontier 600 is more compact than a similar side-by-sides while still having the same utility. This XTV can carry up to 650 lbs. and four people on land, and 450 lbs. with up to two people on water. It can also tow up to 1,200 lbs. using the built-in hitch receiver.
Accessories
The 600 may be bare bones, but with Argo's accessories, you can customize it to fit your needs.
Want to make your passengers more comfortable? Argo now offers a front-facing bench seat for the rear, and you can add a convertible top and windshield for weather protection.
Want to go faster on the water? You can install a bracket that lets you propel your XTV with a sub-10 hp outboard motor.
Are you mostly buying an Argo for use on the ground? You can increase its off-roading ability by adding a set of tracks. Several versions are available for pavement, mud, snow and ice travel. Since they wrap around the tires, they're easier to install and far less expensive than UTV track systems.
Colors
This model is only available in green.
Are You Looking to Get Into Your First XTV?
Shank's Argo is one of the largest dealers in the East, so we know how to help you find the right XTV for your needs, and we can provide you with the parts and support you need to get the most out of your new vehicle. If you want to learn more, stop by our shop at 4900 Molly Pitcher Highway in Chambersburg, PA. To get here from I-81, take Exit 10 to Marion and drive one mile East. You can also schedule a demo online at www.shanksargo.com.