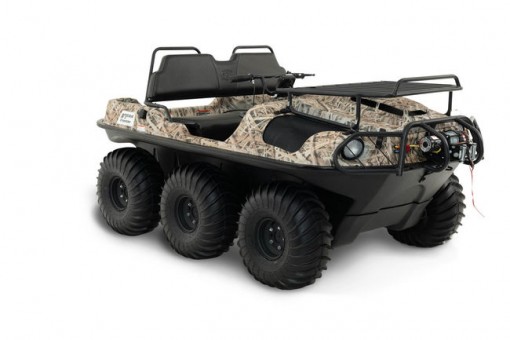 Having the right equipment when you're hunting can make the difference between bagging your game and going home empty-handed. Argo's Hunt Master XTVs are a top choice of professional hunters and guides around the world because their off-road and amphibious abilities let them reach their game faster. With the new Frontier 700 Scout 6×6, you can have the same functionality professionals depend on in an affordable package.
The Perfect Hunting Vehicle
Nothing can match the off-road traction of an Argo. Thanks to a drive system that sends power to all 6 wheels 100% of the time and an extremely low ground pressure, the 700 Scout can climb soft and steep terrain with ease. A low center of gravity also gives the Scout unparalleled stability on slopes, eliminating the need for a ROPS. This gives you an unobstructed view of your surroundings and lets you draw your weapon without leaving the vehicle.
The amphibious abilities of an XTV make it perfect for hunting waterfowl. You can drive across marshes and ponds straight to your game to pick it up, or park inside duck blinds instead of standing in your waders. Going after terrestrial game? You can cut across streams and ponds without worrying about flooding the engine or having to find a bridge. This can seriously reduce travel time when trying to reach your favorite hunting spot, and open up new areas that are inaccessible to other vehicles.
Power
The 700 Scout is powered by a 23 hp air-cooled engine with electronic fuel injection. This industrial motor is built for fuel efficiency and reliability in temperature extremes ranging from the coldest Arctic winters to the desert's hottest summers. With just over 7 gallons of fuel on-board, the 700 can operate up to 7 hours before refueling.
This engine sends power to the wheels via Argo's classic transmission and ST gearing. This CVT strikes a balance between torque and speed, topping out at 22 mph. While in water, the paddling action of the tires can propel the vehicle to a top speed of 3 mph.
Equipped for Hunting
While based on the standard Frontier 700, the Scout comes straight from the factory with the accessories most requested by hunters.
A full skid plate protects the entire underside of the Scout. Unlike UTVs, there are no control arms, axles or sway bars that can get caught on rocks and branches. A full brushguard protects the front end and a bilge pump keeps the interior dry when crossing water. If you get stuck, you can pull your vehicle out using the front-mounted 3,500 lb. Warn winch.
Need a little extra room? The front rack can carry up to 50 lbs, keeping the rear cargo area clear for people and equipment.
Cargo Capacity
The 700 Scout can carry up to four people and 560 lbs. on land, and up to two people and 360 lbs. on water. It also has a rear receiver hitch that can be used to tow up to 1,200 lbs.
Camouflage
Argo worked with Mossy Oak to bring their camo patterns to their hunting XTVs, letting you pick between camouflage designed for operating in forests or around bodies of water.
Breakup Country is America's most popular camo pattern. It uses a mix of digitally-enhanced photos of real limbs, leaves and ground cover to create a pattern that blends in with forests and obliterates outlines. Thanks to its popularity, it's easy to get matching clothing and equipment to fully blend in with your environment.
For waterfowl hunters and fishermen, there's Shadow Grass Blades. The culmination of over 30 years of research, this aquatic counterpart to Breakup Country blends together grass and thatch with enhanced shadows to blend in with marshes, swamps, and flooded plains.
Get an Edge This Hunting Season
When you want a vehicle from people who know hunting, go to Shank's Argo. We're located in one of the top deer hunting destinations in the country, and we're one of the largest dealers in the East, helping everyone from weekend warriors to professionals with their equipment. To find the right XTV for you, visit our showroom at 4900 Molly Pitcher Highway in Chambersburg, PA.
We can also ship the OEM parts and accessories you need for your XTV to any address in the U.S. or Canada. To order, visit us online at www.shanksargo.com.