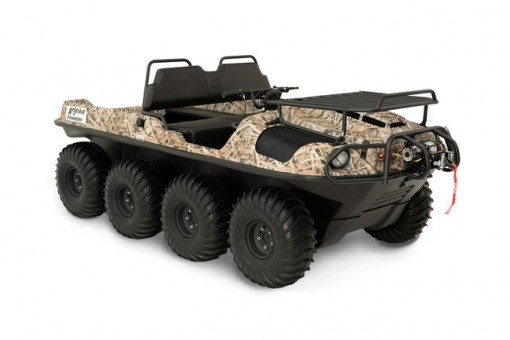 When professional hunters, guides and outfitters want to reach remote hunting spots, they turn to Argo's Hunt Master series. These vehicles can cross water, climb steep slopes, handle climates ranging from tundras to deserts and have an excellent record for reliability. However, these vehicles aren't just for pros. The Frontier Scout 750 8×8 has all this capability in a package that's within reach of regular hunters.
Power
This model is powered by a 26 hp EFI V-twin. Instead of re-purposing a motorcycle engine, Argo uses industrial motors usually found in generators and commercial outdoor equipment. This ensures rock-solid reliability you can rely on.
Like other Frontier XTVs, this model uses Argo's classic transmission. It combines a CVT with low and high range gearing, giving you extra power when you need it for steep climbs. Disc brakes mounted on the driveline reduce wheel speed side-to-side for skid steering. Steering requires no more effort than a power steering rack, and it doesn't kick back when driving over rocky terrain. A fan is included to keep the steering brakes from fading in hot weather and during long, difficult maneuvers.
This transmission is available with the balanced ST gear set for a top speed of 22 mph. If you plan on keeping your vehicle loaded near its limit, opt for the HT gear set. It trades top speed for extra torque, topping out at 19 mph. Once the vehicle is in water, it's propelled by the paddling action of the tire treads, reaching a top speed of 3 mph.
Argo has thoroughly tested this transmission and engine combination, ensuring it will operate in a range of conditions and temperatures from -40 to over 100ºF. Low-mounted axles, full time 8 wheel drive and low ground pressure let the 750 conquer climbs and soft terrain that would be impossible in traditional UTVs.
Cargo
On land, the Scout 750 can carry up to 755 lbs. including 6 passengers. Once on the water, capacity drops to 655 lbs. with up to four passengers. This vehicle also has a hitch receiver, letting it tow up to 1,200 lbs. across both water and terrain. To add some extra cargo space, the Scout includes a front rack that can carry up to 50 lbs.
Standard Equipment and Accessories
Aside from the steering brake fan and rack, the Scout also includes a full brushguard to protect the front end. A Warn winch is mounted just below this guard. It's rated to pull up to 3,500 lbs.
The wheels are mounted on axle bearing extensions, making the Scout compatible with Argo's track systems. These wrap around the tires, making them easier to install and far less expensive than UTV track systems.
If you plan on frequent water travel, a mount can be added to install a sub-10 hp outboard motor. Adding a convertible top gives you and your passengers some weather protection, and the sides can be rolled up when you want some fresh air.
For longer excursions, a rear rack can be added to the back of the vehicle, or mounts can be installed to carry an extra wheel and a gas can. If you need more cargo space, Argo makes amphibious trailers that use the same hull and tires as their XTVs.
Camouflage
Argo works with Mossy Oak to bring their latest camo patterns to the Hunt Master series. These digitally created patterns mix photo samples of plants and terrain with enhanced shadows and coloring, helping your vehicle blend into the environment and obliterate outlines. Breakup Country uses a mix of bark and leaf patterns to blend into forests, while Shadow Grass Blades blends together marsh grass for use at shorelines and marshes.
Get More from Hunting Trips with an XTV
Shank's Argo has the experience you need to get the most from your XTV. We're not only one of the largest dealers in the East, we've sold and serviced outdoor equipment since 1984. Visit us at 4900 Molly Pitcher Highway in Chambersburg, PA. Want to test drive an Argo before you decide? Schedule a visit here: www.shanksargo.com.