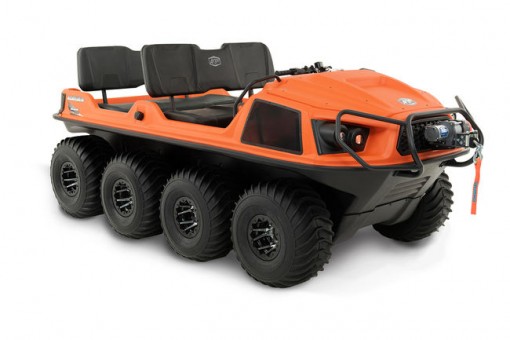 Argo's new Aurora Series is an all-new design that points the way forward for the brand. After talking to owners about their most desired features, they've built a vehicle that's more comfortable and easier to use while still retaining the unmatched off-road and amphibious capabilities that owners expect from their XTVs. The 800 Limited builds on the Aurora platform, adding features like beadlock rims and a winch with a synthetic rope.
Easier Controls
Argo's new APS steering system has a spring return that makes the handlebars react more like those attached to a steering rack. This works with the Admiral transmission to provide gradual brake-based steering for smooth, gradual turns that are easy to master while still having a turning circle that's shorter than the length of the vehicle.
The Limited comes with a choice of two final drives, letting you get plenty of hill-climbing torque with the HT transmission or a maximum speed of 20 mph with the ST transmission. Enter the water, and the tire treads paddle through the water at speeds up to 3 mph.
The throttle is built into a thumb lever to reduce wrist strain, and the shift lever is closer to the driver. The Aurora can be started in gear as long as the parking brake is on.
A Better Ride Without Compromises
Like all XTVs, the tires act as the suspension, eliminating the need for long travel springs and shocks. This keeps the center of gravity low for stability on extreme climbs. The Aurora uses redesigned tires that increase flex for a better ride. These are fitted to the Limited's new aluminum beadlock rims, which keep the tire seated at lower pressures than previous models. This gives the tires more bite on difficult surfaces and more flex to take the sting out of bumps. There's also a new, thicker firewall to control heat and noise.
A Better Use of Space
A new front-facing seat makes the Limited more comfort for rear passengers, and a flat floor means more room all around. Like Argo's other 8 wheel XTVs, the Limited still has the seating and cargo space of a four-seat UTV with the footprint of a two-seat model.
The cargo capacity of this model is in line with Argo's Avenger series. On land, the Limited can handle 955 lbs, dropping to 805 lbs. when amphibious. Towing capacity is 1,800 lbs.
Improved Lighting
The 800 Limited comes fitted with projector beam headlights with low and high beams like you'll find on a car, and they're shielded by a brushguard. At the rear, there is a pair of LED taillights to keep your vehicle visible at night with minimal maintenance.
A Better Winch
Argo has been including a 3,500 lb. Warn winch with their most popular models for years, but the Aurora series is the first to get these winches with synthetic rope. This rope is less prone to kinking, doesn't rust, and doesn't form burrs, making it safe to handle without gloves. Many off-road evens have made synthetic rope mandatory for safety. Since it's lighter, the rope doesn't store as much energy as a cable, so if it breaks, it doesn't whip back with as much force.
Plan on doing some remote travel? If the cable is damaged, it can be re-braided in the field, giving you one less thing to worry about on long excursions.
Colors
The Aurora 800 Limited is available in green and orange.
We're Serious About Argos
Shank's Argo is one of the largest dealers in this part of the country, and we've been selling and servicing outdoor equipment since 1984. We can help you find the perfect XTV for your needs, keep it serviced and install the accessories you need to get the most out of your vehicle. Our shop is at 4900 Molly Pitcher Highway in Chambersburg, PA, one mile East of I-81. To schedule a test drive, visit www.shanksargo.com.