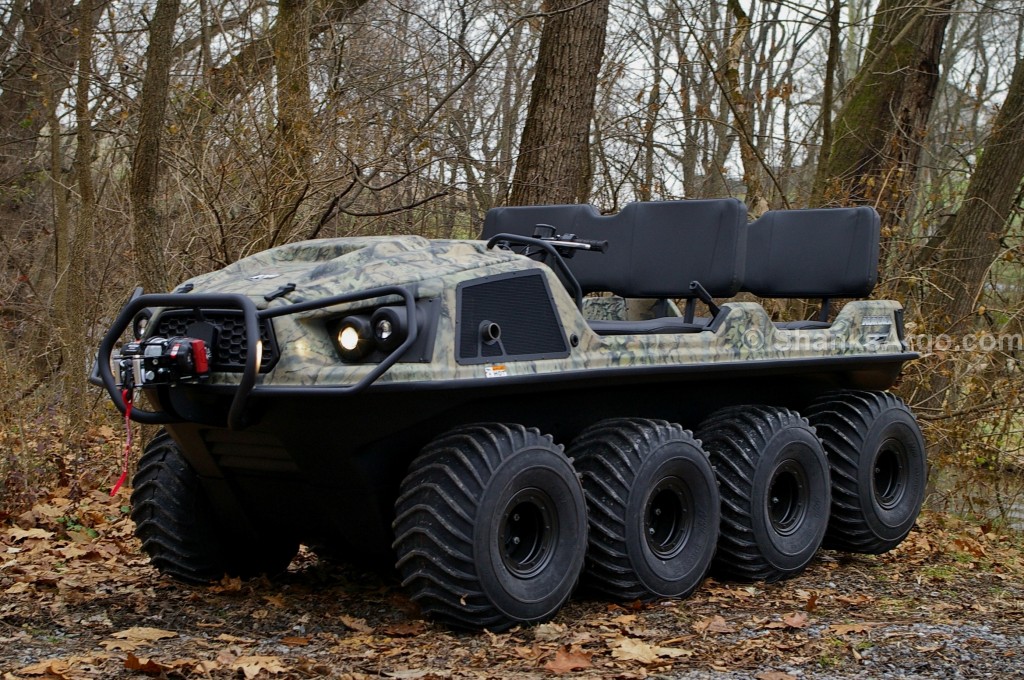 With their ability to climb steep terrain and travel through water, it's no wonder that Argo's XTVs are popular with hunters. The new Aurora 800 SX Hunt Master continues the tradition, bringing together Argo's latest technology with the features aimed at giving you an advantage on your next hunting trip.
Everything You've Wanted from an Argo
The Aurora series is a clean sheet design that addresses owner requests for improved comfort, easier operation, and improved performance. It's not just a set of new models, it represents the future of the entire brand going forward.
Wish operating an XTV on roads was easier? This is Argo's first vehicle with left-hand drive, giving you better sight lines when driving on access roads, and it's the first vehicle to get low and high beam projector headlights.
Want a better ride? The Hunt Master comes with bead lock rims, letting you run lower air pressures for better traction and shock absorption. Those wheels come with redesigned tires tuned to absorb shocks and vibration.
Want to be more comfortable? The Aurora's rear passengers sit on a bench seat instead of inward-facing jump seats, while the interior has a flat floor for increased foot room. The new seating arrangement lets this vehicle carry four passengers on both land and water. The firewall has also been redesigned, increasing insulation from engine heat and noise.
Worried about learning how to use an XTV's skid steer system? Now it's easier than ever thanks to a combination of Argo's Admiral transmission and APS steering. Gradual braking and a spring-based steering return make controlling the Aurora similar to driving an ATV. However, instead of operating a steering rack, it brakes the inner wheels. That means there's no need to wrestle with the controls when trying to keep straight on uneven surfaces, and there's no need for a complex, expensive power steering system. The throttle is now built into a thumb lever, and the shift lever is closer to the operator, making it easier to go between high and low gear.
Everything That Makes Argo Unmatched Off-Road
The 800 Hunt Master has the same low center of gravity and boat-like hull as other XTVs, giving this vehicle the ability to travel across water and climb extreme slopes that would flip other off-road vehicles. That also means there's no need to have a view-blocking ROPS, and at 124 long and 60 inches wide, it's far smaller than four-seat UTVs while offering similar seating and cargo capacity.
The new Hunt Master is still built for reliable performance in all environments from deserts to tundras. The industrial V-twin under the hood comes with liquid cooling and EFI, sipping fuel while delivering 30 HP. The CVT transmission is available with two final drive ratios, letting the 800 reach 20 mph with standard gearing or trading some top speed for more torque. Cargo capacity is 930 lbs. on land, dropping to 780 lbs. on water. It can tow up to 1,800 lbs. The drive system powers all 8 wheels 100 percent of the time, but the low ground pressure almost eliminates scrubbing, making it easy to handle on pavement.
Hunting Equipment
The Hunt Master comes in Mossy Oak's Breakup Country, the most popular camouflage pattern on the market today. That makes it easy to match your gear to your vehicle to blend in with your environment. Why is it so popular? It doesn't just blend together forest colors, it uses a combination of shapes and shadows that obliterate outlines while using color imperfections to obscure any signs of a pattern. This makes objects hard to pick out, even when they're as large as this XTV.
The Hunt Master comes with a 3,500 lb. Warn winch and a front brushguard from the factory, protection your vehicle and getting it out of jams if you have a little too much fun exploring the countryside.
Improve Your Hunting This Season with Shank's Argo
Shank's Argo is one of the largest dealers in the East, and we have decades of experience helping everyone from weekend warriors to professionals with their outdoor equipment. That means we offer the service and support you need to get the most from your XTV. We're located at 4900 Molly Pitcher Highway in Chambersburg, PA. To get here from I-81, take Exit 10 to Marion and drive one mile East. Want to schedule a test drive? Contact us online at www.shanksargo.com.