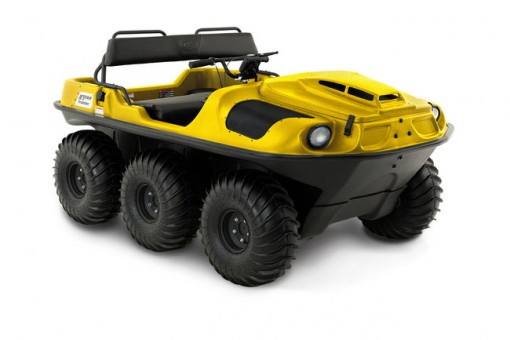 Do you feel like choosing an off-road vehicle means making too many compromises? What if you could get a small side-by-side that works anywhere? Argo's Frontier 700 6×6 is small enough for narrow trails, has the power and stability for the most difficult climbs, can float over mud and snow thanks to its giant tires and can even cross water of any depth. It also seats up to four people and can haul and tow as well as any mid-size UTV.
Doing What a UTV Can't
Not sure how deep a stream goes or if a mud bog is solid enough to drive on? With an Argo, you don't have to worry. It can float, and the tires can paddle through the water. If the ground is too soft, you won't get stuck, and if the water is deep, the engine will still stay above the water line.
The engine, transmission and axles are housed inside a sealed hull. This doesn't just let the Frontier 700 float, it also means there's nothing that can catch on rocks and branches when covering rough terrain.
The tires absorb the bumps, so there's no need for a high travel suspension. This keeps the center of gravity low, letting this XTV climb steep slopes that would topple any other off-road vehicle. The roll-over risk is so low that it isn't legally required to have a ROPS, keeping the seating area open.
The ground pressure is so low that scrubbing is minimized, letting the drivetrain send power to all wheels all the time no matter what surface you're driving on. This gives XTVs unparalleled traction without having to mess with differential and driveshaft locks.
Power
The 700 is powered by a 23 hp air-cooled, fuel-injected V-twin engine. This isn't a motorcycle engine adapted to utility vehicle use, it's an industrial engine like you'd find in a tractor, wood chipper or other heavy-duty outdoor equipment. That means greater reliability than competing models along with high fuel efficiency and easy cold starting. It's part of why Argo's vehicles can handle operating temperatures ranging from -40 to 100ºF. Operators can expect to get up to 7 hours of runtime off of a single tank of fuel.
The 700 is fitted with Argo's Classic transmission and ST gearing. This gives a good balance between torque and speed, topping out at 22 mph. Shift into low range, and the 700 can tackle the toughest climbs and lets the skid steering system make turns that are the length of the vehicle.
Cargo
The 700 can carry up to 635 lbs. over land and 435 lbs. across water. There's seating for four passengers, but water travel is limited to two people due to buoyancy. On both land and water, this vehicle can tow up to 1,200 lbs.
Accessories
Argo's extensive line of accessories let you tailor your vehicle to your needs, helping it go further and be more comfortable. Axle bearing extensions come standard on this model, giving plenty of space to install tracks. While UTVs use complicated, expensive track systems, Argo's treads can be wrapped around the tires of your XTV, making them significantly cheaper and easier to install. There are several designs available for terrain ranging from pavement to ice. The 700 can also be fitted with a Warn winch, letting you pull your Argo out of jams or help other vehicles on the trail.
Want to have more comfort in harsh weather? Add a windshield and wiper, or go all-out with a convertible top that covers the entire seating area.
Need to haul more cargo? Argo makes an amphibious trailer that can follow your XTV into the water along with a front rack and mounts for a spare tire and gas can for more on-board storage.
Colors
This model is available in yellow, black, blue and green.
Master the Wilderness with Help from Shank's Argo
If you're looking to get more out of your time outdoors, go with the experts in XTVs. Shank's Argo is one of the largest dealers in this part of the country, and we've been in business since 1984. We're located at 4900 Molly Pitcher Highway in Chambersburg, PA, one mile East of I-81. We also ship Argo parts and accessories across the U.S. and Canada. If you need something for your XTV, visit www.shanksargo.com.