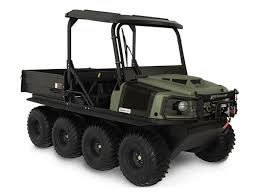 For many people working in the world's harshest conditions, there's no alternative to an Argo. Unbeatable performance on hills, soft ground and water let them get to places that are nearly impossible to reach in trucks and UTVs. That's why they're a favorite of miners, line workers, oil workers and anyone else who has to work far from civilization. Here's why you should consider a Conquest Pro when you need to work in the wilderness.
When You Need Equipment and Tools Far from the Nearest Road
An Argo can operate in places that UTVs can't reach because it takes an entirely different approach to conquer off-road travel. The Conquest has full time 8 wheel drive, and those 8 wheels are fitted with giant tires. The result is less scrubbing, less ground pressure, a lower center of gravity and better traction. These vehicles have no problem staying on top of snow and mud, and they can climb extreme grades without flipping. Argo's new Steel Airlock wheels have bead locks that clamp down on the tire, keeping it on at extremely low pressures. This gives these vehicles better traction and helps the tires absorb bumps. The result is a massive improvement in ride quality.
Water is no problem, either. These vehicles can ford streams up to 26 inches deep. The 800 XT can also float in water while the tires paddle the vehicle forward at a rate of 3 MPH. This lets you take a direct route to and from job sites, cutting across streams without having to find a bridge or low water crossing.
Power and Space to Get the Job Done
Power is provided by a liquid-cooled Kohler Aegis producing 30 HP. Standard EFI conserves fuel and makes the engine easy to start in cold weather. A 60 amp alternator provides the power needed for upfitting equipment.
This engine is connected to an Admiral transmission with HT gearing, maximizing torque to pull heavy loads. These vehicles have a top speed of 17 MPH. Thanks to its brake-based steering, the Conquest has a turning circle that's as small as its wheelbase. A heavy-duty drive belt comes standard.
The Conquest Pro has seating for two people, leaving the back empty for maximum cargo space. The single-piece hull construction prevents anything in this area from leaking onto the ground, protecting environmentally sensitive areas. If you need to transport more personnel, Argo offers a drop-in rear seat for the 800 XT. It can be removed and installed without tools, letting you choose between seating and cargo.
Every Conquest Pro comes with a front-mounted winch rated to pull up to 4,500 lbs. This year, Argo is also including a standard winch rear receiver kit. This lets you attach the winch to the front or back of the vehicle as needed. In either position, the winch is controlled remotely using switches at the driver's position.
The Conquest Pro has a tow rating of 2,000 lbs. It can tow normal trailers, as well as Argo's own amphibious trailers. Since these use the same tire and hull design as their amphibious ATVs, they can be pulled anywhere your Conquest will go.
Argo makes three versions of the Conquest Pro to fit different needs.
800 XT
By keeping standard equipment to a minimum, this basic model maximizes load capacity. It can carry up to 1,500 lbs. on land. It's also the only Conquest Pro that is amphibious, carrying up to 865 lbs. while in water.
800 XT-L
This XTV is built with rural line workers in mind, giving them a mobile workspace that can reach any pole.
The XT-L comes with a ROPS equipped with a roof, windshield, and wiper. A rear mesh screen keeps cargo from entering the seating area. On the roof, you'll find a flashing light to improve vehicle visibility.
Once on site, a spotlight can brighten up the work area. A 38-gallon tote straps down onto the cargo area behind the passengers. It can be moved around easily thanks to a built-in handle and wheels. There's also a Wilton vice for holding poles and equipment during repairs. A fold-up stretcher can be deployed across the back of the vehicle, helping you evacuate injured personnel faster.
Maximum payload capacity for this XTV is 1,190 lbs.
800 XT-X
The XT-X is the perfect solution for construction jobs in environments that are beyond the capabilities of utility side-by-sides. This model comes standard with a steel power dump box rated to carry up to 1,000 lbs. It also comes with a ROPS that has a roof, windshield, and wiper installed at the factory. The maximum cargo capacity is 1,170 lbs.
When You're Serious About Off-Roading, You Need Shank's Argo
Shank's Argo is a major Argo dealer with 35 years of experience helping professionals with their outdoor equipment. We have plenty of XTVs in stock along with parts and accessories. Need your XTV serviced? We do that, too. Visit our showroom at 4900 Molly Pitcher Highway in Chambersburg, PA, or check us out online at www.shanksargo.com.