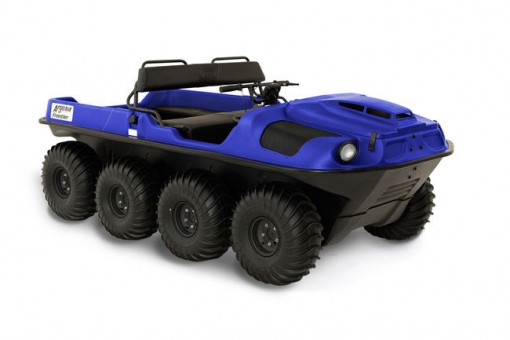 Are you looking for a vehicle that can do it all? The 2019 Frontier 700 8×8 has a fuel injected engine that sips fuel and can operate in environments ranging from deserts to tundra. It has space for up to 6 people, but its short wheelbase and small overhangs help it avoid the shortfalls of crew UTVs. It even handles steep climbs and soft surfaces better than traditional vehicles, and it even travels over water.
Go Anywhere and Carry Anything
What makes an XTV different from a UTV? The 700's drivetrain is mounted inside a sealed hull and sends power to 8 24-inch tires with ribbed treads. This gives this XTV the ability to travel over water, accessing places that are impossible in regular off-road vehicles. This construction also gives XTVs a low center of gravity, so they can tackle the steepest terrain. In fact, it's so stable that they don't require roll-over protection.
The 700 has 9.5 inches of ground clearance, which is middle-of-the-pack for a UTV or ATV. However, the weight of the vehicle is spread over so much rubber, the ground pressure is lower than a human foot. This gives this vehicle unmatched traction on snow, mud, and sand as it can drive over these soft surfaces instead of digging into them.
At just over 100 inches long, the 700 is compact, yet it still has plenty of space. The front of the vehicle has seating for the operator and a passenger, while the rear has two folding seats with space for four people. With the seats up, most of the interior space can be used for cargo.
Power
The 700 is powered by an industrial 23 hp V-Twin with electronic fuel injection. This is connected to Argo's classic transmission with either an ST gear set for a top speed of 22 mph or the "high torque" HT gear set which has a lower gear ratio limiting speed to 19 mph. Once you're on the water, the paddling action of the tires can propel this vehicle to a top speed of 3 mph.
A chain drive sends power to all 8 wheels 100% of the time, but the wide tire contact patch prevents scrubbing that can cause problems steering on pavement. This model includes an electric fan to keep the steering brakes cool in high-temperature climates and when driving on technical terrain. Like all Argos, the Frontier 700 is designed to work in temperatures ranging from -40 to 104ºF.
Cargo
The 700 8×8 can carry 830 lbs. on land including up to 6 passengers. On water, it can carry 730 lbs. with up to four passengers. Towing capacity is 1,200 lbs. on both land and water.
Accessories
Axle bearing extensions are included with this model, so it's ready for mounting a set of tracks. Argo offers several designs for pavement, mud and snow, as well as teeth that can be bolted on to bite into ice.
Want to go faster on the water? By adding a mount, you can use a sub-10 hp outboard motor with your XTV.
Looking for more cargo space? Add a front or rear rack, or hook up an amphibious trailer.
Want some protection from the elements? Argo offers a folding windshield with a built-in wiper as well as tops that cover the entire passenger area.
Colors
This model is available in black, yellow, blue and green.
Find the Right XTV for You With Help From Shank's
Shank's Argo has been in the outdoor equipment business since 1984, and we're one of the largest Argo dealers in this part of the country. If you want to find the right XTV for you or you need parts, accessories or service for your current Argo, visit our shop. Our address is 4900 Molly Pitcher Highway, Chambersburg, PA. To get here, take Exit 10/Marion from I-80 and drive east one mile. Want to schedule a test drive? Visit our website, www.shanksargo.com.