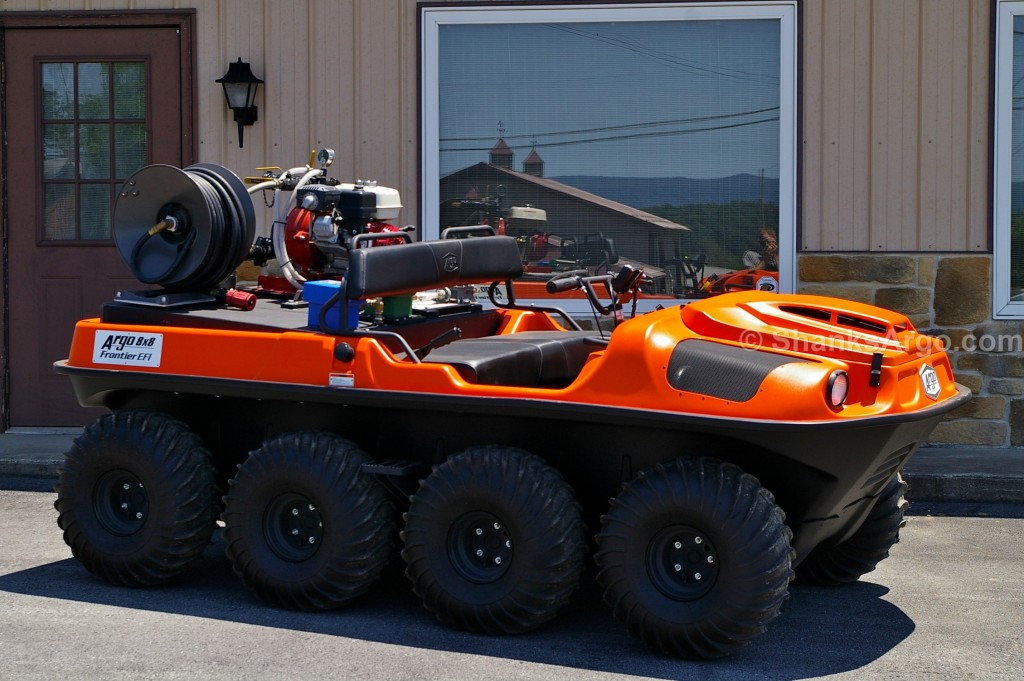 With the pandemic going on, there has never been a better time to get outdoors than now. However, if you're in the market for a new vehicle, you probably don't want to spend your time visiting several dealerships. To help you do most of the shopping from home, Argo is introducing a new program to talk directly to factory experts. They can help you find an amphibious ATV and get the parts and support you need to keep it running. Together with our online services, you can handle the purchase of vehicles, parts, and accessories with minimal contact. Here's how.
Is an Argo XTV for Me?
With their ability to cross water like a boat, climb slopes better than other off-roaders, and roll safely over the softest surfaces, Argos are a great choice for everyone from weekend warriors to professionals working in remote environments. No matter what you need, Argo makes a model for you. These models can be divided into four main model lines: Frontier, Aurora, Conquest, and specialty models.
The Frontier line is priced in line with mid to high-end UTVs, without sacrificing Argo's famous amphibious and off-roading capabilities.
The Aurora series has the latest technology, making these vehicles the easiest to operate.
The Conquest and Conquest Pro lines offer truck-like cargo space and capability, making them ideal for commercial use.
Argo offers several models aimed at specific uses:
– The Responder is built for search and rescue services.
– The Conquest Pro XTL has everything needed for electric line work.
– The Bigfoot has custom tires for maximum mud traction.
– The Huntmaster series comes in Mossy Oak camo patterns and includes popular equipment for hunting and fishing. This series covers several model lines aimed at enthusiasts, outfitters and professional hunters.
Argo makes 24 models of amphibious ATVs. They also make a long list of accessories ranging from winches to helicopter tow loops, letting you create a vehicle that perfectly fits your needs. Figuring out the right combination of models and equipment with so many options can be daunting. This is where Argo and their dealer network come in.
Getting Started with Argo's New Ambassador Program
You've looked over Argo's web pages, professional reviews, and blogs like this one, but you still have questions. Fortunately, Argo's new ambassador is here to help. The company set up a team of factory specialists that can walk you through finding the right XTV for your needs, whether you need a work vehicle that fulfills specific requirements, or you want something to have fun within the wilderness.
This service is open Monday through Friday, 9 am to 6 pm Eastern Standard Time. You can call the service, or fill out an email form on the Argo website with your questions. If you'd rather talk to someone on the weekend, you can contact the service during business hours to set up an appointment.
I Found the Model I Want. Now What?
The ambassador will direct you to your nearest Argo dealer that has the amphibious ATV you want in stock. If you live in the Cumberland Valley, South Central Pennsylvania, or North Central Maryland, the dealer will be us, Shank's Argo.
Of course, it's up to you to pick the dealer you want to work with. Buyers choose us because we're one of the largest dealers in the Eastern U.S, and we've been in the outdoor equipment business since 1985. We usually have most models in stock, as well as the accessories you want for your new XTV. You can start shopping by visiting our website, www.shanksargo.com. We maintain a page that lists all the vehicles and amphibious trailers we currently have in stock. You can also schedule a demo from our website, or use our "Contact Us" page to ask us questions. You can also visit us in person. Our shop and showroom are at 4900 Molly Pitcher Highway in Chambersburg, PA.
What if I Need Parts or Accessories for My Argo?
The Argo Ambassador can direct you to your nearest dealer. However, that isn't too helpful if the dealer doesn't have what you need, or they're far away. Shank's Argo has a massive parts warehouse, so we probably have what you need in stock. We can also ship your order to any address in the United States or Canada. That way, you can have parts sent to your home for DIY repairs, or to the closest available address when you're working and playing in remote areas.
What if I Need Repairs or Service for My Amphibious ATV?
Since we support vehicles used by emergency services and maintenance crews, we're considered an essential business. That means we'll stay open, even if there's a shutdown.
Whether you want to become an Argo owner, or you need help with your amphibious ATV, visit us at www.shanksargo.com.