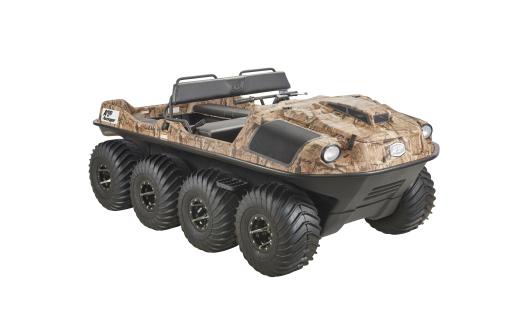 Want an XTV that is flexible enough to handle anything? With three gearing options, a wide operating range, loads of space and features to ensure reliable performance in the toughest conditions, the Avenger 8×8 STX is one of the most capable vehicles in Argo's lineup.
Engine
This XTV is powered by a Kohler Aegis ELH7. This is a liquid cooled, fuel injected twin cylinder motor built for industrial applications, providing reliable performance and easy starting in all weather conditions. Output for this engine is 30 hp.
Transmission and Steering
To ensure a tight seal between the axles and the hull, Argo's XTVs use solid axles and steers by decreasing the speed of the inside wheels. The standard transmission effectively stops the inside wheel for turns, but the Avenger 8×8 STX uses Argo's Admiral transmission which can vary braking force for fluid steering that acts more like an ATV than a tank. The Admiral combines a CVT with a chain final drive, keeping the engine in its powerband for high fuel efficiency. This lets the vehicle run for up to 8 hours on a single tank of fuel.
On this model, the transmission is offered with three gearing options. The HT uses low gearing for increased torque, making it ideal for owners who need to carry heavy loads, climb steep hills, or deal with the reduction of power caused by operating at high altitudes. With this gearing, the top speed is limited to 17 mph (27 km/h.) On the other end of the spectrum, the HS has high gearing, trading strength for all out speed. With this gear set, the STX has a top speed of 25 mph (40 km/h.) In between these two extremes is the STD gearing that tops out at 20 mph (32 km/h.) When on water, speed is limited by the paddling motion of the tires, reaching 3 mph (5 km/h) regardless of the gearing used. All three versions of the Admiral also have a low range for extremely difficult climbs.
Cargo and Passengers
The STX can carry loads up to 1,035 lbs. (469 kg) including up to 6 passengers while driving over land. Enter the water, and cargo capacity drops to 885 lbs. (401 kg) while carrying up to four passengers.
Equipment and Colors
The STX is available in three colors:
Mossy Oak Breakout Infinity (a digital woods camo pattern)
Tundra (a dark green shade)
Black
Beadlock rims come standard. These wheels use a two piece clamping system to hold the bead onto the wheel so the tire can't roll off the rim when the sidewall pushes up against obstacles. The rest of the vehicle is protected from scrapes and bumps by a full-length skid plate.
The sides of this XTV are tall to keep the interior from flooding when in water, but a side entry step makes getting in and out simple. If water does splash into the hull, there's a bilge pump to push it back out.
Capability
The engine and transmission are designed to work in temperatures from -40°F to 104°F (-40° C to 40°C), while the lack of a traditional suspension and steering rack keep the center of gravity low, making this XTV four times less likely to roll over than a traditional UTV. With 8 giant tires to spread the weight, it has no problem crossing muddy and sandy areas that would bog down other vehicles.
When you want a true go anywhere vehicle, it's hard to beat the Avenger 8×8 STX. It's easy to learn, easy to operate on difficult surfaces, and has the cargo and seating capacity to bring you, your friends, and all of your equipment to the great outdoors.