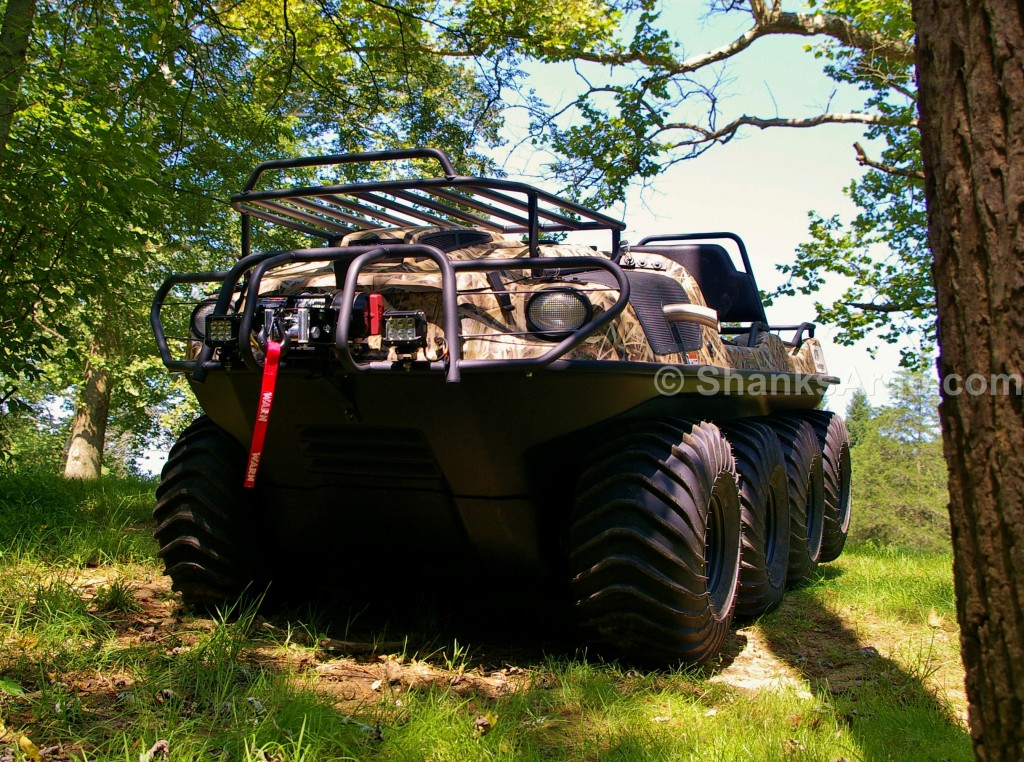 Argo builds their XTVs to work on all conditions and terrain from deserts to frozen tundra. That means you always have plenty of options when you want to go off-roading. In fact, right now you could be using your Argo to see the changing trees, or just have some fun tackling technical trails. Here are some of the best places you can take your amphibious ATV this fall.
Anthracite Outdoor Adventure Area (AOAA) Trails – Coal Township, PA
Just two hours from our shop, this set of trails was named one of the top 10 destinations in the country by "ATV Rider." With 6,500 acres of terrain, the trails here cover every skill level.
Leaf color peaks in early to mid-October, but the views are beautiful all year. The area's most famous feature is the Whaleback, a large, exposed folded rock formation that stretches across the side of a mountain.
Trail passes are $25 per day, $35 for two days, $45 for three days or $175 for a full year. Local residents get a discount. There's also a charge for passengers, ranging from $15 per day to $50 per year. Starting October 1st, the trails are closed on Tuesdays and Wednesdays.
Lead King Basin Loop Road – Marble, CO
Want to see the most beautiful views of the Rockies in just two hours of driving? This 12-mile loop borders the Maroon Bells-Snowmass Wilderness, giving you ample opportunity to view wildlife. Mountain flowers bloom in August, but if you go in the fall, you'll be greeted with valleys and mountains covered in bright yellow aspens. It also passes by Crystal Mill, built in 1893, to power area silver mines. Despite its remote location, the mill is one of the most photographed points in Colorado. It stands on rock outcropping surrounded by aspens and mountains, making it picturesque from any angle.
While it may be short, steep climbs make this a difficult trail. Rainfall turns the shale roadbed into a muddy mess, stopping most off-road vehicles. If you want to conquer the trail in any weather, consider adding some tracks for maximum grip and flotation. Like the rest of the Colorado Rockies, the season for this area is short: be sure to check the conditions before venturing out to ensure snow hasn't closed the trail.
Uwharrie OHV Trail System – Uwharrie National Forest, North Carolina
Just an hour-and-a-half drive from Charlotte, this system of trails covers over 50,000 acres of forest. This is a great place to visit whether you're interested in scenery or technical driving. There are over 20 miles of trails range from easy to extremely difficult with steep climbs and deep ruts.
Fall colors peak in early November, with a mix of pines and oaks making for a colorful landscape. Part of the trail passes by scenic Badin Lake, giving you a chance to use your XTV's amphibious abilities.
Permits cost $5 per day or $30 per season. These permits are not available on site. Instead, you'll need to get one from a local vendor or directly from the Uwharrie National Forest district office.
Ride the Wilds – New Hampshire
Looking for a way to enjoy leaf-peeping without the usual slow drives down scenic roads? At over 1,200 miles, Ride the Wilds is one of the largest trail networks in the country. With campgrounds, restaurants, gas stations and hotels scattered around the trail, you can spend your whole trip in your XTV. Jericho Mountain State Park was recently added to this network. It's just a few miles north of the White Mountain National Forest, giving you complete access to the White Mountains.
The state requires an OHRV pass to drive on the trails. Cost for this permit is currently $96, and it must be bought in person. If you're planning a long excursion, consider joining a local ATV club. Along with maps and other information, you'll get a $30 discount on your permit.
While you can have plenty of fun going now, it might be better to plan for next fall. Colors peak in late September, and many parks close in early November.
We Can Help You Get More From Your Next Trip
Shank's Argo is one of the largest dealers in the East. That means we always have several models in stock, and we can provide you with the parts and support you need to get the most from your XTV. If you're looking into getting an Argo of your own, or you want to outfit your amphibious ATV for your next adventure, come see us. Our shop is at 4900 Molly Pitcher Highway in Chambersburg, PA.
Ready to see which Argo is best for you? Visit us at www.shanksargo.com to schedule a test drive.