If you've browsed Argo's website recently, you may have noticed a new category: unmanned. For over 25 years, Argo has built robotic versions of their XTVs for law enforcement, military, first responders, and space exploration. Now, some of that technology is being offered for civilians. While you probably won't be buying one of these directly from Argo, you could soon see them accompanying Argo's amphibious ATVs.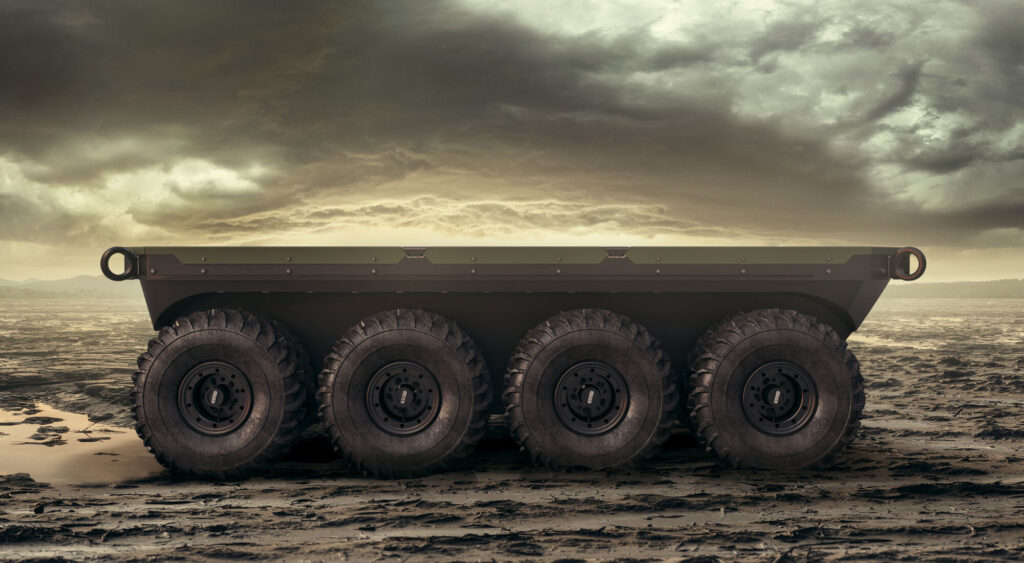 A Proven Platform for Remote Operations
Argo entered the robotics business in 1992 with their first Unmanned Ground Vehicle (UGV,) the Badger. Their approach has always been to build a base, which could be used by robotics researchers and companies to build complete vehicles. The J5 Integrator is a small four wheel vehicle built on this concept. It has already proven itself through use as a bomb disposable vehicle and mobile firefighting platform.
By offering this vehicle to the general public, smaller companies and hobbyists now have access to this vehicle. The J5 uses CAN bus for communication. This is the same system used in modern cars, so there are plenty of tools available to develop equipment for this vehicle. You may soon see these vehicles packaged with equipment for everything from patient transport to remote resupplies.
What Exactly is a J5 Integrator?
This four wheel amphibious vehicle measures 60 x 55 x 33 inches. Inside its sealed body, there are a series of AGM lead acid batteries, like you'll find in many off-road vehicles. The standard model weighs 604 lbs, while the optional 4.75 kWh battery pack adds another 300 lbs.
Much of the J5 will be familiar, if you own an XTV. It has giant amphibious tires and uses a skid steering system. It's able to ford water up to 18 inches, and its low center of gravity lets it drive over 30% grade side slopes and 60% grade forward slopes. Argo added a pivoting axle suspension to keep the platform relatively level on rough terrain.
The J5's electric motor delivers 6 HP of continuous power with a peak of 19 HP. Top speed is 11.2 MPH. Due to the design of the battery pack, operating temperatures are limited to -4 to 122°F.
The J5 Integrator has a freewheel mode, which lets it be towed at speeds up to 25 MPH. Argo offers an optional trailer hitch, as well as load racks and a central mast for mounting equipment.
We Have Everything Argo
Do you need a vehicle that goes beyond the capabilities of a regular ATV or side-by-side? When you need something you can depend on, visit Shank's Argo, We're one of the largest dealers in the East, and we've helped our commercial customers with their outdoor equipment for over 35 years. Visit our showroom at 4900 Molly Pitcher Highway in Chambersburg, PA, or check out our current inventory at www.shanksargo.com. We also ship OEM parts and accessories for Argo XTVs across the United States and Canada.