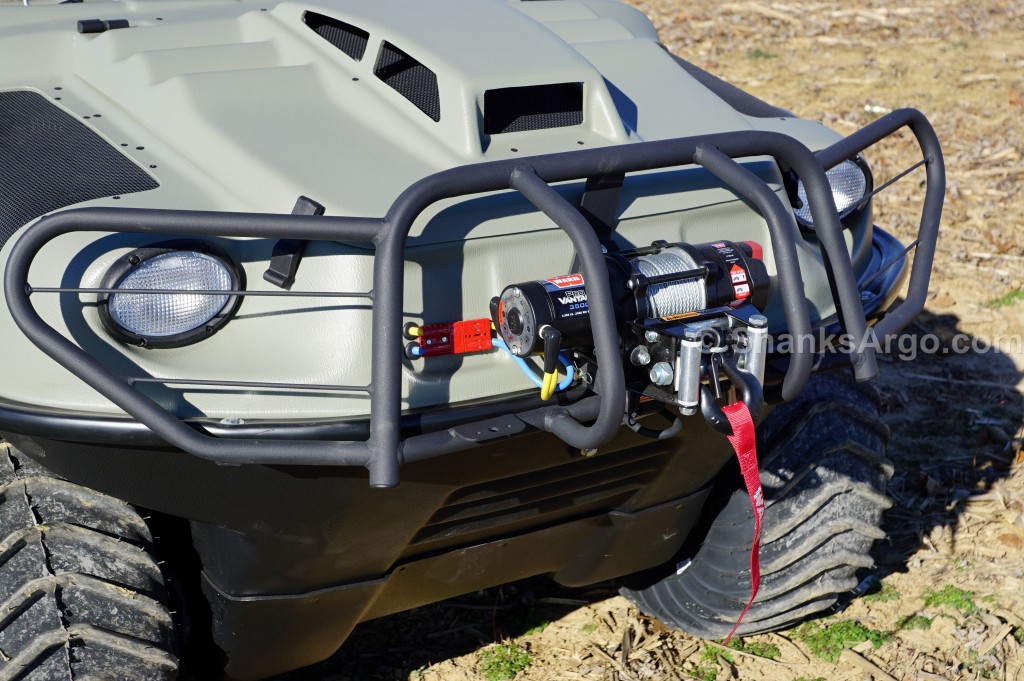 From bicycles to boats, if you get any type of vehicle for having fun in the outdoors, you quickly learn that making a few additions can really improve your experience. The same goes for Argo's XTVs. These vehicles are used in a wide range of terrains and climates, so Argo offers accessories tailored for these conditions, improving performance, increasing comfort and reducing maintenance. Not sure where to start customizing your XTV? These accessories offer the most improvement to your vehicle.
Skid Plate
The polycarbonate hull of an Argo is tough, but there's always the possibility that a hidden rock or branch can leave a hole. Argo made skid plates standard on all models this year. If you have an older model, this is the single most useful upgrade you can make.
Unlike UTV skid plates, Argo's plate is a single piece that covers the entire underside, so there's no way for the lip to get caught on tree limbs, grass or other obstacles.
Sump Pump
Like the skid plate, this device is now standard on all XTVs, and for good reason: it keeps water splashed into the cab from building up with minimal operator intervention. You'll still need a bailing bucket on hand for major spills, but adding one of these pumps makes it easier to keep the interior dry when crossing waterways.
Automatic Chain Lubrication
Chain lubrication is one of the most frequent maintenance jobs on an XTV, but with this device, you won't have to remove the firewall and side covers nearly as often. This automatic system drips oil onto the chains as you drive, activating automatically every few hours of operation. It can also be manually operated if you think the drivetrain could use some extra lubrication. Even with this device, the chains will still need to be cleaned periodically to remove oil and dirt build-up.
Brushguard
This metal frame protects the front end from impacts, protecting the vehicle, the headlights and any additional lighting. It comes standard on Huntmaster XTVs and can be added to any model.
Heater
Adding an enclosure can do a lot to make harsh weather more comfortable, especially on long excursions. If you use your XTV in the winter and you have a liquid-cooled engine like the Kohler Aegis, you can also add a heater. It works like the one in your car, passing engine coolant through a radiator. A fan blows air past this heater core, warming the cab so you can stay comfortable in the harshest winter weather.
Muffler
The industrial engines Argo uses are built with comfort taking a back seat to reliability. That means they're pretty noisy, especially if you're sitting directly behind the tailpipe. This year, the company introduced a muffler that bolts onto the end of the exhaust, taming the noise to make long drives easier on your ears.
Windshield
Wind and rain can make operating your XTV unpleasant, while the wind chill effect can make cold weather dangerous. Adding some wind deflection can do a lot to keep you dry and warm.
Argo's windshields can be folded down when you want a more open view, so long as you don't have a front rack installed. They also have a built-in wiper that connects to a pre-wired switch in the cab.
Battery Shut Off
A battery shut off lets you disconnect the battery from the electrical system without having to unbolt the terminals. This makes it easier to store your Argo and get it rolling again.
Bed Liner
If you mostly use the cargo area for cargo, a bed liner will make it easy to keep the area clean. This liner can be removed and installed in seconds, so it can be hosed off separate from the XTV. Keep in mind that it will prevent the rear seats from folding down, so it needs to be left out if you have additional passengers.
Get More from Your XTV with Help from Shank's Argo
When you need expert advice, talk to the people at one of the East's largest Argo dealers: we've helped enthusiasts and professionals with their outdoor equipment since 1984, so we know what works. Visit our showroom at 4900 Molly Pitcher Highway in Chambersburg, PA. To get here from I-81, take Exit 10 to Marion or our website at ShanksArgo.com.