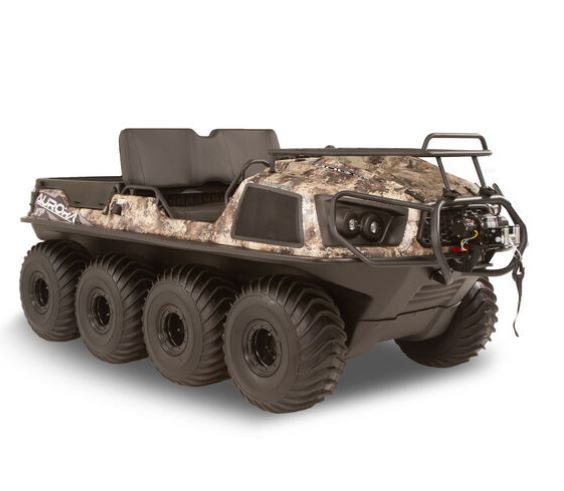 The latest versions of Argo's Aurora 800 SX and Aurora 800SX Huntmaster amphibious ATVs are more than just a refresh of the former line. These new vehicles bring with them better transmissions, better cooling, and a new camouflage pattern that works in almost any environment. 
Power Meets Improved Reliability
The 800 SX is powered by a 30 HP Aegis V-Twin, Kohler's top industrial engine. It comes with EFI for easy cold starts, increased power, and better fuel efficiency. This engine is also liquid-cooled. On other models with this engine, Argo offers a heater kit that taps into the coolant, just like a car radiator. A kit for the Aurora isn't available yet, but there should be one soon. This engine is fitted with a 40-amp alternator, which is more than enough to power any added accessories.
Better venting along with heat-reflective materials under the hood keeps lower operating temperatures for increased engine and drivetrain life, while simultaneously improving passenger comfort. 
The New Admiral Transmission: More Speed, More Power, and Faster Engagement 
The Aurora 800 SX is the first model to get Argo's updated Admiral transmission. This version uses a CVT with a wider range, plus a new Instant Torque Clutch (ITC) for faster engagement, even at low gear ratios. The result is 28% more torque and 25% faster acceleration. The top speed is higher, too. The 800 can reach 24 MPH on land, up from 22 MPH on earlier models. Water speed remains at 3 MPH since it's limited by the paddling action of the tires. A heavy-duty drive belt comes standard. 
Steering, Payload, and Colors 
The 800 SX rides on steel Beadlock rims paired with 25-inch tires. Axle bearings come standard, so this vehicle is ready for track installation. Like other Auroras, this new model uses APS steering, which adds a spring return to make it feel more like a traditional steering rack. 
This amphibious ATV can carry up to 1,100 lbs. on land, with seating for 6 passengers. On water, payload capacity drops to 900 lbs. and 4 passengers. Towing capacity on land and water is 1,800 lbs.
The 800 SX is available in green, black, and orange. 
Huntmaster: The 800 SX for Hunters and Outfitters
The Huntmaster 800 SX has all the features of the standard model, along with the equipment most requested by hunters and outfitters:
A front-mounted Warn winch rated at 3,500 lbs. 
-A hood-mounted cargo rack that can carry up to 50 lbs. 
The added weight from this equipment cuts into the vehicle's payload capacity. It can carry up to 1,000 lbs. on land and 800 lbs. on water. Towing capacity remains the same.
For 2022, all Huntmasters come painted in True Timber's DRT Prairie camouflage. This camo pattern uses brown and gray contrasting colors with hazy yellow coloration to blend the edges. Unlike previous patterns used by Argo, this uses an abstract design that matches common colors seen in the wilderness instead of focusing on one terrain. This color combination works great blending in around cattails and CRP fields, so it works in forests, open fields, and marshes. 
Looking for the Ultimate Off-Roader? Talk to Shank's Argo.
If you want a nearly unstoppable vehicle, you need an Argo amphibious ATV. If you want the best sales and service experience, you need to visit Shank's Argo. We're one of the East's largest Argo dealers, with over three decades of experience selling, outfitting, and repairing outdoor equipment. We can help you find the right XTV, install accessories, and tackle the repairs you need to keep your vehicle running. Visit us at 4900 Molly Pitcher Highway in Chambersburg, PA, or check out our current stock at www.shanksargo.com. Need parts or accessories for your Argo? We can ship what you need to any address in the U.S. or Canada.