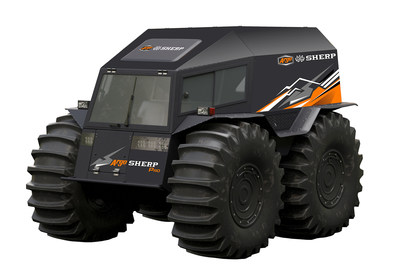 Have you ever wanted a bigger Argo? Ukraine-based Quadro International builds such a vehicle. Their Sherp all-terrain vehicles offer the same amphibious and off-road capabilities as an Argo XTV in something the size of a truck. This super off-roader is already a favorite among celebrities ranging from Jay Leno to Kanye West. Now, thanks to a new partnership, you can buy these vehicles in America and have them serviced by Argo dealers.
More than a Rebranding
Argo and Quadro International are calling this a "co-branding" exercise. In other words, an Argo Sherp is a regular Sherp with some Argo badges and unique badges. However, there's more to this than some vinyl stickers. This partnership brings parts and support for Sherp vehicles to the Argo dealer network. This makes it much easier to buy these vehicles and get them repaired. This new addition includes four models: the Sherp Pro, Sherp Pro XT, Sherp Ark XTX and Sherp Ark XTZ.
What Exactly is a Sherp?
Have you ever wished you could get a bigger Argo XTV with an enclosed cab? Then what you want is a Sherp. Both vehicles share a lot in common. They both use giant tires to give them buoyancy for amphibious use. The tires have paddle-shaped treads for water propulsion. They have a low center of gravity, making them stable when climbing extreme grades. They use skid steering. Both Argo XTVs and Sherps are even designed for the same -40 to 104°F operating temperature range.
How big are these vehicles? The Argo Sherp Pro measures 11 feet long, 8.2 feet wide and 8.2 feet tall. It weighs just under 3,000 lbs. Sherps are powered by large industrial diesel engines from Kubota and Doosan. A 5 speed manual gearbox connect the engine to a chain drive that can operate in rear or all wheel drive modes. It's easy to see why Top Gear called the Sherp "a tank for two."
Ground clearance is a whopping 24 inches when unloaded. The four wheels are mounted on a suspension, but most of the bumps are absorbed by the tires. Exhaust gas can be routed to the tires, inflating and deflating them on demand to meet current terrain conditions.
Fuel is stored inside a main fuel tank in the vehicle, and there are additional tanks built into the wheels. Together, these 5 tanks store enough diesel to drive around 1,000 miles. With just the main tank alone, the engine can operate for up to 75 hours.
These vehicles can climb slopes up to 40 degrees, drive at a tilt of up to 30 degrees, and can climb over three foot high obstacles without high siding. The chain drive for the wheels is in a sealed oil bath that doesn't require maintenance.
Sherp models are available as vans or trucks. Fully enclosed vehicles can hold up to 10 people, while total payload capacity is 2,625 lbs. The company also makes trailers for these vehicles, but there's no word on if or when they'll join the Argo lineup.
We're Your Source for Everything Argo
While you may not be in the market for a giant amphibious truck, you can still get the same off-road and water capabilities with an affordable Argo amphibious ATV. Shank's Argo is one of the largest dealers in the East, which means we sell and support all of Argo's XTV models. We can help you find the right model and accessories to fit your needs, whether you want something for work or fun. Visit us at 4900 Molly Pitcher Highway in Chambersburg, PA, or see what we have in stock at www.shanksargo.com. We also ship parts and accessories across the U.S. and Canada.