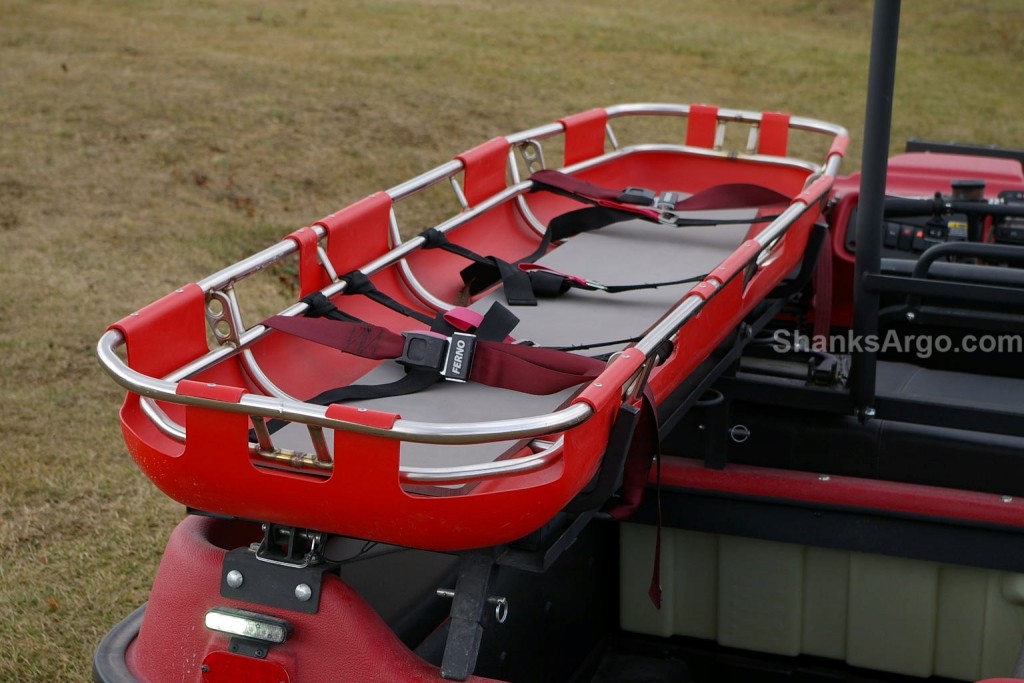 The Responder is built for the needs of emergency service organizations, but how well do these XTVs work in the real world? Here's how first responders and firefighters from around the world use their XTVs in their work, whether they're dealing with natural disasters, backwoods injuries or music festivals.
Remote Terrain
When Kirk A. Walker, president of Waterloo Regional REACT, first saw a prototype of Argo's new rescue model, he immediately saw its value: unstable footing on rough terrain increases the time it takes paramedics to get to the patient and puts both the paramedics and patient at risk of a fall. With an Argo, his team could close the gap, safely transporting patients across area forests to a waiting ambulance.
When Walker contacted Argo, the company agreed to work with the Ontario-based organization, developing prototypes that lead to their first production rescue vehicles in the late 90s. By observing the emergency response team, the designers were able to create a stretcher mounting system that was easy to load and unload in any position. Since these stretchers are the same size as the ones commonly used other emergency response vehicles, it's easy to move the patient from the XTV to a faster highway vehicle. The company also worked with the team to get the right combination of lighting and storage to best fit this vehicle's role in remote rescues. 20 years later, XTVs remain a vital part of REACT's rescue capabilities.
Firefighting
The East Sparta Volunteer Fire Department protects 55 square miles of rural East Central Ohio. Along with forest fires and common injuries, the department is often called upon to help ATV and horse riders who are injured while exploring the countryside. When Chief Arnie Adams first encountered the Argo on a hunting trip, he knew it would be the perfect tool for his organization. Now in service for over 5 years, their XTV served dual roles as both a backwoods ambulance and firefighting platform.
With the fire suppression system in place, the department is able to drive directly to remote fires instead of having to work their way from the roadside with a long hose to use their fire engines. For search and rescue operations, the fire suppression system can be removed in about two minutes, freeing up space for personnel and equipment.
Flood Rescue
In 2014, Hiroshima was struck by a series of landslides followed by heavy rain, turning affected areas of the Japanese city into a series of ponds and mud bogs. Thousands of rescuers from the military and area fire departments descended on the area along with their equipment. Argo XTVs from Okayama City and Kotsu played a vital role, delivering personnel and carrying injured people to medical facilities over a period of two weeks. The low ground pressure let the vehicles glide over the mud, even on steep hills, while its narrow profile gave workers access to narrow streets and alleyways that would otherwise have to be crossed on foot. Since that event, 15 fire departments across Japan have added XTVs to their fleets.
Events
Canada's largest event medical team, Odyssey Medical, provides support for everything from music festivals to mountain bike races. In areas filled with temporary structures and little in the way of infrastructure, an XTV is the best way to carry injured participants and spectators to their on-site medical station. In its first season alone, their 8×8 Responder S carried over 1,000 patients.
At one of their first events that season, their Responder was called into service for another type of rescue. Heavy rains turned the fields into mud, leaving their UTVs stranded. Thanks to its low ground pressure, the Argo had no problem driving around the area, winching the rest of the vehicles out, so they could stay in service.
See What an Argo Can Do for You
Do you need a better response vehicle for your organization? Shank's Argo has helped professionals with their outdoor equipment since 1984, so we have the know-how to set you up with the perfect XTV for your needs. To learn more, visit our showroom at 4900 Molly Pitcher Highway in Chambersburg, PA. That's one mile east from I-81 via Exit 10. If you're ready to schedule a test drive, visit www.shanksargo.com.